As the legendary story goes, Airbnb, the multi-billion dollar vacation rental platform, began with a simple air mattress on the floor. More precisely, the founders of Airbnb were once broke students, and they rented an air mattress in their living room to strangers to help cover the bills. 
Since then, Airbnb has grown to a current value of $110 billion, with over 4 million hosts in more than 220 countries. Founded in 2007, these are truly extraordinary numbers for a brand still in its teen years – and the proof is in Airbnb annual revenue, which stands at $5.99 billion globally for 2021.
The flexibility of the Airbnb brand strategy has been an important part of the company's overall stability during the massive global downturn in the tourism sector during COVID-19. Despite a 30% loss in year-on-year revenue during the pandemic, Airbnb hosts still earned $1 billion, and the company even went public in December 2020.
Commentators regarded this as a smart strategic move that gained massive attention for the brand during a difficult time. Airbnb is bouncing back nicely as global travel resumes, jumping from an income loss of $68 million in Q2 2021 to a profit of $834 million in Q3.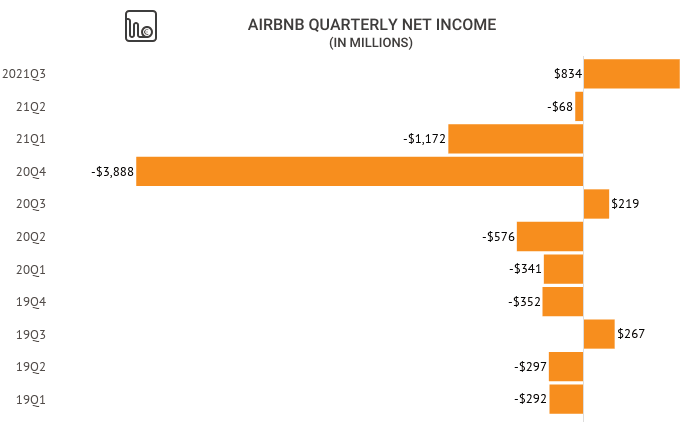 Source – iPROPERTY MANAGEMENT
Airbnb brand positioning involves two Airbnb target market demographics – hosts and guests – with unique pain points and needs. Furthermore, Airbnb is no longer just a vacation rental platform; it also features an "Experiences" category, in which hosts can offer various local activities and adventures, such as walks and tours, lectures, arts and crafts, dining and much more.
During the pandemic, when travel and social interaction were severely restricted, Airbnb expanded with an "Online Experiences" category, a range of digital experiences that people could enjoy from home.
Let's dive deeper into these two customer segmentations and explore who is the Airbnb target market and what the Airbnb target audience demographic really is all about.
Who is the Target Market for Airbnb?
As mentioned above, hosts and guests are two distinct Airbnb customer segments.
Airbnb hosts are people who have spare rooms or property available for rental. This Airbnb segmentation may choose to use the platform for two reasons:
They want to earn income from their available space

They want to meet people from around the world and provide them with a local stay.
In the "Experiences" category, the host segment includes people who have a leisure or travel service to offer to local tourists. This may include cooking, crafts, walking tours, historical perspectives, hiking guides and much more.
The average Airbnb host earns around $9,600 a year from their Airbnb listings. For experienced hosts, Airbnb offers the Plus Program. Plus listings must be verified in person, maintain a high Hospitality Standard according to the brand rules, and have an exceptional star rating. This pays off however as Airbnb Plus properties tend to earn up to 400% more than regular Airbnb listings.
Airbnb guests can be divided into two segments: 
Those looking for accommodation

Those looking for 'experiences'. 
In 2021, there were approximately 300 million bookings for nights and/or experiences on Airbnb. As we'll see later, one of the biggest draws of the Airbnb brand has always been its promise of a local, authentic and affordable tourist experience compared to traditional 'cookie cutout' hotels. In fact, 61% of guests chose an Airbnb booking over a mid-size or budget hotel option. 
Airbnb Target Market Segmentation and Audience 
Airbnb Demographic Segmentation
The Airbnb target demographic is broad, covering all consumer age groups. For accommodation, the Airbnb demographic is aged 18-45, while the target audience for experiences is wider, spanning 18 to 60 years.
This correlates with the employment status of guests – for accommodation and experiences, the target segment is students, employees and professionals, while for experiences, the target market also includes senior managers and executives.
For the older and more financially established group, the traditional (and more expensive) hotel stay is clearly still an attractive option, although they are open to Airbnb-style experiences.
The target market for Airbnb skews female, with 54% female users and 46% male users. 
Airbnb Geographic Segmentation 
Airbnb is a truly global brand, with close to 13 million listings worldwide in 2021. Europe is Airbnb's biggest market, with close to 5 million listings that year, followed by Asia Pacific with over 3 million listings, and North America with just over 2.5 million listings.
Despite coming in third in terms of the number of bookings, North America is by far the highest revenue driver, bringing in close to $23 billion in gross revenues in 2021, compared to nearly $16.5 billion in Europe.
This is due to the fact that vacation rental prices in the US tend to be significantly higher than those in Europe and elsewhere.
Airbnb Behavioral Segmentation
For Airbnb guests, cheaper cost and variety are the key drawcards. Beyond apartments, houses, and cabins, Airbnb guests can choose from an incredible range of accommodation styles, such as farms, boats, yurts and even private islands. In fact, during December 2019, over 2,500 Airbnb guests booked castles and over 1000 chose to vacation in treehouses! 
For people booking Airbnb experiences, variety is important, as is the 'uniqueness' of the activity. This points to the authentic, local promise of the Airbnb brand. With Airbnb, guests expect and receive a different kind of tourist experience than even 10 years ago.  
Airbnb Psychographic Segmentation 
Not surprisingly, the typical Airbnb customer profile tends to be an easygoing, novelty-seeking personality type. As evident, in their latest marketing video, Airbnb encourages users to go "into the unknown", let go of fear and tap into their adventurous side.
For accommodation guests, the typical personality is also defined as 'determined', a necessary attribute for discovering the world in a unique way on a budget. On the other hand, those who book experiences are noted as being 'ambitious'.
This calibrates with the status of older and more financially established demographic who make up a part of the target market for the Experiences category. They are accomplished high achievers who want experiences beyond the standard but without compromising on quality. 
Airbnb marketing strategy – Key Elements
Airbnb marketing analysis shows that the brand is on a big and ambitious mission: to compete with the global hotel and travel industry as we know it.
This necessitates a complete Airbnb global marketing strategy that delivers on the brand promise of different, authentic and unique vacations. At the same time, the brand must offer a wide range of accommodation options at a certain level of quality and at competitive prices, all based on the notion of living like the locals.
This is evident in the Airbnb advertising campaign "Don't go there, live there", describing Airbnb as offering an experience that "transcends accommodation".
Another important part of Airbnb marketing strategy is putting people – not the product – at the center. This is evident in the new logo design launched in 2018. Coined "Bélo", short for 'belonging', the logo highlights the key message of the Airbnb brand: connecting people, places and love. 

Unfortunately the logo was met with some controversy online, because of its unique design. However, the strong Airbnb brand was more than able to withstand the scrutiny, and, as the saying goes, there is no such thing as bad publicity. Overall the logo is considered branding success.
The ability to be agile with marketing strategy has helped Airbnb weather different crises. For example, during the pandemic, as tourism dwindled, Airbnb instituted monthly stays, enabling hosts to provide guests with longer-term rentals, without needing a typical annual lease. 
Plus, the Online Experiences initiative, a digital platform for hosts to provide 'adventures' online, was another important move to help alleviate some of the substantial loss during lockdowns and travel restrictions.
With a large target audience among millennials and Gen Z, Airbnb has appropriately placed strong focus on its mobile marketing strategy. The Airbnb app is very practical and user friendly, designed to provide a fast and effective booking flow.
In addition, Airbnb leverages deep linking inside the app. This means when a user clicks on an ad for rentals in a particular city, listings in that location will appear when the user opens the app, creating a seamless, conversion-oriented experience.  
Airbnb vs Vrbo vs Booking.com – Competitors Overview
Booking.com is a highly popular vacation booking platform, as evident in its revenue, three times higher than Airbnb.
Airbnb vs Competitors: Revenue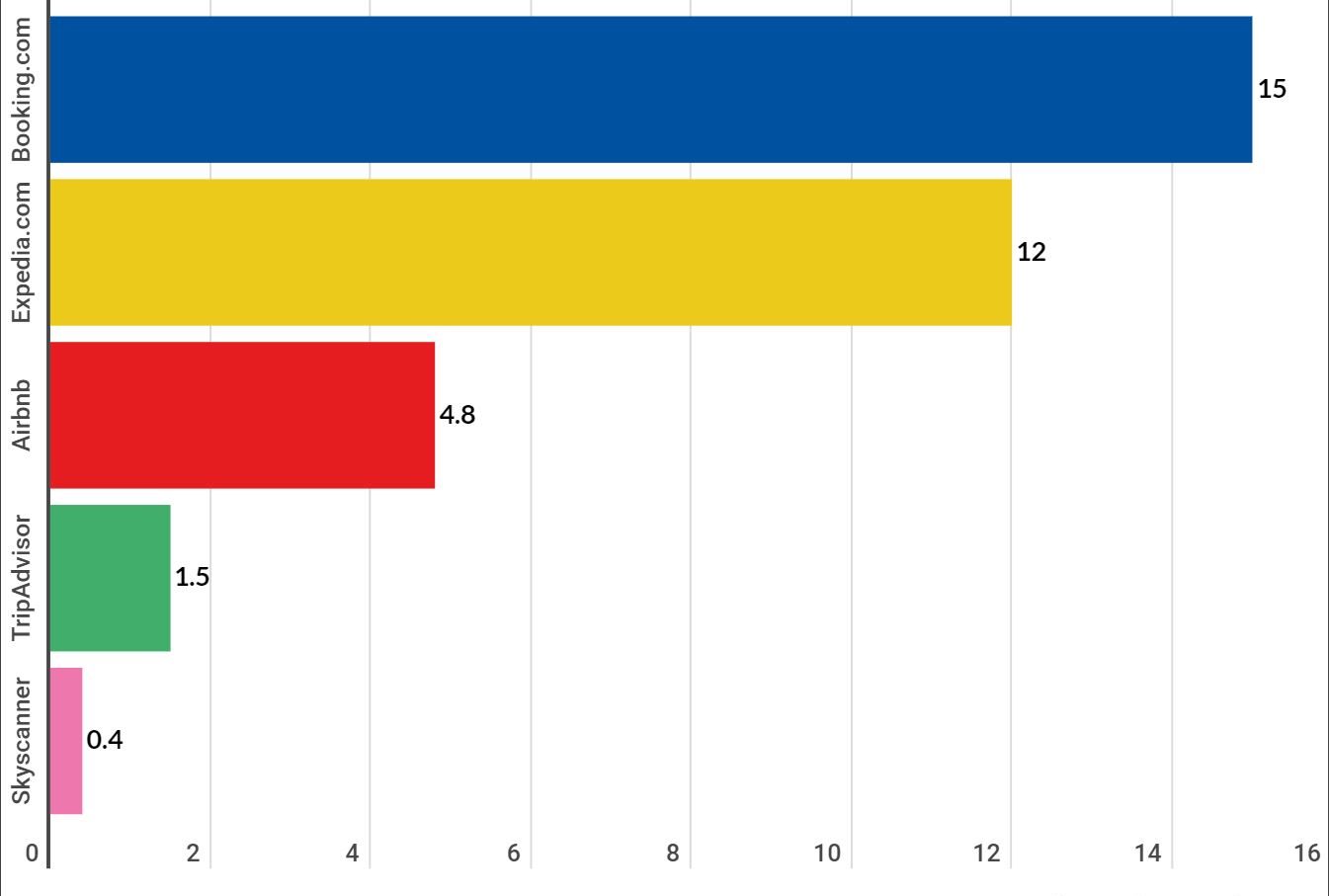 Source – Businessofapps
By 2019, Booking.com had reached 28 million total recorded rental listings, a far bigger number than Airbnb data. The Start.io mobile network shows a Booking.com user base of close to 1.5 million in the US alone, over 50% of whom are aged 25-34 years.
While Airbnb market share does not compete on sheer size, the company offers a far more unique and branded travel experience that will appeal to an adventurous traveler, rather than those simply looking for a traditional booking.
Vrbo is another popular vacation rental booking platform, however, it is far smaller than Airbnb, with about half the number of listings. It also targets a more specific demographic: families who are looking for a traditional holiday stay, in large whole-home properties.
By comparison, Airbnb is an eclectic platform, with a very wide range of accommodation styles and experiences, targeting a broad demographic, in terms of age, family size and socio-economic status.
Vrbo, owned by travel company Expedia, is working hard to compete, having spent 10X on advertising in the first two months of 2021 compared to Airbnb. In that same period, Vrbo was reportedly on track to become a $2 billion company – far behind Airbnb, but an impressive feat nevertheless.
Airbnb Users in Florida
Despite impressive growth, the Airbnb company strategy has not been without its setbacks. While Airbnb has contributed to an increase in tourism income in many locations, it has also come under fire for overflowing the short term rental market in different cities.
This leads to undesirable consequences, such as soaring property prices that put locals out of the housing market, and an excess of disruptive tourist traffic. In response, some cities have cracked down with stricter regulation surrounding short term rentals, making it difficult for Airbnb to operate.
This has been the case in Miami Beach, Florida, among dozens of other cities in the US and abroad. Florida boasts a population of over 20 million people, with a mobile audience size of nearly 80,000 Airbnb users. By conducting a demographic audience analysis at the Start.io Audiences Hub, it is possible to uncover important insights about the local Airbnb consumer segment, and even drill down to more detail. 
For example, in Florida, the majority of Airbnb users are millennials, aged 24-35 years, indicating that a more affordable accommodation offering suited to a younger customer base would be appropriate.
On the other hand, it is interesting to note that the two largest income segments among Florida mobile users who are interested in Airbnb are from both ends of the spectrum: those earning under $25,000 and those earning between $100,000 and $150,000.
As noted earlier, higher income earners tend to be particularly interested in Airbnb Experiences, so hosts can keep that in mind when building an appropriate Airbnb business strategy.
Airbnb FAQs 
How does Airbnb communicate with their target market?
While Airbnb is a prominent digital-first company with a powerful website and app, it also communicates with its target market via more traditional-styled branding campaigns, as well as influencer marketing, content marketing and videos, and social media strategy.
Does Airbnb use a global strategy?
Airbnb product marketing strategy focuses on global audiences, often with localized campaigns that speak to the specific geographic segmentation. For example, a campaign in South Korea focused on the target audience's desire for authentic, fast-paced getaways among the locals.
The company strategy must address a global market, as the Airbnb occupancy statistics are highest for European and Asia-Pacific target markets rather than just North America.
What is Airbnb unique selling point?
Airbnb has positioned itself as an accommodation booking platform that connects real people and enables  them to live like the locals, in their homes, discover the authentic character of the destination, and open minds to new experiences and adventures.
This is a distinct selling point way beyond the convenience or simplicity of the booking technology.
What are Airbnb weaknesses?
While love, authenticity, and adventure are all important values, Airbnb has its share of controversy. The company is sometimes accused of disrupting housing markets in a negative way. For example, Airbnb has significantly enlarged the short term rental market in various cities, leading to a rise in property prices that makes it difficult for aspiring homeowners to buy houses in the area.
It also increases the tourist traffic, which is disruptive to locals. This has spurred governments to tighten laws around short-term rentals, which affects the wider community, not just Airbnb users.
In addition, the Airbnb concept and platform are not uniquely original, meaning there is plenty of opening for competitors to chip away at Airbnb market share. 
What is the Airbnb average length of stay?
Airbnb primarily focuses on short term vacation rentals, although during the pandemic, the company pivoted to long-term listings, which were in higher demand. Despite the changes in the market over the past couple of years, the average stay in Airbnb host properties is 4.3 nights
Additional Sources