An ecosystem, by nature, is dynamic and always changing. The mobile advertising ecosystem is no different. New tools and tactics bring new possibilities and opportunities. But they also bring new challenges for marketers.
In a recent IDC Technology Spotlight, sponsored by Start.io, those challenges are explored in detail, as well as a solution to overcome them. That solution? Artificial intelligence. But let's start at the beginning.
Demand Side Platforms – Unrealized potential
In recent years, digital advertising has attracted more spending than ever before. The move from traditional to digital was already underway before Covid, but the pandemic significantly accelerated it. And expect this trend to continue, for two channels in particular: Connected TV and mobile in-app advertising.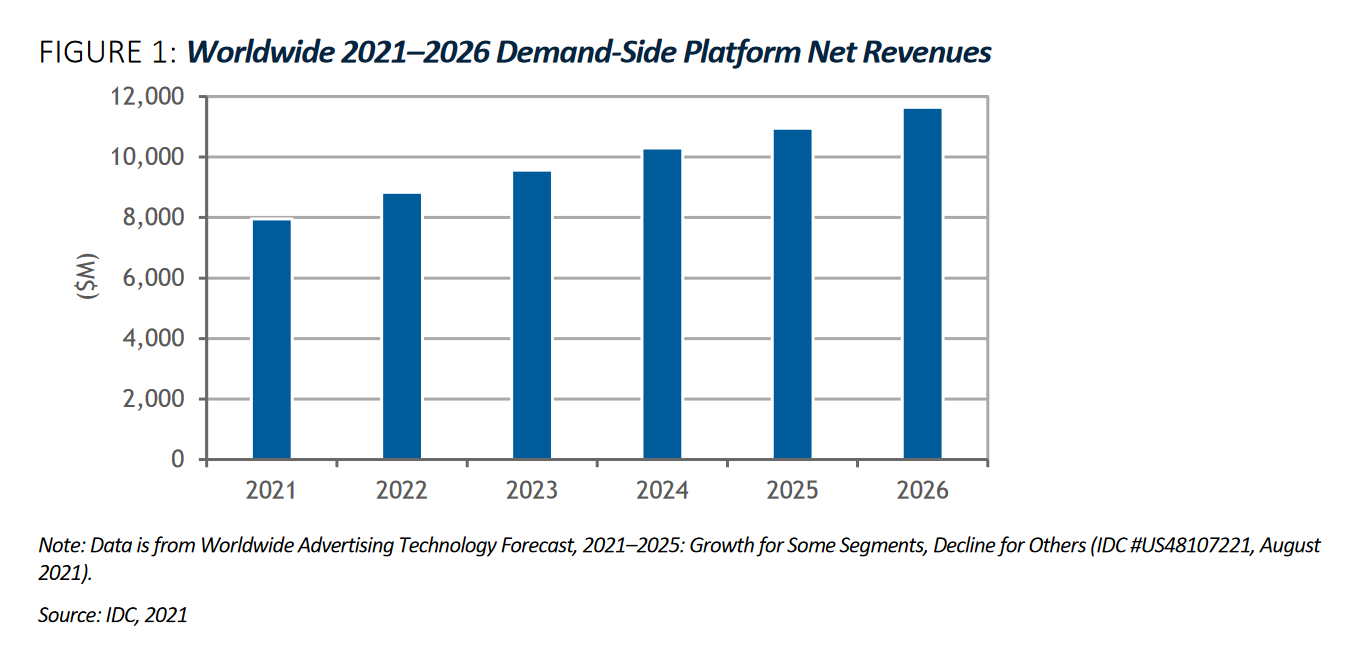 Most of these growing budgets are being poured into programmatic, so for DSPs, there is an incredible opportunity for growth. However, as outlined in the IDC Technology Spotlight author Karsten Weide, Program Vice President, Media and Entertainment, several obstacles stand in the way:
Complexity of use: The advanced technology that makes a DSP such a valuable tool can also be its downfall. As more media planners and ad buyers turn to programmatic campaigns, they require a level of statistical and data competence to get the most from their ad spend. The DSP user interface is often too complex for most marketing teams, making it very difficult for them to build target audiences and track campaign results. This leads to a lot of manual work outside the DSP, which increases the risk of error and reduces efficiency.
Data privacy concerns: Data privacy regulations are in force all over the world, and cookies and MAIDs (mobile advertising IDs) are slowly being phased out. This makes it much harder for advertisers to collect and track third-party data, incentivizing them to turn to first-party data as a targeting solution. However, for many marketers, getting access to this precious first-party data is a challenge.
Compromised targeting: Due to the above issues, many marketers struggle with campaign targeting. Without the ability to target accurately, the benefits of programmatic advertising are lost, making it no more efficient than traditional campaigns.
Where to from here?
The answer to these technological hurdles is in fact more technology; specifically, Artificial Intelligence (AI) and Natural Language Processing (NLP). 
When integrated into DSPs, these make it much easier for marketers to create, run and track mobile advertising campaigns effectively, without having to manipulate a web UI. Rather, they can simply state who they want to target, and AI and NLP can suggest and build the best audiences, based on analysis of anonymized past campaign data and available inventory. This is a powerful and effective way to address the problem of marketers' lack of statistical and analytical knowledge that can hamper programmatic campaign performance.
In addition, a key aspect of a modern DSP must be the provision of alternative tracking and targeting solutions to replace the fading use of cookies and MAIDs. Contextual targeting is currently the only available method and the one that is most protected from privacy regulations, as it does not rely on third-party cookies. For in-app advertising, this is an excellent alternative, as forward-thinking DSPs can leverage anonymized mobile in-app signals that are not available anywhere else.
Maia: Jump over the obstacles
With the launch of Start.io's new Maia – Mobile AI Audiences platform, mobile marketers can indeed overcome the obstacles outlined in the IDC Technology Spotlight. Maia is the mobile industry's first audience building platform strictly based on AI and NLP. 
Leveraging accurate, granular data is essential for mobile marketing. With Start.io's rich pool of first-party data, and Maia's AI-based audience exploration and building capabilities, marketers gain access to the most simple process for building audiences, creating and launching campaigns, tracking campaign data and analyzing campaign results.
Bottom line
As ad-tech becomes more complex, so does the pressure on marketers to use the available platforms for maximum return on ad spend. AI-based audience targeting, like Start.io's Maia, enables marketers to rise above the pressure of day-to-day analytics and targeting challenges, and use DSPs to the best of their advantage.
To read the full IDC Technology Spotlight, click here.