"I'd like to buy the world a Coke, and keep it company".
In 1971, Coca-Cola created the famous hilltop ad – reprised in the finale of the popular Mad Men series – and cemented the brand identity of the cola flavored soft drink as "the real thing": authentic, happy, young and free.
Fifty years have passed, and Coke is still going strong. In 2022, Coca-Cola US was the 28th biggest company in the world by market valuation, and the leader in the specific category of carbonated soft drinks. In 2021, it was estimated to have a brand value of nearly $82 billion, more than double its 2006 valuation!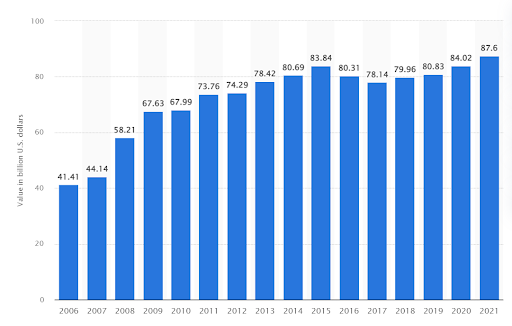 Despite the legendary secrecy surrounding the Coca-Cola recipe, the brand's astronomical success since the invention of the soft drink in 1886 is no secret. In fact, the Coke logo is one of the most famous in the world, reportedly recognized by 94% of the world's population.
A thorough analysis of the Coke brand and Coca-Cola target market segments can help explain the reasons behind this. Let's take a look at who is the Coke target audience, how does Coca-Cola segment their market, and why Coca-Cola customers love the brand experience so much.
Who is Coca-Cola's target market?
Coca-Cola is a global brand, appealing to a worldwide audience. The Coca-Cola target consumer is both male and female, covering almost the entire socio-economic spectrum, from average to high income earners. 
The typical Coca-Cola consumer demographics are extremely broad in age, from young through middle aged, who can relate to the well-defined Coke brand identity that promises a vibe of youthfulness, fun, adventure and authenticity. 
The Coca-Cola target market focuses on an older demographic specifically with the popular Diet Coke product, which offers a sugar-free option for diabetics and health-conscious consumers. 
The broad target market of the Coca-Cola brand is also reflected in the range of packaging sizes and styles that cater to families, celebrations and on-the-go consumption of smaller bottles and cans.
Coca-Cola Target Market Segmentation
A deeper dive into the Coca-Cola target market, focusing on the demographic, geographic, behavioral and psychographic segmentation, can provide helpful Coca-Cola consumer insights for brands targeting a similar audience. Let's explore each Coca-Cola market segmentation in turn.
Coca-Cola Demographic Segmentation
Coca-Cola demographics segmentation includes a broad age range of younger to mid-life consumers, from 10 to 40 years old. This demographic covers kids and teens, singles, younger adults still living at home and those who live alone, newly marrieds, married couples without kids, with young children or with kids in their teen years. 
The employment profile of the Coke audience includes students, employees and professionals alike.
Coca-Cola Geographic Segmentation
The Coca-Cola target audience is located all over the world, and the typical Coke consumers may live in urban centers or rural settings. 
Interestingly, EMEA leads in unit sales of Coca-Cola products, with 28% share in Europe, the Middle East and Africa, compared to 20% unit sales volume from the US. This is despite the fact that North America accounted for the largest revenue distribution share of the Coca-Cola company in 2021 (34.1% of all worldwide revenue).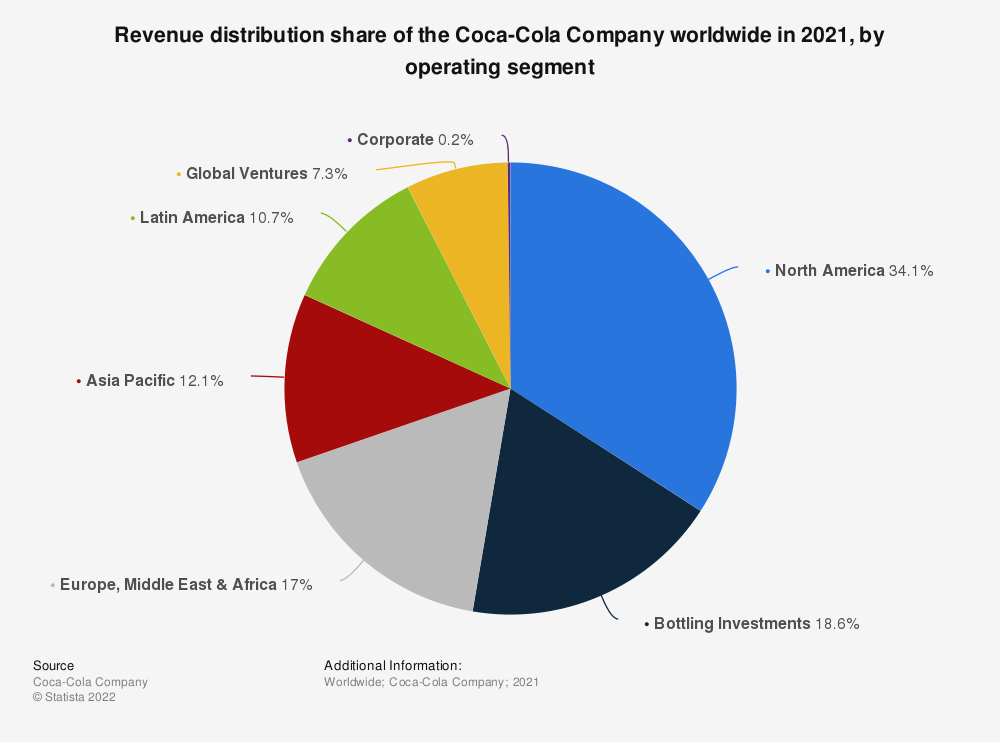 Coca-Cola Behavioral Segmentation
The target market enjoys Coke for several reasons, including its good taste and refreshing feel, spending time with people, and as part of a general lifestyle habit. 
The target audience of Coca-Cola consumes the product regularly, including 'soft' loyal users who enjoy Coke from time to time, and 'hard' loyal users, who drink Coke on a more routine basis. 
The Coke target market can be broadly defined as having easygoing, ambitious, and determined personalities.
Coca-Cola Psychographic Segmentation 
A Coca-Cola customer analysis from a psychographic standpoint shows a wide socio-economic breakdown, from working class to middle and upper class. This target audience tends to fall into the categories of 'aspirer', 'explorer' or 'succeeder'. 
The Coke targeting approach also has a strong focus on what's known as the "conscious progressive" personality type – consumers who value independence, learning, personal growth and being true to oneself, and who seek out those traits and experiences in the brands they consume. 
Who are Coca-Cola's competitors? 
There can be no competitor analysis of Coca-Cola without exploring the "Cola Wars", the ongoing battle for market share between Coke vs Pepsi sales. The difference between Coke and Pepsi has been hotly debated for decades, and Pepsi's audience is a key target market that Coca-Cola aspires to grab away from its number one competitor.
At the height of the Cola Wars, Pepsi conducted blind taste tests that proved that consumers preferred Pepsi over Coke. However, the Coca-Cola brand fought back, launching the "New Coke" flavor, which flopped in the market and sent Pepsi sales soaring. Pepsi's victory was short lived, though, and Coke vs Pepsi market share has risen in the decades since, with Coca-Cola securing the top spot as the most popular cola soft drink. 
In 2020, Coca-Cola was the top carbonated soft drink company in the US, with a volume share of 44.9% compared to PepsiCo, which trailed in second place with just 25.9%. 
Although Coke vs Pepsi products is the toughest battle among Coca-Cola competitors, Coke also competes against other cola and soft drink brands, such as Red Bull, Tetra Pak juice cartons, and Keurig Dr Pepper (7Up, Schweppes, Dr Pepper, RC, Sunkist and more). Yet Coca-Cola is the clear winner, with a brand value five times higher than the closest competitor.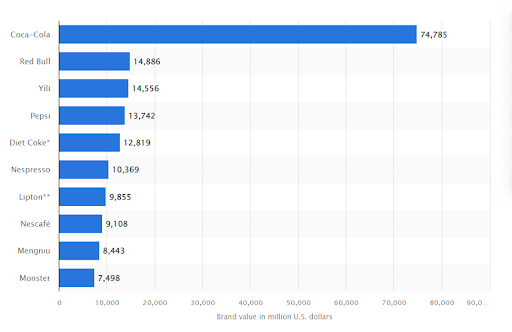 What is Coca-Cola's Marketing Strategy?
For a company that has been operating for over a century, Coca-Cola marketing strategy is suitably broad, well established and highly successful. Coca-Cola takes a vast, multi channel marketing approach, focusing on TV ads, sponsorships, celebrity endorsements, product marketing, brand marketing and much more.
Most importantly, Coca-Cola marketing focuses on selling a lifestyle promise, rather than simply a product. This is evident in the brand's slogans throughout the years, such as "Coke is it", "Taste the feeling", "The real thing", and the new 2021 slogan, "Real Magic". 
The vibe of the latest slogan is portrayed in the impressive 2022 Coca-Cola ad, "The Conductor – A Kind of Magic", featuring a roundup of artists performing the Coke jingle, promoting the Coke brand value of unity and feeling "in sync":
Like rival brand Pepsi, Coca-Cola also places a strong emphasis on product innovation. A recent example is the launch of Coca-Cola with Coffee,  touted as a hybrid mocha flavored caffeinated soft drink that falls into the ready-to-drink (RTD) coffee category.
The product is already showing strong success, with 88% of the customers who tried it saying they would buy it again. 
When it comes to the international markets, the company invests significantly in separate marketing campaigns. The Coca-Cola advertising strategy takes the strong brand message of Coke and localizes it for appropriate geos and target audiences. 
For example, a recent ad for Coke India explores a new way to cheer for your team at a cricket match. Once again, the brand is focusing on themes of unity, togetherness and fun, which always take center stage no matter how does Coca-Cola market their products:
Innovative and engaging campaigns are a key part of the Coca-Cola marketing strategy and brand approach, the most famous being "Share a Coke", the personalized Coke bottle campaign. Launched in 2011 in Australia followed by worldwide expansion, the campaign has been a phenomenal success, producing over 150M bottles, increasing sales in the US by 2.5%, and garnering over a billion impressions of the #Shareacoke hashtag on social media. It also won several prestigious Cannes Lions awards for the Coke brand.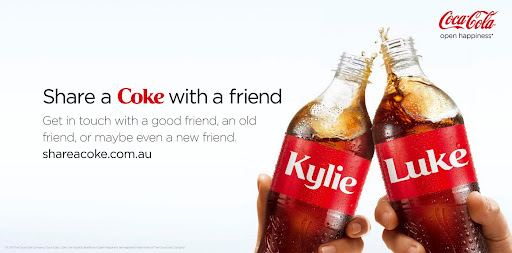 Looking for insights like these for your target market? Whether you are marketing cola, cosmetics, or cellphone accessories (or any other consumer goods!), visit the Consumer Insights and Audiences Hub. 
There are 500+ categories and locations to choose from, where you can discover the latest mobile user data from the Start.io network, and leverage powerful insights to create better mobile campaigns and better targeting strategies.
Coca-Cola FAQs
What is Coca-Cola's biggest market?
In terms of market share of items sold, EMEA (Europe, Middle East and Africa) are Coca-Cola's biggest market. However, North America is the largest market in terms of revenue distribution.
What age group drinks the most Coca-Cola?
The largest age group in terms of Coca-Cola consumption is ages 35-44.
How does Coca-Cola market its product?
Coca-Cola uses a multi-channel approach to marketing, including TV commercials, sponsorships, celebrity endorsements, viral social campaigns, and innovative customer engagement campaigns, such as the highly successful "Share a Coke" campaign, launched over a decade ago and still running today.
Additional Sources