Food. It's no longer just a source of fuel and nutrition for the body. In recent years, it has become a powerful and competitive consumer segment. 
In 2019, a US study found that over 50% of consumers considered themselves "foodies". More than 60% said they would go to an event just for the food, and 26% had shared a food snapshot on social media in the previous month.
There are entire communities of foodies all over the world who are thinking about food, preparing food, browsing online and offline for food and related items, cooking at home, or dining out. In this blog, we're going to explore home delivery food trends, what that means for food businesses, and how mobile user data can illuminate food delivery app customer segmentation and advertising strategies for marketers and app publishers in the niche.
The rise of food delivery apps
When COVID hit, the food industry was faced with a dilemma and a challenge. 
On the one hand, restaurants had to comply with lockdown orders and social distancing rules, and that meant a severe drop in business. On the other hand, consumers were more focused on food than ever – they became more interested in the kitchen and home cooking, and increased their takeaway purchases too. 
These changes to online food ordering trends are so far here to stay. In fact, one in five survey respondents say they are enjoying more takeaway food now than before the pandemic.
In all these rapidly changing trends and habits, food companies have had to adapt quickly, and restaurants in particular are looking for ways to bounce back and restore their business activity to pre-pandemic levels. One way to catch audience attention and boost restaurant orders is with food delivery apps, which are steadily growing in popularity as the graph below clearly shows.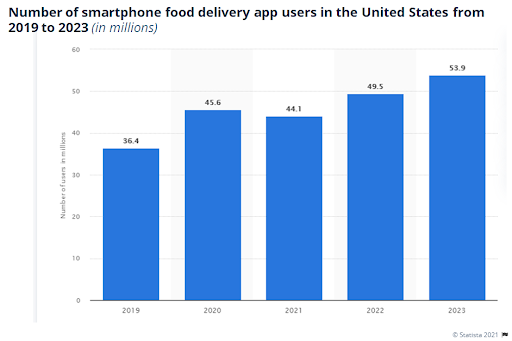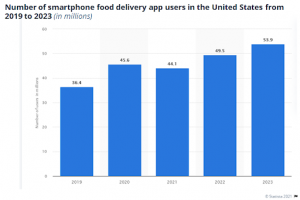 Food delivery app users: No longer just a niche segment
Food delivery apps were once a niche market, mainly serving the more mobile-savvy and tech-native Gen Z and millennials. However, when faced with lockdowns, restaurants all over the world took to food delivery apps as a way to grab the target audience's attention, continue to serve customers and increase business opportunities.
This is evident in the success of Uber Eats, an offshoot of the ride-sharing company. During shelter-in-place orders, when ride sharing demand was way down, Uber Eats generated $4.8 billion in revenue from food deliveries, representing over 40% of Uber's business. 
Another way that restaurants have been innovating during this time is the establishment of "ghost kitchens" – kitchens set up for the sole purpose of food delivery, with no in-house restaurant seating. Ghost kitchens are an excellent solution, but they are costly to run, and they come with critical issues of operational viability and scalability. 
Before investing in a ghost kitchen, business owners must ask themselves, where is the best location that will serve the largest number of consumers? Where are the foodies located, what kind of service are they looking for, and how can my business provide it? Read on to see how  Start.io data insights can help food delivery companies answer these questions.
Foodies in Boston vs LA: A Start.io case study
Analysis of Start.io data in Boston and Los Angeles helps paint an accurate picture of the characteristics and behaviors of local foodies. 
Both cities are home to big communities of foodies, who love dining out and in, however Los Angeles is the definite leader, with 37% of mobile users defined as foodies in LA, compared to 17% foodies in Boston. This is reflected in the activity seen on food delivery apps too. In LA, 16% of users actively order food via their mobile devices, with just 5% doing the same in Boston. 
There are similarities between the cities too. In both Boston and LA, affluent consumers are the ones who most use food delivery apps, with over 50% earning $75K or more annually. The younger adult age group of 25-34 year olds is by far the biggest audience, with 49.06% in LA and 45.08% in Boston, and in both cities, men are the majority of food app users, with just over 64% user share.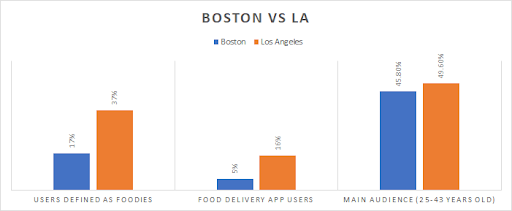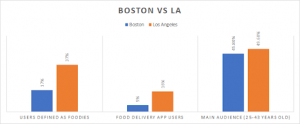 Interestingly, despite that LA is a more food app-centric market overall, there are in fact over 20,000 mobile users displaying the potential to become food delivery app users in Boston.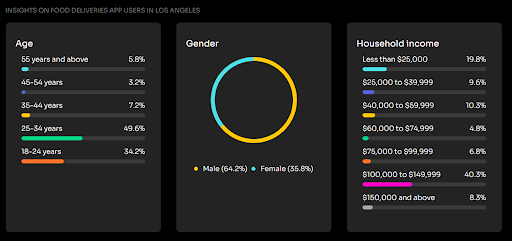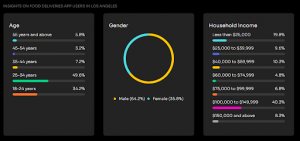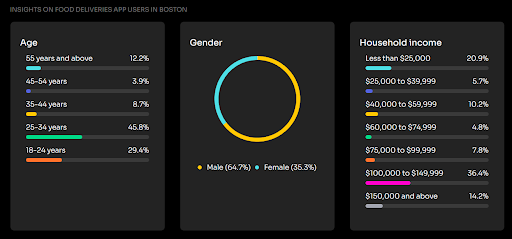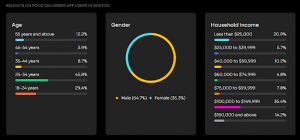 What's next for food delivery app publishers?
The global pandemic of 2020 continues to reverberate its impact on businesses, and for food providers, it has been a game changer. As time passes, people become even more accustomed to the convenience and speed of food delivery apps and home delivery trends continue. Having a grasp of up-to-date consumer data for this user segment is crucial to know what steps to take next.
For example, according to Start.io data in the US, the majority of food delivery app customer segmentation is young millennials with a strong male majority. This audience is tech savvy and fast to adapt to market and technology changes. They are also impatient, and interested in new innovations. 
In addition, the past year has seen constant growth in food delivery app users over the age of 40. With the right marketing messaging and effective targeting, food app publishers can reach this growing audience and leverage a valuable potential revenue stream.
Online food ordering trends: All you need to know
This Start.io data, and more like it, is a powerful way for food businesses and restaurant owners to identify the best target audience for food delivery in different locations. Then, they can make more accurate and financially viable decisions about things like ghost kitchen set-up and food delivery operations. 
With the launch of the Start.io Audience Segments hub, insights like these are available for 500+ consumer segments in every niche, from food to finance, travel to teens, beauty shoppers to burger lovers. This up-to-date mobile user data covering hundreds of locations worldwide, accessible instantly via a simple search console.
Be sure to check in to Start.io Audiences Hub and start taking advantage of data to boost your performance in the food delivery app and online food ordering segment.