Remember Musical.ly?
Musical.ly was a lip-synching app that teens everywhere absolutely loved. They could easily create and share short clips of themselves singing and dancing to their favorite songs. 
Musical.ly was, in fact, TikTok before it became the fastest growing and the 6th largest social media app in the world. 
In 2017, Chinese company ByteDance bought Musical.ly for a reported $1 billion. Both companies merged their massive user bases into one app, which rebranded in 2018 as TikTok. By early 2019, TikTok had 1 billion global downloads, and was much more than just teens dancing, singing and having fun.
Indeed, 45% of the world's brands are using TikTok as part of their online marketing strategy in 2022.
Today, consumer and B2B brands are turning to TikTok to expand their social media reach and gain exposure among highly engaged audiences. How? Let's take a look at how TikTok marketing works, and strategies to boost engagement on the platform. But first, let's get some perspective with a quick overview of the TikTok phenomenon. 
Surprising TikTok Facts & Stats for Businesses
When you think about TikTok's origins as a lip-synching app, it is easier to understand its unique character – edgier than Facebook, Instagram and even SnapChat. TikTok is designed to promote short, "me-focused" clips that use fast emotion and often a snarky vibe to tell a story and make a point.  
It's not surprising then that most TikTok users are Gen Z. But not just. 
TikTok is gaining reach so far and so fast, it is inevitable that older generations and more traditional brands will join the app too. Yes, even luxury companies like BMW, and health agencies like the NHS are on TikTok. BMW, not exactly a teen-focused brand, has 1 million followers as a result of its business TikTok ideas!
Here are some more TikTok facts and stats that may surprise you:
As of Q2, 2022, Tiktok has 1.46 billion users – over 1 in 8 people worldwide are on TikTok.

TikTok is available in 154 countries. The largest TikTok audience is located in the US, followed by Indonesia and Brazil.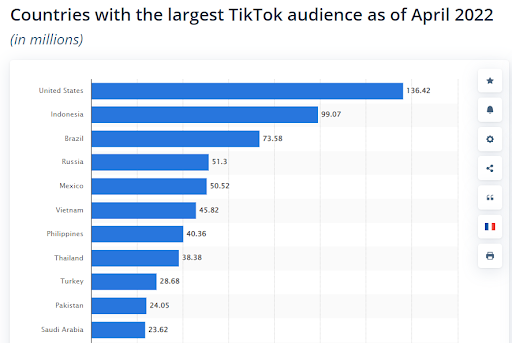 At the start of 2022, TikTok was the 6th most popular social media network, after Facebook, YouTube, WhatsApp, Instagram and WeChat.

TikTok has been downloaded 3 billion times.

The largest proportion of users are aged 18-24 (24% females, 17% males). But even the 35-44 year age group makes up a not insignificant proportion of the TikTok user base: 7.2% females, and 6.1% males.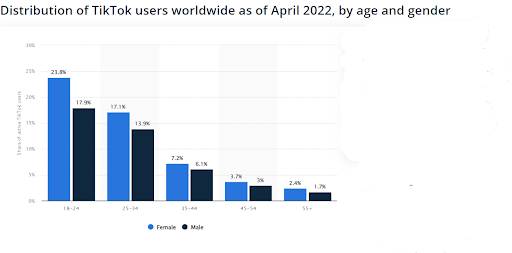 18% of internet users aged 16-64 worldwide are using TikTok.

Women prefer TikTok more than men: 57% of users are female compared to 40% male, and 3% "other".

In 2020, TikTok launched the Creator Fund, dedicating $200 million of monetization funds to encourage content creators on the platform.

Of the top 10 most followed TikTok accounts, 6 are primarily social media personalities (i.e., not famous for any other reason.)

Will Smith is the fifth most popular TikTok account, and The Rock ranks as tenth most popular (as of 2022).

The most watched TikTok video ever is a lip-synching video by social media personality Bella Poarch.

https://www.tiktok.com/@bellapoarch/video/6862153058223197445
There are around 225,000 well-known brands on TikTok.

45% of brands worldwide use TikTok for their Gen Z marketing campaigns.

Emotion is a big driver of TikTik success: videos get 3.3X higher conversion rates when creators show four or more emotions in one clip. 

Viral TikTok campaigns are not necessarily cheap. Hashtag challenges typically cost around $150,000 per week. 

The top 10 ranking industries that use TikTok marketing (in numbers of accumulated likes) are all from the world of B2C, and include product categories that are well suited to the quick, visual, video clip format:
Beauty

Fashion

Jewelry

Art

Home decor

Food

Mobile accessories

Cleaning & maintenance

Toys

Dental
How to Promote your Business on TikTok?
TikTok videos are short, and any TikTok video ideas that have a chance of succeeding must take this into consideration. 
A video that's just a few seconds long may not seem like enough time in which to be creative. However, the 'biteable' TikTok format is surprisingly flexible, and many brands succeed in using it with a flair that makes them stand out and get noticed. One of the advantages of this bite-size format is that it makes brands think out of the box, and pushes them to be more innovative, daring and edgy in their TikTok videos and campaigns.
Here are several ways to promote your business on TikTok and create an impact among a huge and engaged audience:
Showcase your products
Consumer goods are some of the most popular categories on TikTok, including cosmetics, home decor, fashion and more. TikTok is the ideal format to showcase a product or several products in lots of different ways. Create a short tutorial video of how to use a product, or show the same product in lots of available colors or patterns. 
A big part of TikTok advertising is user generated content around products that TikTokers love. For example, Amazon Home encourages people to get their home decor ideas featured by adding the #amazonhome hashtag or tagging @amazonhome. This is a great way for both the brand and the TikTok user to boost engagement.
Embrace humor
Just over 40% of TikTok users say they come to the platform for comic relief! Many brands on TikTok gain followers and engagement by using humor and even pushing a somewhat snarky attitude. RyanAir, the low cost airline, is a great example. The brand often taps into critics on TikTok, pushing the envelope with responses to their complaints.
This can be tricky to cultivate, and is not the right tactic for every brand. If you want to use humor, make sure it is the right tone for your business identity. The ones that do it well will get a lot of traction.  
Influencers – micro and macro
Collaborating with influencers is one of the most popular tactics for TikTok marketing. It is estimated that there are 50,000 influencers on TikTok who have 1000 or more followers. 36% of these have over 1 million followers. Just about all the mid-market to large brands use influencers on TikTok with some frequency. One of the biggest advantages of TikTok influencer marketing is that it is quick and easy to get up and running.
An influencer can create a short video mentioning your product or brand, and get great engagement rates among a large audience of followers in a very short time. For example, influencer Maria Rengi has 1.6 million followers, and a short clip of her trying out Dunkin's new cake batter coffee in the car got nearly 38,000 likes and close to 400 comments.
Repurposing content
Reposting content already featured on your website or other social channels is a great way to reach the large audience on TikTok and expose them to your brand. It just takes a little bit of effort to repackage existing content into a short, TikTok style video.
This is exactly what CNN does, taking snippets from interviews and news videos, and repurposing them into videos especially for TikTok. Interestingly, some of the videos are quite long by TikTok standards: 2 or 3 minutes or even longer. As long as it fits the story and the message, it's ok to depart from the short video format typically seen on TikTok.
Capture a vibe
One of the fun aspects of TikTok is the element of the unexpected, and brands can leverage that to make their mark. TikTok is the ideal environment to leave the usual brand look and feel behind, and capture a different vibe that engages the audience and draws attention.
Toyota did this beautifully in a video of the classic 1985 Corolla AE86 GT-S model, with the caption "Nothing better than the 80s, baby!". Far removed from the slick TV ads expected of a leading auto brand, this TikTok video got nearly 34,000 likes and generated some great engagement in the comments.
Demos and practical content
TikTok is not just dancing and lip synching. Many brands use TikTok to show short demos that are useful, practical and relevant to their audiences. With some fun background music and easy explanations, demo videos can be made highly engaging to Gen Z consumers with short attention spans.
A good example from Walmart shows viewers how to create a gift bag out of wrapping paper in just a 14-second video. With a funky version of "Jingle Bells" playing in the background, it's a fast, helpful piece of content with just the right vibe for the holiday season.
Behind the scenes
Behind the scenes videos on TikTok are a powerful way to let the audience see your brand in an uncut, unfiltered way. This builds brand authenticity, and encourages trust and loyalty. When done well, it also makes for great entertainment. After all, everyone loves a peek behind the curtain, especially in these digital and voyeuristic times.
The Reptile Zoo is a popular wildlife attraction in California, and they post a lot of behind the scenes videos showing how they care for their reptilian friends. The video below shows the "crazy alligator lady" feeding the alligators, set to classical music – it makes for fun and compelling viewing. 
Share your values
Whether your values are ending world poverty or creating the most iconic trunk like Louis Vuitton, TikTok provides a platform where you can tell the world about it in your own way.
A TikTok video promoting the Vuitton 200 Trunks exhibition in New York is a prime example – the company draws on the celebrity power of Jaden Smith and Karlie Kloss to express the brand message that "It's the journey, not the destination." This 1-minute video is much more than just a promotion of an event; it's a reflection of the Vuitton brand identity and tradition, which makes it very powerful and authentic.
How to Increase Engagement on TikTok?
Like all social media networks, TikTok has its own unique ecosystem, with a set of tools and tactics that differ from competitors. To be sure, TikTok's meteoric rise has led to some copycat features cropping up on other social platforms. For example, YouTube Shorts are a clear replication of the TikTok video concept, as are Facebook Reels.
When building on a TikTok marketing strategy, it is worthwhile getting familiar with TikTok's advertising formats and features, so you can get the most from your investment of time and ad spend. 
Here are several ways to increase engagement of your TikTok content strategy:
Keep videos short and biteable: TikTok has been likened to a 'candy store', with short videos suited for short attention spans to keep users engaged. This is borne out in the stats showing that the best performing TikTok videos are between just 21 and 34 seconds. It's not a hard and fast rule, and there are plenty of longer videos on TikTok. But for maximum engagement, keep it short and punchy.
Focus on CTAs: Give viewers clear instructions of what to do after they've seen your video. For example, provide a link to a product page in the description, ask viewers to share the video, or invite them to upload their own video with a relevant hashtag. For paid ads, TikTok offers a selection of Recommended CTAs to choose from, or you can select Dynamic CTA, and the platform will choose the best CTA based on the industry and past viewer behavior.
Hashtag challenge: TikTok Hashtag Challenges are a fantastic tool for user engagement and brands can sponsor relevant hashtag challenges to leverage virality and gain massive exposure. The downside is the cost: around $150,000 a day to partner with TikTok on a hashtag challenge. 
Stitch: Stitch is a relatively new feature from TikTok that enables you to add up to 5 seconds of new content to an old video. You can also stitch content from other users' videos, if they give permission to do so. This is a great way to boost engagement – for example, you can update an old popular video from your own page with fresh content. Or, edit a few seconds of content from another user's video into your own and leverage their star power and authority on your TikTok page.
Influencer collaborations: One of the key levers of TikTok's success is its cultivation of a global community of TikTok Creators. These are trendsetters from all over the world who create impactful content that shapes the TikTok landscape. Collaborating with influential TikTokers is probably the most important way to increase engagement on the platform. In fact, the Consumer Trends 2023 report shows that 28% of TikTok users followed a new brand, and 27% purchased products because of a TikTok video.   
TikTok Ads: Like all social media platforms, TikTok offers paid ads on the platform. A recent independent study showed that TikTok ads offer the highest ROAS (return on ad spend) for customer acquisition. Despite overall declines in ad spending, investment in TikTok advertising is still rapidly rising. According to TikTok, 84% of users have been convinced to buy a product or service via a branded video. 
There are several types of TikTok ads. Apart from standard in-feed ads and TopView ads, TikTok also offers Spark Ads, its own native advertising solution. Launched in mid 2021, Spark Ads enable brands to boost their organic content, or organic posts created by other users. By promoting organic videos, brands can tap into existing communities and significantly increase their reach and exposure among engaged audiences.
Best Performing TikTok Content Ideas for Business
For marketers looking for TikTok content ideas, it's worth checking out some of the brands that have already seen success on the platform, Here are some TikTok ads examples to inspire you:
1. Chipotle 
The popular Mexican fast food chain is known for its powerful performance in Branded Hashtag campaigns on TikTok. In 2019, to celebrate National Avocado Day, the company ran its #GuacDance hashtag challenge, based on the viral hit by children's teacher and musical performer Dr Jean's "Guacamole Song".
During the six days of the campaign, there were 250,000 video submissions with the #GuacDance hashtag, nearly 430 million video starts, and sales of over 800,000 sides of guac in Chipotle stores in one day. 
2. NBA
The NBA TikTok page is incredibly popular, with over 17 million followers and close to 300 million likes to date. These high TikTok engagement rates are partly due to the use of humor. Funny videos and memes are a staple of NBA's TikTok strategy. Of course, the page often leverages the star power of its players in unique ways.
An example is this TikTok video, featuring a candid post-game behind-the-scenes moment when Stephen Curry's young son says a very sweet "Hello  Klay Thompson" to the legend and his dad's teammate. This adorable moment was viewed 17.7 million times, got 2.6 million likes, and was shared by over 15,000 users.
3. Zara
The global fashion brand works with TikTok Creators under the hashtag #zaracreators, and offers some great examples of TikTok ideas for businesses.
Australian-based 3D digital artist and NFT creator @Marble Mannequin often partners with Zara to promote the brand in uniquely artistic ways. In the "Press to Pink" video, the artist brings to life an imaginary machine that gives a pink Zara handbag its color. From the bright and beautiful colors, to the ASMR factor, this video shows how user-generated content by strategic influencers on TikTok can bring so much more engagement than traditional advertising strategies. At just 11 seconds long, "Press to Pink" got over 115,000 likes and more than 500 comments. 
Develop Your Successful TikTok Marketing Strategy
When considering how to develop a TikTik marketing strategy, it is important to know which mobile users in your target audience are on TikTok, and what other characteristics and interests they have. 
According to Start.io first-party mobile data, there are over 10.5 million TikTok users in the United States. Of these, nearly 92% are aged between 18 and 34 years. Besides TikTok, they also spend time in Walmart and Starbucks. The top 5 mobile devices of TikTok users are Samsung, and 52% earn under $40,000 annual income.
Want to learn about TikTok audiences in other locations? Visit the Consumer Insights & Audiences Hub. Filter the search by choosing Hobbies under "category", and select "TikTok Users" under "segment". Choose a location and click "search" and discover key insights about your local audience of TikTok users.  
Beyond TikTok, discover more advanced mobile marketing tools to reach your best mobile audience and boost campaign performance at scale.
Resources