It's been dubbed "North America's weirdest clothing brand". 
It has a customer base so loyal, they are known as "Luluheads".
It was established more than 30 years after competitor Nike, but both brands have similar sales growth. 
Yes, it's lululemon athletica (all lowercase on purpose). 
Established in 1998, Lululemon is a Canadian athleisure wear company that started out purely for women. It was a brand of its time, a backlash to the women's power movement of the 80s and 90s, in which women were to work hard and have it all. At the start of the new millennium, a new movement was forming, urging women to restore a healthy work-life balance, and create a more Zen-like life and style. That's where Lululemon entered the picture.
Lululemon started as a yoga wear brand, at a time when yoga and Eastern spiritual practices were becoming mainstream in the West. The product that launched the Lululemon phenomenon was its invention of the yoga pant, comfortable yet high performance. Lululemon changed the way that women wear sports clothing, creating a new niche and then filling it with more and expanded product ranges as the niche grew.
The company has since expanded into athletic wear, lifestyle wear, accessories and personal care products and even men's products and on-demand fitness video streaming. 
The company went public in 2007, and has enjoyed incredible year-on-year growth in global net revenue, jumping to over $6.2 billion in 2021.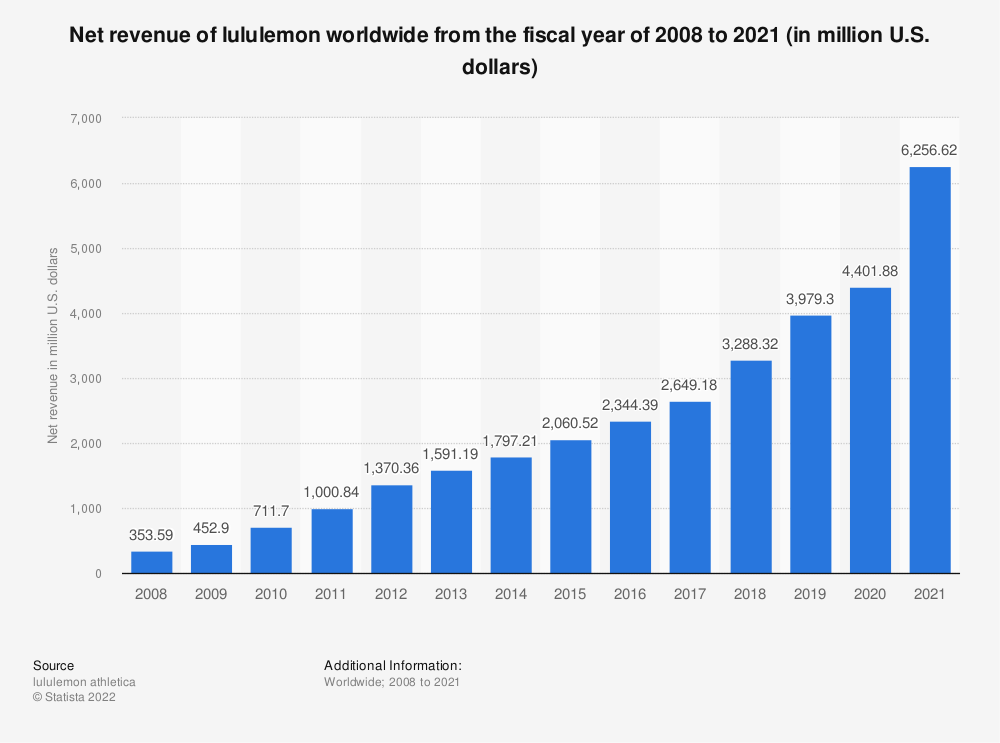 Source – Statista
In 2009, Lululemon launched its online store. In 2020, at the height of the pandemic, fully 52% of the company's total sales were online. In 2021, the number dropped somewhat, but the company still generated an impressive $2.8 billion from DTC sales.
In 2020, Lululemon was the fastest growing retail brand, with 40% growth: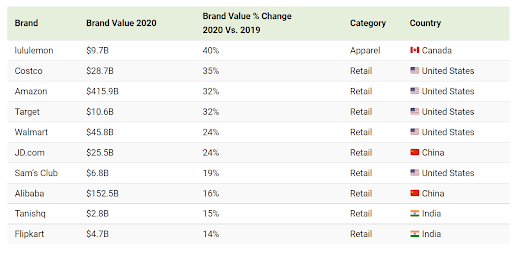 All this begs the question: How did this "weird" company with the funny sounding name manage to break open an entirely new market? 
Who are the Lululemon target audience that make the brand so successful? What is the Lululemon business model for success? Let's explore the typical Lululemon customer profile to get the answers.
Who is the Lululemon Target Market?
Lululemon customer demographics includes people in their mid-teens to mid thirties, both women and men. They are largely yoga and/or fitness enthusiasts who value work-life balance and a fit and active lifestyle. They are generally affluent, and willing to pay the high prices of Lululemon products. The target market is tech savvy and invested in their self image as health conscious and stylish.
Lululemon market size is largest in the US by far, however the brand is sold globally.
Lululemon Target Market Segmentation & Customer Profile 
A Lululemon market segmentation demands a deep dive into four aspects of the target market: demographic, geographic, behavioral and psychographic. Let's explore the Lululemon STP via each of these in turn.
Lululemon Demographic Segmentation
Lululemon demographics covers the younger age groups, ranging from 15 to 35. Although the company started as a women's brand, it now targets both women and men. In 2020, 30% of new customers were men. 
Even so, the bulk of Lululemon sales are attributed to women's products. In 2021, women accounted for nearly $4.2 billion of sales, compared to just over $1.5 billion for men.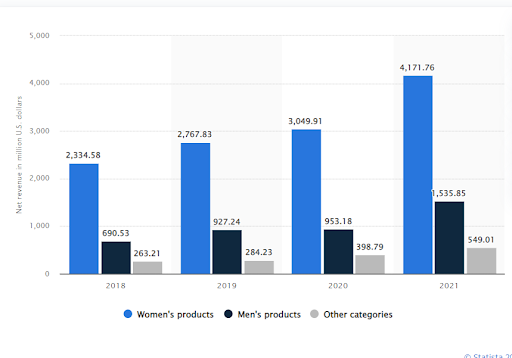 Source – Statista
Lululemon Geographic Segmentation
Lululemon is a global brand, although the US market is by far the largest, and is enjoying explosive growth. In 2021, the US accounted for $4.3 billion of company sales, while Canada generated $950 million. The entire rest of the world generated sales of $950 million.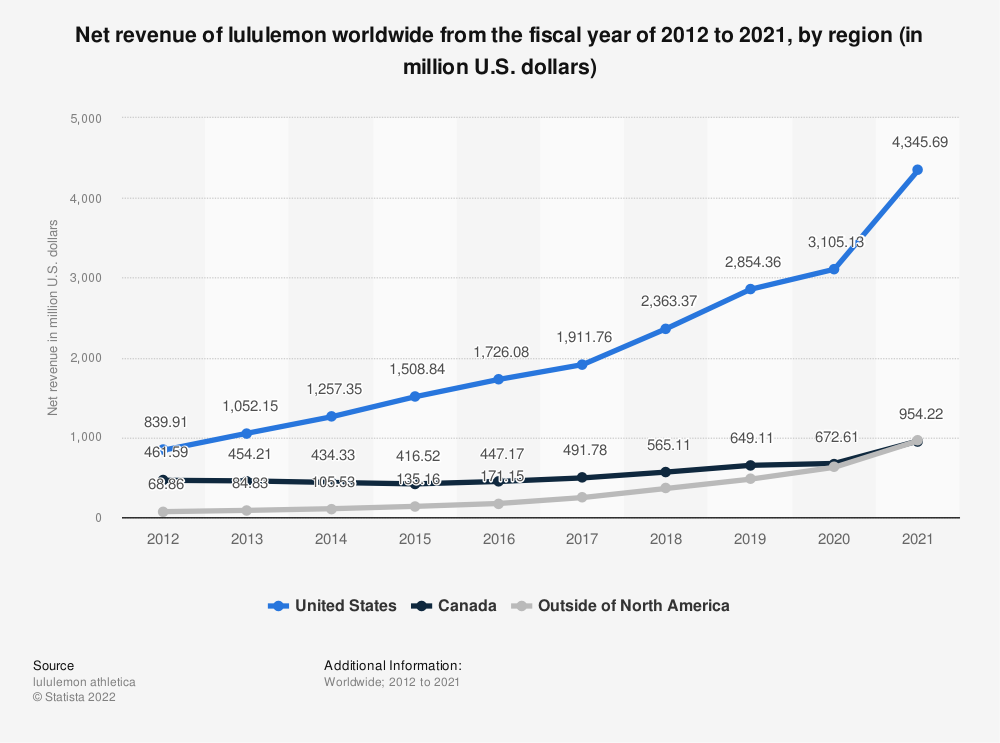 Source – Statista
In 2022, there are 574 Lululemon stores worldwide, with the majority in the US, followed by China, Canada and Australia.

Source – Statista
In the US, California has the most stores (69) followed by Texas with 31 and New York with 27. The US cities with the most stores are New York City (12), Chicago (7) and Atlanta (6).
Lululemon Behavioral Segmentation
Lululemon is a premium fitness wear brand, and products are pricey, ranging from $90 to $130 for items such as leggings and bras. Therefore, Lululemon tends to attract middle to upper class customers.
The typical Lululemon target customer is fitness enthusiasts, who regularly work out. Yoga lovers are big Lululemon fans, however the customer base partake in several sports, including running, cycling, and training. Lululemon customers equally enjoy in-store shopping and online shopping, with a 50-50 split between buying at Lululemon stores and on websites.
Lululemon Psychographic Segmentation
The Lululemon customer profile is affluent women and men who are career minded and driven, yet at the same time, make healthy living and fitness a top priority. They are high earners, and can afford the uncompromising blend of comfort, quality and style that Lululemon provides.
The Lululemon target audience are often characterized as 'succeeders' and 'aspirers'. They are passionate about travel, leisure, and work-life balance, not just enjoying them as activities but making them a part of their self identity.
Lululemon fans are tech savvy, and will typically use fitness tech and apps, such as wearable fitness trackers and at-home fitness class streaming.
Who are Lululemon competitors?
Despite the fact that Lululemon competes with some of the world's most famous and long-standing athletic wear brands, it has a global market cap of $34.8 billion in the category, second only to Nike.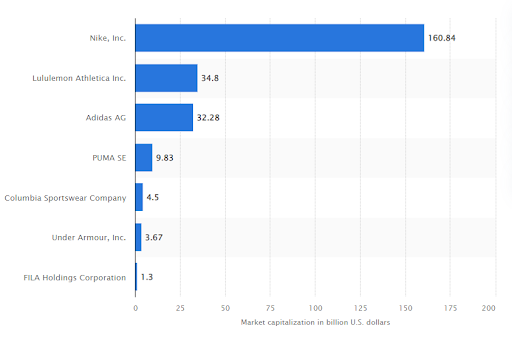 Source – Statista
Lululemon's competitive advantage can be somewhat explained by good vision and timing. The company saw a gap in the women's fitness apparel, and filled it. Past years have seen  substantial growth in the women's sportswear category. In 2021, it had a global value of $178 billion, and expected to grow to $269 billion by 2029.
Although a new-ish brand compared to many others, Lululemon also outperforms in terms of expected sales growth. The company is forecast to grow sales by 20% between July 2022 and July 2023. By contrast, Nike is forecast at 20.7% sales growth.
Despite strong growth and brand value, Lululemon still does not come close to Nike in terms of net revenue: in 2021, Luluemon generated $6.3 billion compared to Nike's $46.71 billion. 
This reflects the fact that Lululemon began as a niche company in women's yoga wear and later fitness wear. It only more recently expanded to target men and the kids categories. In contrast, the Nike target market has been far broader for far longer. 
Another of Lululemon's main competitors is Adidas. However, Adidas' biggest market category is footwear, and Lululemon does not compete strongly in this category. It only recently launched  footwear for women, and men's footwear is not expected to be available till next year. 
In 2021, global sales for Adidas were far higher than Lululemon: a little more than 21 billion euros, compared to Lululemon's $6.3 billion. Yet, Lululemon is performing better in e-commerce sales: among the Adidas audience, share of DTC sales actually dropped in 2021 to 38%  (compared to 41% in 2020), while Lululemon online sales continue to grow rapidly. In 2020, e-commerce sales for Lululemon more than doubled. 
Under Armour is another example of Lululemon competitors, more similar in size to Lululemon than mega-brands Nike or Adidas. In 2021, Under Armour revenue was $5.7 billion, half a billion less than Lululemon. 
The Under Armour target audience is similar to Lululemon too in terms of age demographics. However, Lululemons' unique positioning as a women-first and lifestyle brand gives it an edge that has so far seen it exceed the success of Under Armour. 
Compared to Under Armour, the Lululemon target market is far more concentrated in North America, with the vast majority of revenue coming from the US and Canada. While Under Armour's largest audience is also North America, it accounts for 67% of the company's sales, which is far less than Lululemon's somewhat 'eggs in one basket' situation.
Lululemon market share stands at 5.15% for the year ending mid 2022, compared to Nike's 34.38% and Under Armour's 4.37%.
What is Lululemon Marketing Strategy?
Lululemon marketing strategy hinges on a key principle: selling not just products but a lifestyle. Indeed, the company launched a whole new category of clothing – yoga pants – and the lifestyle that goes with it.
The initial Lululemon strategy was hyper-focused on women, but that has changed through the years. More recently the company has begun targeting the male audience, and has applied its edgy and game-changing character to men-focused marketing. For example, Lululemon's first men's campaign promoted the Anti-Ball Crushing (ABC) pant, part of the "Strength to Be" theme exploring and celebrating men being true to themselves. 
Lululemon sells its products in physical stores located worldwide, as well as DTC via its web store and other third-party online marketplaces. The brand also sells wholesale to fitness clubs and yoga studios, creating brand awareness where the target audience spends their time.
Another Lululemon advertising strategy is to differentiate itself in the crowded athleisure market by shifting the conversation. For example, the brand launched the "Feel" campaign, focusing not on fitness performance but on emotions, such as isolation, anxiety and depression. In this way, Lululemon builds deeper and long-standing connections with customers about the things that matter to their lives, beyond sport and exercise.
Lululemon's business now extends beyond apparel and accessories to digital streaming. The company recently launched Lululemon Studio, an on-demand at-home fitness platform offering more than 10,000 live and recorded workouts with certified trainers. This is a result of Lululemon's acquisition of Mirror, a fitness tech platform. The Lululemon Mirror is not cheap, starting at $1495, however those who purchase it get access to the entire Lululemon Studio. This new product strategy is well-suited to the affluent, tech savvy character of the brand's target market.
Lululemon has a large following on Instagram, currently numbered at over 4 million. The Instagram account offers broad, engaging and sometimes interactive content that reflects the unique Lululemon blend of product and lifestyle.
https://www.instagram.com/p/CfzcwTqv0LX/?utm_source=ig_web_copy_link
The company also has an active and growing TikTok account with nearly half a million followers, buoyed by a strong influencer and community building strategy. For the year of April 2019 to March 2020, Lululemon is estimated to have achieved $86.1 million Earned Media Value (EMV) from the activities of 5,600 brand ambassadors.
Lululemon eschews the "fast fashion" concept, only offering high-quality products based on innovative fabrics and technologies. Nevertheless, the company excels in rapidly adapting to market trends. It also focuses on creating a personal, thoughtful and direct dialogue with customers to meet their needs. A recent example is evident in a Lululemon advertising video describing the brand's inclusive approach, offering products in sizes 0-20. The presenter is no less than Lululemon's Senior Vice President of Women's Design, Audrey Milligan Reilly.
What is Lululemon brand positioning?
Lululemon is a premium and relatively expensive brand, yet it provides significant returns to customers. Not just in the quality and performance of the product but also in the brand positioning as sassy, different, and 'out there' as a game changer. 
Indeed, despite the price tags, Lululemon has succeeded in developing a reputation as a cult brand, with a highly devoted customer base willing to pay the price to be a part of a shared community. These brand fans even have a name: "Luluheads".
For example, Lululemon is famous for its in store yoga classes, during which display racks are pushed aside in favor of yoga mats, and customers can join in on a yoga session right there on the sales floor. This is all part of Lululemon's success in selling a lifestyle, a community and a self-image, rather than just fitness wear.
Lululemon can't compete with the marketing budgets of Nike and Adidas. Rather, it is a "grass roots brand", with a strong focus on micro-influencers. Lululemon has built an army of powerful brand ambassadors from among the amateur fitness community. For example, its branded hashtag campaign #TheSweatLife generated 1,4000 social media posts from 678 customers, and an estimated $4.6 million EMV.
The Lululemon community-building strategy includes the popular initiative called The Sweat Collective. This is a group of fitness leaders, including athletes, coaches and fitness trainers, who act as advocates for Lululemon, and in exchange receive 25% on all purchases. Even more importantly, members of the Sweat Collective take part in the design process for Lululemon, testing out new products and providing feedback. This unique crowd-sourcing approach to product development means that the brand can better respond to the market needs. At the same time, Lululemon is building strong relationships with advocates and customers, and enhancing its already successful word-of-mouth marketing approach.
Whether your brand falls into the fitness category, or any of the 500+ niches available at the Consumer Insights and Audiences Hub, understanding your target market is key to creating better campaigns and better targeting. To boost your mobile campaign results, check out all the data insights at the hub, and get to know your target audience from the mobile data experts.
Lululemon FAQs
What makes Lululemon successful?
Lululemon's success over the past two decades can be largely attributed to its mission to sell a lifestyle rather than products. Although the company focuses heavily on product quality, it invests equally strongly on building a brand that supports the customer's self-identity, work-life balance goals, and need for a community surrounding health and wellbeing.
How much does Lululemon spend on advertising?
It is unknown exactly how much Lululemon spends on advertising or marketing. However, its advertising strategy is largely based on the activities of brand ambassadors, who interact directly with Lululemon target audiences to teach fitness classes, host events and promote Lululemon products.
How does Lululemon advertise?
Unlike mega brands such as Nike, Lululemon does not invest in expensive celebrity endorsements, rather focusing on grass-roots community building using thousands of micro-influencers. Lululemon relies strongly on word-of-mouth advertising, while also maintaining active UGC campaigns across its social media accounts.
Additional Sources