How to define the year that was 2021: Corona Light? The year we learned to live with COVID? The second year of the pandemic?
Whichever name you prefer, it is clear that 2021 was a kind of transition year. The initial shock of the pandemic gave way to a hybrid blend of 'normal' life and social distancing. Once again, there was a shift in consumer behavior and this is reflected in Start.io mobile audience data, covering hundreds of consumer segments and the entire globe.
We've pinpointed several key segments with notable data shifts that may impact your mobile advertising strategy in 2022. Here are the consumer behavior trends worth keeping an eye on as you kick off a new year and new marketing plan:
Baking and cooking
According to a survey about hobbies during coronavirus, 21% said that they turned to baking in their extra time at home, perhaps because it provides an opportunity to get away from screens and enjoy a wholesome family activity. This is reflected in mobile app usage, with a 16% jump in the usage of baking and cooking related apps in 2021 compared to 2020.
Meditation
The stress of the pandemic has taken its toll. According to the CDC, between August 2020 and February 2021, the US population saw an approximate 5% increase of symptoms of mental health issues (36.4% to 41.5%). It's no wonder that people are turning to apps and tools to help improve their state of mind. This year saw an increase of 30% in use of meditation apps,  definitely pointing to the need among global audiences.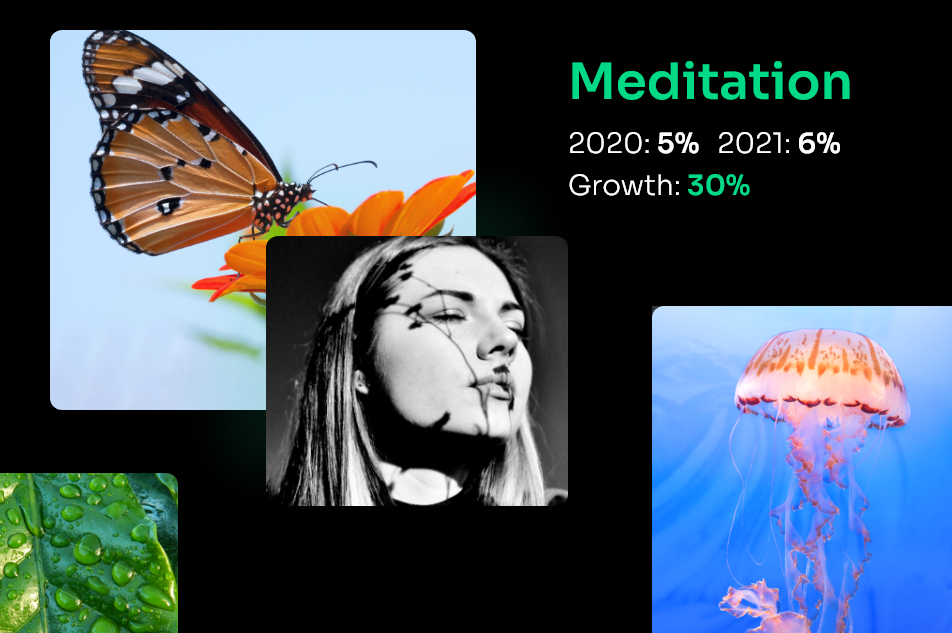 DIY
DIY saw a huge boom during the pandemic, with 25% of DIY fans saying this was due to "finally having the time for it". This is reflected in mobile audience data too, with a doubling of the number of users interested in DIY apps, from 4% to 8%. With more time at home, and more free time on their hands, DIYers have been taking advantage and will continue to do so as long as it is convenient.
News
After two years of non-stop pandemic news, you might think that people are feeling "news fatigue", but actually more people are using apps to get their news than ever before. In 2021, there was an increase in 12% of news app usage, showing that people simply can't get enough of the news and staying connected to what's going on is still vitally important.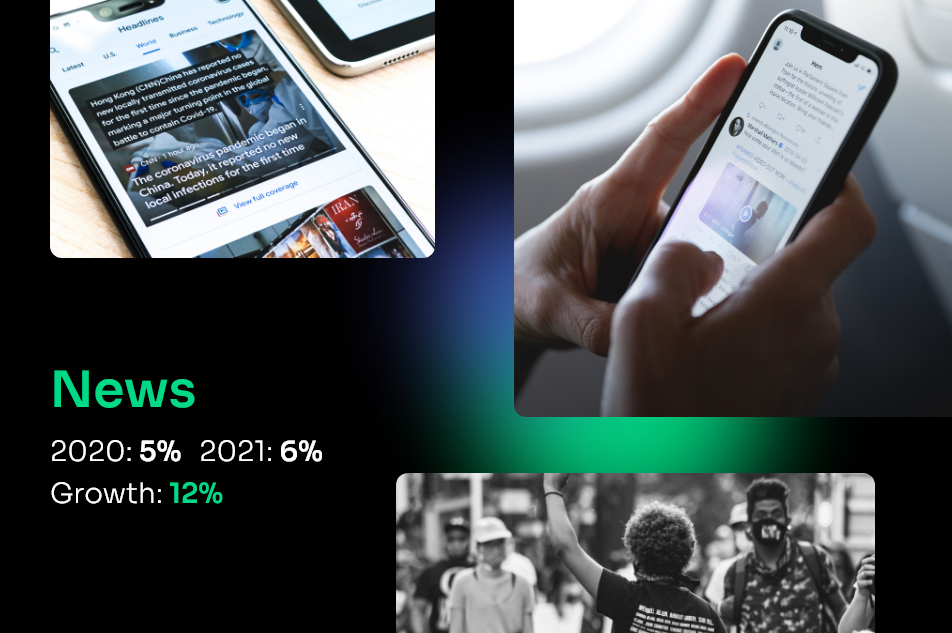 Dating
COVID rules made dating very difficult. In fact, the post-pandemic world has given rise to a new trend: FODA, or fear of dating again! Even so, there's no stopping love, and dating apps are seeing an uptick, with an overall increase of 30% in usage, from 18% in 2020 to 24% in 2021.
Careers and employment
The Great Resignation is well underway, and people are changing jobs or considering a change in higher numbers than ever before. This is reflected in mobile app usage around careers and employment, with a 27% jump (from 9% in 2020 to 11% in 2021), as people use this time to re-think their aspirations and shift their career path.
Wedding planning
Weddings took a big hit during the pandemic. In spring 2021, it was reported that 7000 weddings in England were being cancelled due to confusion surrounding lockdowns and social distancing rules. As the world opens up, couples don't want to wait any more, and this can be seen in the 57% increase in usage of wedding related apps in 2021 compared to 2020.
VPN
Work from home was a key characteristic in 2020, and it continued big time into 2021. This was noted in mobile audience data that showed a 101% increase in VPN use, jumping from 17% in 2020 to 35% in 2021. Expect this to continue into 2022, as 61% of remote workers say they will be working in hybrid mode in the future, with 27% saying they will work from home full time.
Video editing
With more work from home, less time spent commuting, and less going out to socialize and for leisure, people are turning to other creative outlets and interests, especially those that can be done at home and on computer. Video editing was a big one this past year, with a 19% increase of mobile audience interest, from 38% in 2020 to 45% in 2021.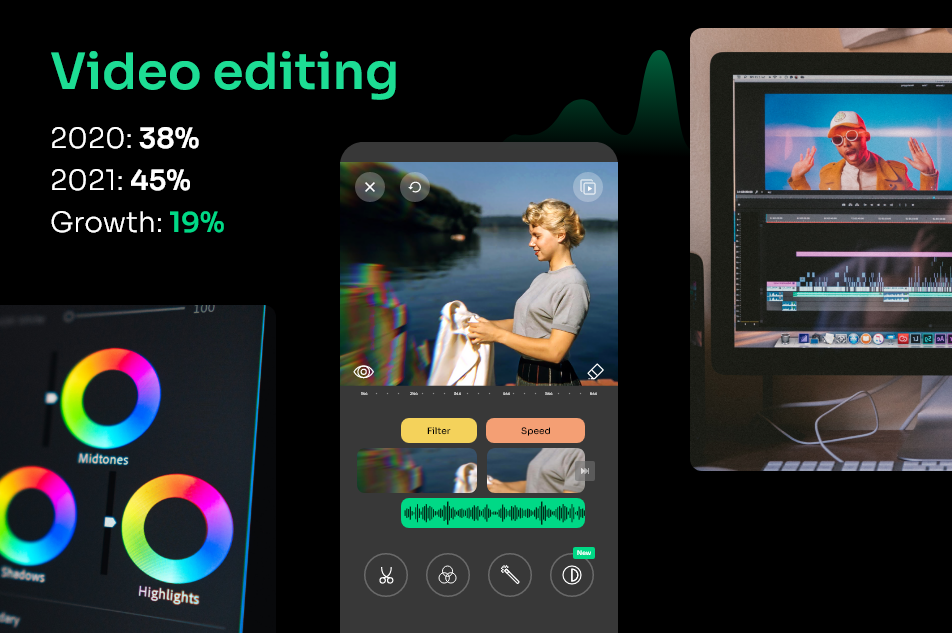 Mobile audience data: the key to success in 2022
Mobile app usage is on the rise, and during the pandemic, it was nothing less than a boom. In the business segment, for instance, there was a 220% increase in app usage. The tricky part is getting behind these awesome numbers to analyze the trends and understand what's really going on across all consumer segments. In light of this, what will the new year look like for mobile users and marketers?
2022 kicked off with the Omicron variant raging around the world, governments working hard to increase vaccination rates, some countries returning to lockdowns, continued social distancing, and a lot of uncertainty among consumers about how to behave. This kind of confusion can expect to give rise to continued use of mobile apps in most segments. 
On the other hand, many consumers are experiencing "pandemic fatigue", with a longing to return to in-person shopping, gym visits, working at the office rather than at home, concerts, vacations, leisure experiences and more. It is clear that 2022 is not simply a case of "2020-too", but rather the beginning of the return to pre-pandemic life, intertwined with the deeply ingrained, new habits of a hybrid lifestyle that blends online and offline experiences like never before.
With the help of Start.io data gathered from half a million integrated apps and 30 billion SDK downloads, you can gain accurate, powerful insights about audience behavior and drive smarter mobile advertising in 2022. To dig deep into mobile data for your target audience, in hundreds of consumer segments and locations, visit the Start.io Audience hub, or read our recent blog post on Demographic Audience Analysis.