Twenty five years ago, watching a movie at home involved heading out to a Blockbuster store and renting a DVD. Thanks to Netflix, which was established in 1997, that all changed, and Blockbuster? It's been out of business since 2010.
Netflix began as a novel idea – instead of going out to rent a DVD, order it online and have it delivered to your door, for a mere $4 plus $2 postage. In the decades since, Netflix has become so much more than a DVD delivery company.
In 2007, it launched its famous video streaming service, and later began developing its own content in-house – a move which has paid off. In 2022, Netflix received more Academy Award nominations than any other movie distributor, beating out Disney, Warner Bros, MGM and all the leading Hollywood studios.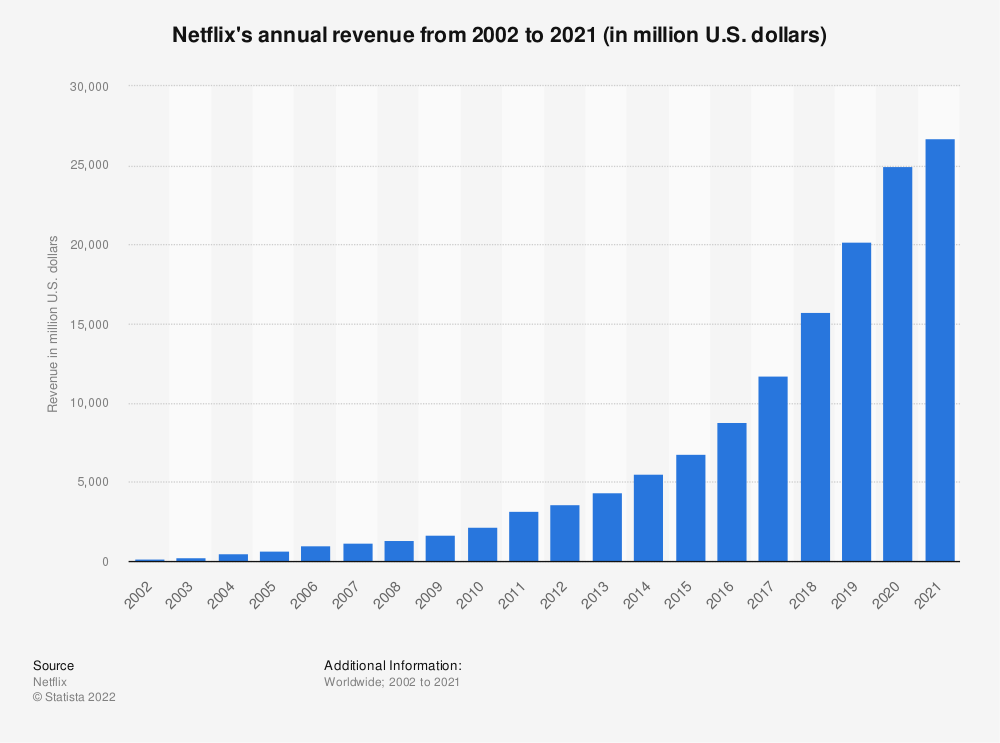 In 2021, Netflix global revenue amounted to $30 billion, up from around $1.7 billion a decade ago. In Q1 2022, Netflix subscriber base stood at just over 221 million subscribers. Although an impressive number, the announcement of this figure sent shockwaves through the industry. It showed a decline of 200,000 subscribers compared to the previous quarter, Netflix's first subscriber loss in 10 years.
While some attribute this to a post-Covid consumer reaction, Netflix is scrambling to address the issue and appease shareholders. The company is even toying with the idea of offering a cheaper, ad-based streaming service and cracking down on password sharing to help boost revenue.
Despite recent challenges, the question remains: How did Netflix go from Blockbuster competitor to global content producer and streaming giant? Who is the Netflix target audience and how does Netflix marketing strategy appeal to them so successfully?
Let's do a deep dive into the Netflix current target market and see.
Who is Netflix Target Market?
The Netflix target audience is located worldwide in around 190 countries. The typical age of Netflix users is in the younger adult age bracket, a member of Gen Z or Millenials, and with a lower income range of $25-50K.
There are more female Netflix viewers than male, but only just – 52% female to 48% male. In the US, the average Netflix user profile has been found to correlate very strongly with the average US citizen, based on a study of census data.
The target market for Netflix is extremely broad and diverse, and a closer analysis of Netflix target market demographics and Netflix consumer segmentation is a helpful way to dig deeper.
Netflix Target Market Segmentation
To conduct thorough Netflix marketing research, it is vital to gain an accurate understanding of the brand's target market segmentation. When it comes to mobile target markets, a visit to the Consumer Insights and Audiences Hub is a quick and easy way to access data about mobile user audiences across hundreds of segments.  
For now, let's explore the market segmentation for Netflix from a demographic, geographic, behavioral and psychographic point of view. 
Netflix Demographic Segmentation 
While Netflix demographics are highest for younger age brackets (Gen Z 70% and Millenials 65%), the Netflix user age shows that older consumers are also a strong audience.
In fact, 54% of Gen X and 39% of Baby Boomers are reflected in Netflix viewer demographics as of 2020. In the US, Hispanic Americans are more likely to have a Netflix subscription, with 70% saying they were subscribed compared to 61% of white Americans. The average Netflix target consumer is not highly educated, with close to 70% having some or no college education.  
Netflix Geographic Segmentation
Once, Netflix users had a majority base in the US, however this is no longer the case. Worldwide, Netflix subscriber numbers are split quite evenly between North America, and Europe, Africa and the Middle East combined, with Latin America and Asia Pacific trailing behind.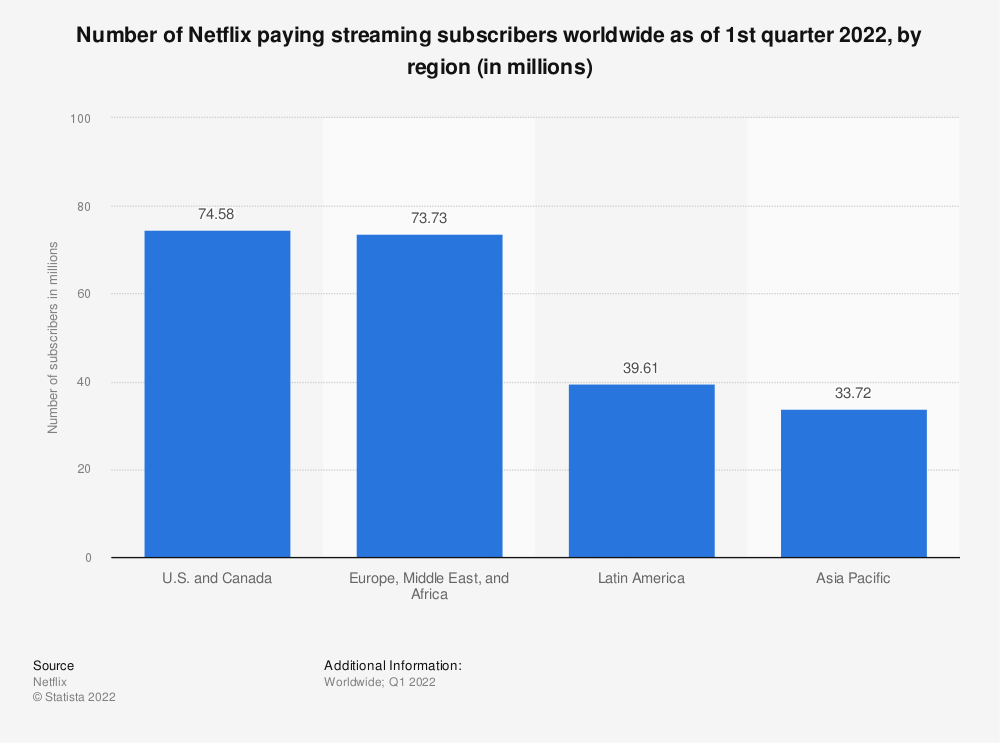 Interestingly, in recent years, the Asia Pacific market has demonstrated the greatest growth in how many Netflix subscribers, with 65% increase alongside a 62% increase in revenue in 2020.
In contrast, Netflix already has high penetration in the US, with 70% of US broadband homes subscribed to the streaming service.  This points to the fact that the US is a saturated and mature market, with less potential room for growth than newer target markets in Asia.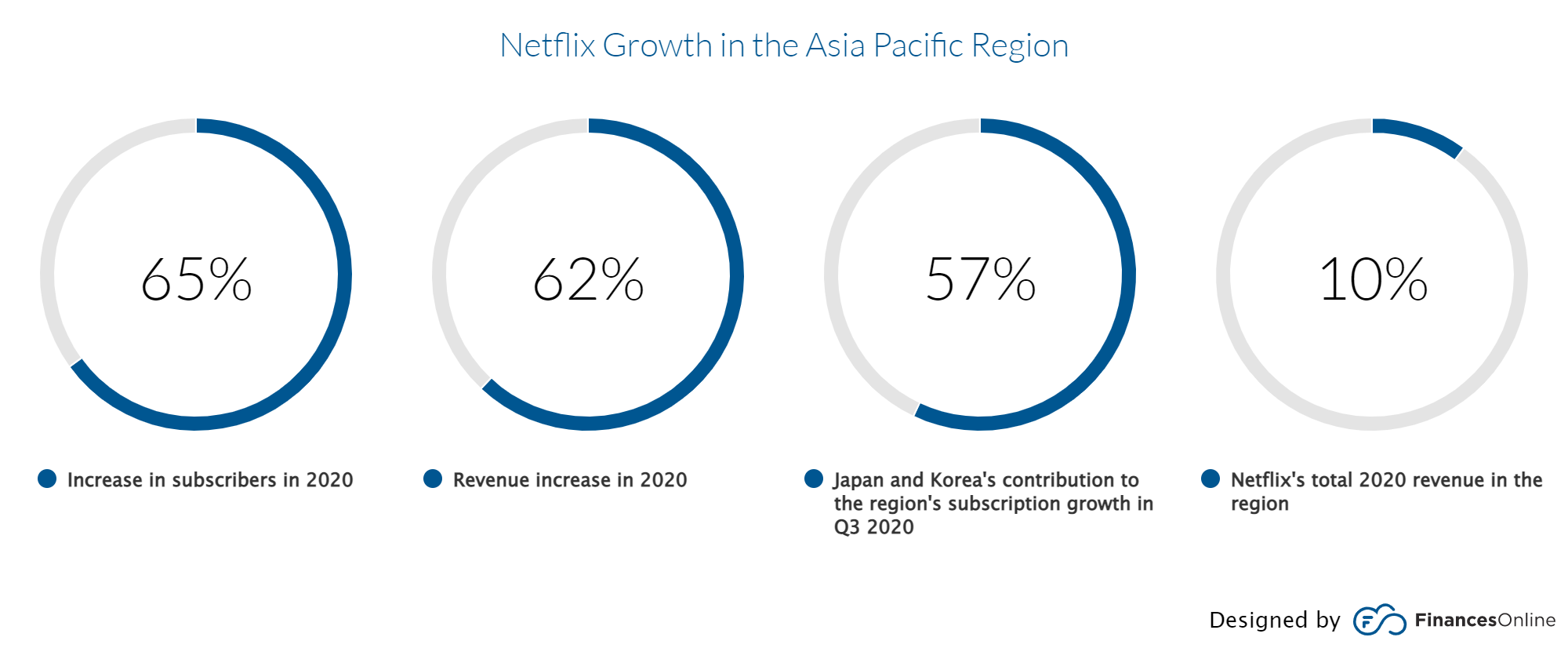 Netflix Behavioral Segmentation
While the largest group falls into the $35-50K income bracket, more affluent consumers make up a large chunk of the Netflix target market, with 40% earning $75K or above. Password sharing is rife, with 70% of Netflix consumers who share their Netflix password.
Netflix enjoys very high conversion rates with 93% of users who signed up for the free trial deciding to take a subscription.
For Netflix users, pets are an important part of their viewing experience.  Twenty-two percent of users who watch Netflix with their pets say they bribe them with a treat to continue watching together, and a full 12% say they switched shows because their pet didn't seem to like it!
Netflix Psychographic Segmentation
The Netflix target market is very broad, ranging across all age groups and socio-economic levels. Netflix aims to appeal to a wide range of psychographic segmentations, reflected in the broad content streamed on the platform, from kids entertainment, to documentaries, rom coms, action movies and comedy.
The Covid lockdowns spurred  a surge in Netflix consumption, with Netflix accounting for the largest share in streaming minutes in the US (34%). The Netflix audience tends to skew liberal politically, with just 34% of Netflix users saying they identify as conservative. 
Netflix Top Competitors
Although Netflix has long been the clear leader among video streaming companies, other streaming platforms have recently begun to catch up  – notably Amazon Prime and Disney+. By 2026, Disney+ is forecast to outperform Netflix in global number of subscribers and Amazon Prime is expected to reach Netflix levels of success.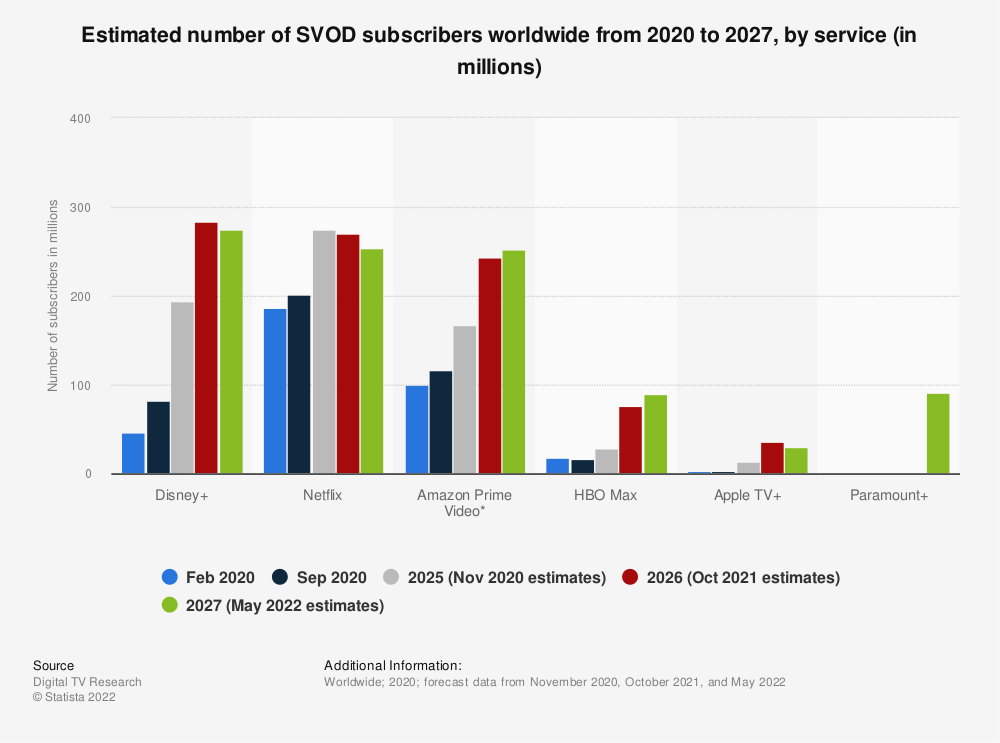 Other competitors include YouTube, whose growth in 2021 was on par with Netflix, HBO Max, Hulu, Peacock and Apple TV+.
Although Apple TV+ is a newer competitor with a far smaller streaming library, it is slowly but surely building a loyal subscriber base. It offers very high quality and targeted niche content, and of course, it has all the strength of the iconic Apple brand behind it. Learn more on Apple Target Market Analysis on our recent blog post. 
Netflix Marketing & Branding Strategy 
In 2021, Netflix spent over $2.5 billion in marketing, up 14% from the previous year. Personalization of the user experience is a core Netflix marketing strategy. The company uses sophisticated strategies for tracking a wide range of 'events', or user behaviors, such as time and date of viewing, pausing or stopping a show, and more. Netflix leverages this data to provide accurate and relevant content recommendations to individual subscribers.
Another key Netflix branding strategy is the in-house production of original and high-quality content. This cements the Netflix brand as not just a streaming platform but a production company that rivals even the biggest names in movie making and TV production.
In 2021, Netflix was forecast to spend over $17 billion in content production. Furthermore, Netflix content is curated and localized for different markets to optimize engagement. Slovakia is the country with the largest Netflix content library, boasting over 7400 titles. In contrast, the US comes in at number 20 with over 5800 titles available to subscribers.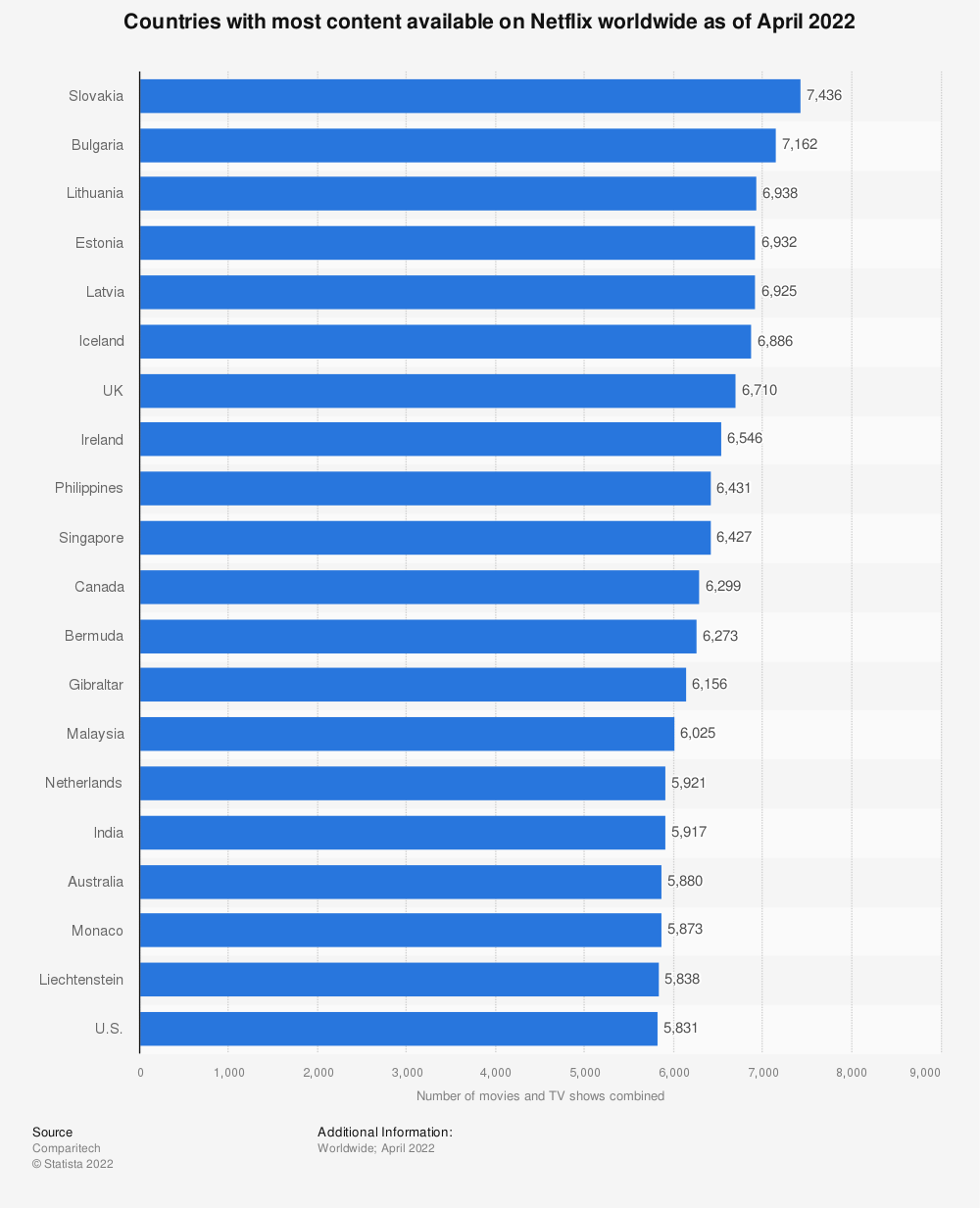 Netflix brand analysis also reveals a unique and creative marketing approach for the promotion of specific shows and content. For example, during the 2016 US election season, Netflix ran a very successful marketing campaign for political drama series House of Cards.
The company broadcasted a "political campaign commercial" for Frank Underwood, the fictional president of the popular show, during the live Republican debate. The Netflix campaign was an instant success, trending on Twitter and Facebook within an hour of launching.
Netflix Streamers in United States
Start.io data of Netflix Streamers in the US reflects the large size of the Netflix audience, with close to 9.5 million mobile users who stream Netflix.
The largest age demographic by far is Gen Z and Millennials, who together make up close to 80% of the Netflix audience. Specifically according to data of mobile phone users, there are more males than females who like to stream Netflix, with a strong preference for Android over iOS.
In terms of socio-economic status, the data reflects a clear split. Around 28% of mobile users who subscribe to Netflix earn an income of $25K or less, and nearly 29% have income of $100-$150K.
The audience of Amazon Prime Streamers in the US is significantly smaller than the Netflix audience, numbering close to 4 million. They have a similar demographic segmentation with one striking difference – the ratio of male to female streamers is higher for Amazon Prime: 61.3% of Amazon Prime streamers are male compared to 54.9% for Netflix.
The Disney Entertainment Streamers segment in the US is smaller still, with just over 2.6 million mobile users. Not surprisingly, the Disney streamers mobile audience skews young, with over 80% of the audience aged under 34 years. 
These kinds of data points are vital in creating accurate and powerful ad campaigns for mobile audiences worldwide, across a wide range of consumer segments. For Netflix streamers, Amazon Prime subscribers, or hundreds of other audiences and segments, with the help of Start.io Audience data, businesses can access all the relevant insights for better targeting and better campaigns that deliver results.  
Netflix FAQs
How many videos are on Netflix?
There are more than 5800 titles available to Netflix subscribers in the US.
How many people have Netflix?
Over 220 million people worldwide have Netflix subscriptions.
How many hours does the average person watch Netflix?
In 2020, Netflix users watched an average of 3.2 hours of video a day, adding up to a collective 6 billion hours every month.
Additional Sources