Over five decades, Nike has built itself into one of the most iconic global brands, instantly recognized by its 'Just do it' tagline and 'swoosh' symbol. The company is the world's leading sportswear brand, edging out competitors like Adidas, Puma, and Under Armour.
Nike achieved its legendary status through innovative product development and marketing tactics, emotion-based messaging, celebrity endorsements and sports sponsorships.
The brand also invests heavily in advertising. Since 2014, Nike global ad spend has reached over $3 billion annually, with $3.11 billion invested in advertising and promotions in 2021.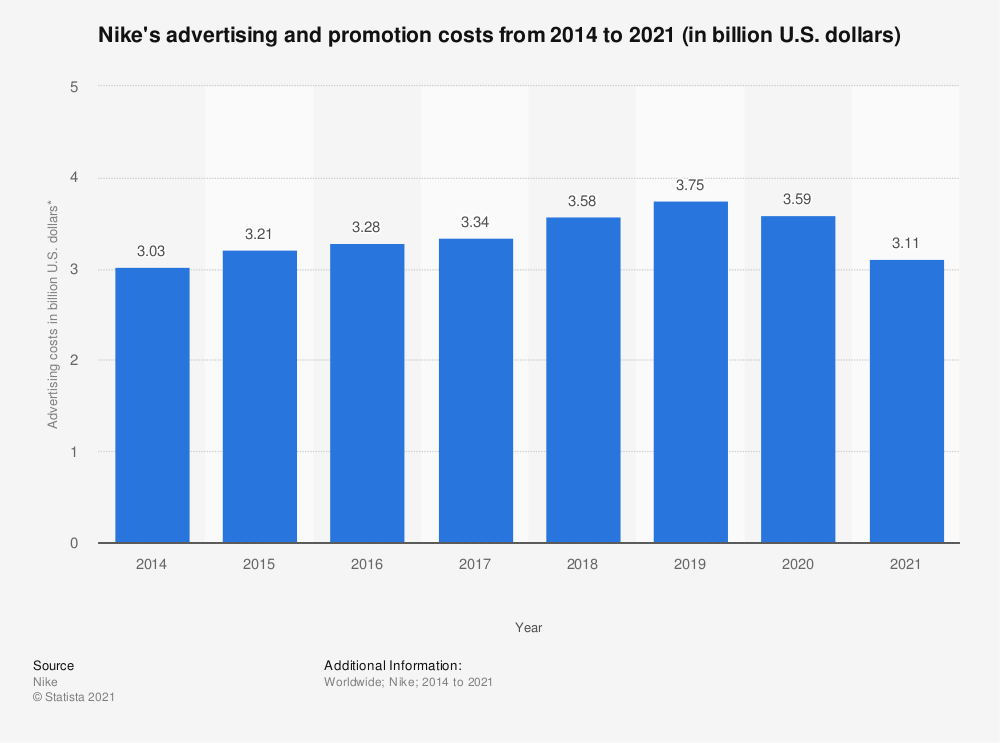 Source – Statista
Adidas Group, one of Nike's toughest competitors, spent $688 million on US-based advertising in 2019. By comparison, Nike ad spend in the US that year was over double the amount, reaching nearly $1.5 billion.
Most of Nike's ads don't explicitly focus on a product; the Nike target audience responds most effectively to emotive advertising. This strategy helps create a brand image that reflects the aspirations of Nike customers, increasing brand loyalty, engagement and sales.
So, who are the Nike demographics? What are their aspirations and how has the brand succeeded in building such a loyal fan base? Let's begin with a Nike customer analysis and find out.
Who is the target market for Nike?
The Nike target market is located worldwide, and the Nike age range is broad, from young teens through middle age. While the brand has a strong focus on marketing to athletes and sports enthusiasts, Nike's strategy has expanded in recent years to attract several specific market segmentations, such as women, young athletes, and runners.
Even so, the men's customer segment remains the largest by far: in 2021, sales of men's Nike products accounted for over half of wholesale revenue worldwide.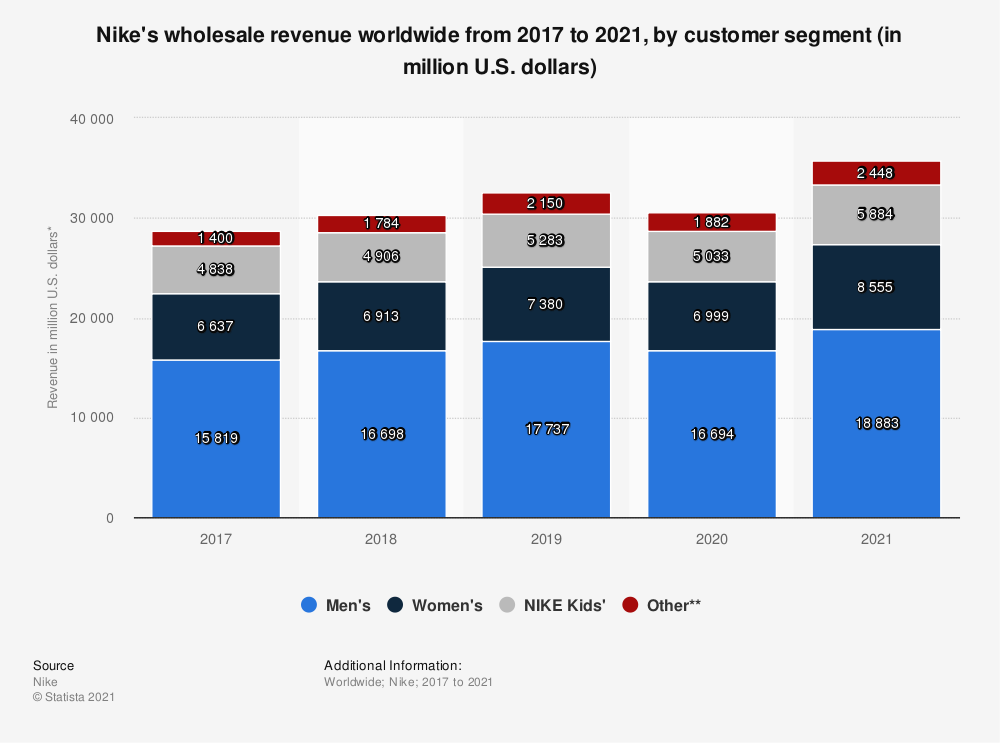 Source – Statista
Nike positions itself as a brand for athletes but pulls every consumer into the fold with its fundamental pitch: if you have a body, you are an athlete. This has led to Nike's outstanding financial success, generating over $44.5 billion in worldwide sales 2021.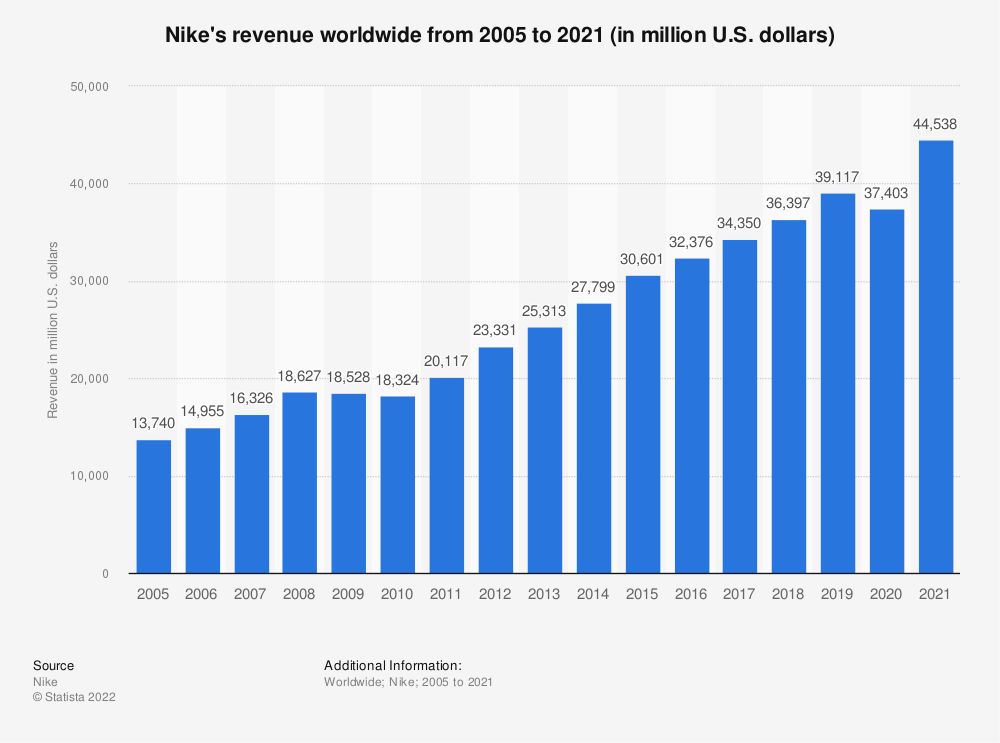 Source – Statista
Nike Target Market Segmentation and Marketing
The key component for any advertising or marketing strategy is a thorough customer segmentation, including demographic, geographic, behavioral, and psychographic attributes. Let's explore the Nike target market profile from each of these viewpoints.
Nike Demographic Segmentation 
Nike demographics include a wide range of users, aged roughly from 15 to 45 years. By spanning the generations, Nike taps middle-aged consumers who have disposable income and develops its relationship with younger audiences to ensure future growth and build life-long brand enthusiasts. 
The company targets both male and female consumers, however, it continues to make significant investments in its women's line, focusing on leggings, sports bras and 'athleisure'. 
Nike also strongly targets the youth demographic, noted as the favorite footwear and apparel brand for teens in 2019 in the US. 
Nike Geographic Segmentation
The target market for Nike is located worldwide, mostly in urban centers. Nike consistently generates more revenue from North America than any other region.
In 2021, 39%, or $17.2 billion, came from North America, while revenue from the EMEA region totaled $11.5. Nike earned $8.3 billion from Greater China, $8.3 billion, and $5.3 billion from the LATAM and APAC regions.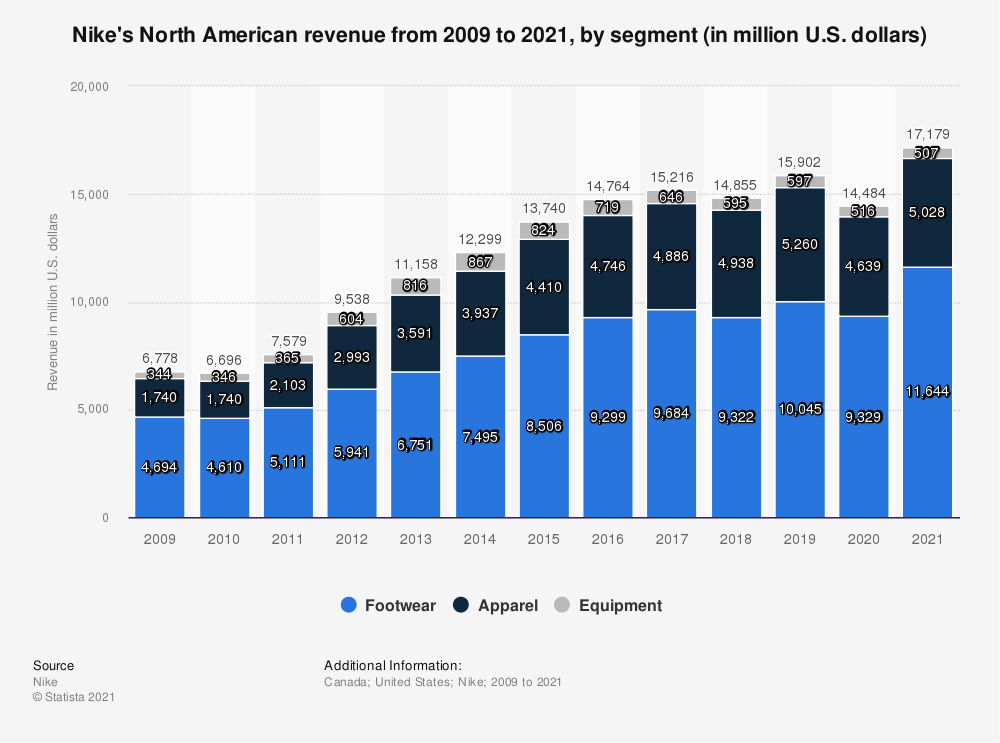 Source – Statista
Nike Behavioral Segmentation
The Nike target audience tends to be from the higher-income socio-economic group, reflected in the premium brand image and pricing of Nike products. The average Nike customer is a sports enthusiast, interested in leading an active and healthy lifestyle.
Besides the sporty behavioral traits of the Nike audience, they are also image-conscious and tech savvy, looking to be ahead of the trends and up-to-date with the latest in fitness fashion and footwear technology.
Nike Psychographic Segmentation
As part of a strategy to widen its target market, Nike often focuses on breakout psychographic segments. These include 'weekend runners', who enjoy keeping fit on weekends and even training for a half marathon, and 'style shoppers', 20-something women who want to wear the latest sports fashion trends before, during and after workouts.
All Nike consumer segments are made up of 'aspirers' and 'succeeders', people who are motivated to be fit and stay on trend.
Nike Marketing Strategy
Beyond the sports clothing and footwear market, Nike is in fact the world's leading apparel brand, with a brand value of $33.18 billion. When considering how to create a successful marketing strategy, look no further than Nike.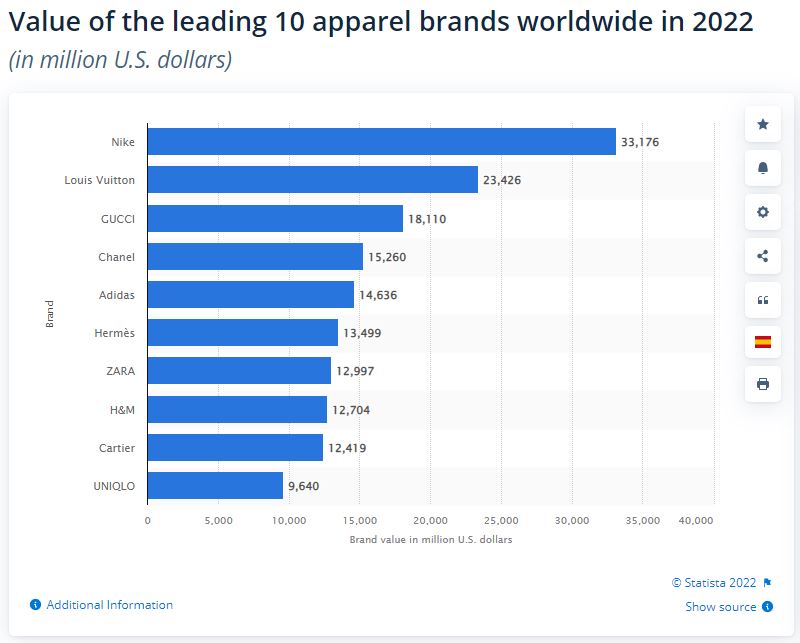 The STP of Nike informs a wide-ranging set of marketing goals and objectives. For example, Nike leverages behavioral segmentation to build brand affinity and loyalty with consumers.
This can be seen in their personalized email and social media campaigns. When people engage with and show ongoing interest in the brand on any platform, Nike retargets them on other channels.
Here's a look at how they connect with the two most dominant age groups (18-24 and 25-34) on Instagram: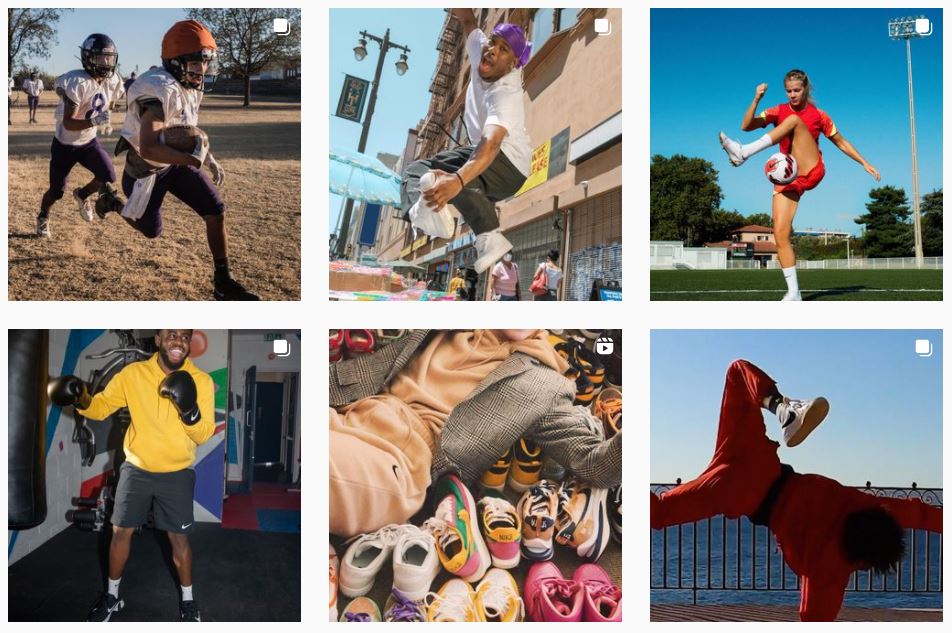 Although Nike targets a global audience, it uses geographic segmentation for its product lines and marketing campaigns, adapting for local cultural and weather trends that impact consumer behavior. For example, the brand's warmest winter items aren't available in countries with more moderate temperatures. 
Another example of how the brand connects with different geographic regions can be seen in the athletes featured in ad campaigns. In the US, for example, the Nike "Stopocalypse" ad features American sportspeople and celebrities, such as Kobe Bryant, Kevin Hart and Simone Biles:
In the UK, the well-received 'Nothing Beats a Londoner' campaign targeted the hyper-local London youth market, featuring upcoming London athletes and real-life citizens.
The campaign combined user-generated social media content, local events, swag and more, to encourage young audiences to become involved in sports and realize their potential.
Product innovation and a show-stopping approach to marketing sets the Nike brand apart from the competition in all regions. Check out the remarkable OOH 3D billboard promoting Nike Air Max in Japan:  
The Nike company markets at a grass-roots level with a wide range of corporate responsibility  programs and charitable activities.  In 2019, Nike contributed close to $82 million towards community development, including women's empowerment, sustainability and diversity initiatives.
Sports Enthusiasts in United States
US-based consumers who fall into the Sports Enthusiasts category share many of the traits of the Nike target market. Like Nike, the demographics represent both sexes, with men outranking women 67% to 33%.
The Nike target market age group is also similar to the Sports Enthusiasts segment, of which 84.5% of consumers are between 18 and 44.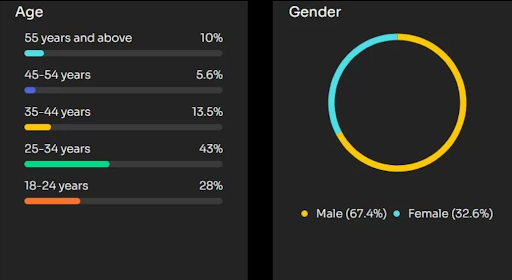 Although Nike hasn't released data around its device targeting segmentation, Start.io insights reveal that among consumers identified as Sports or Running Enthusiasts, there is an overwhelming preference for Android devices. 
For a marketing campaign to be successful, it must reach the right audiences. For companies marketing to sports enthusiasts, understanding the Nike target audience is a big step in fine-tuning campaign messaging and targeting to get the best results.
For these kinds of data-driven insights for Sports Enthusiasts, Runners, and 500+ other consumer segments and audience locations around the world, visit the Consumer Insights and Audiences Hub.
Nike FAQs
What demographic buys the most sneakers?
Data shows that the target market for Nike shoes includes Millennials (24–39-year-olds) and Gen Z (9–24-year-olds). Presumably, many Millennials are buying sneakers for their young children. Men still buy more sneakers than women, but the gap is closing.
What demographic buys the most Nike products?
Consumers between the ages of 15-40 buy the most Nike products, including sneakers, apparel, and sporting goods.
Who is Nike's competition?
Nike's biggest competitor is Adidas, but others include Asics, Puna, Under Armour, Fila, New Balance, and Sketchers. In terms of athletic apparel, Nike's competition includes Lululemon, Athletica, and VF Corporation.
Who makes more sales Nike or Adidas?
Nike generates more sales than Adidas. In 2020, Nike was valued at $34.4 billion, while Adidas was valued at $12.07 billion.