When you think of video games, one of the first brands to pop into your mind is surely Nintendo.
But the Nintendo company was established in Kyoto, Japan way back in 1889, almost a century before video gaming was invented and went mainstream. 
Nintendo started out as a company that produced Hanafuda, a Japanese playing card. By the 1960s, the brand was pivoting into electronic toys, and in 1970, released its first video gaming console.
In the 1980s, Nintendo began its global breakthrough in the video gaming industry with the launch of popular arcade games such as Donkey Kong and Mario Bros. A few short years later, the company launched the first home gaming console in the US market, and Super Mario Bros entered the homes of consumers everywhere.
By 1989, the Game Boy hit the market, and Nintendo was well on its way to becoming one of the leading companies in home consoles and handheld units worldwide. In 2006, Nintendo released the Wii console, which led to high sales. By 2012, however, Wii sales had dropped, and Nintendo's overall sales slumped. Incredibly, Nintendo's global net sales rebounded to nearly $16 billion by 2021.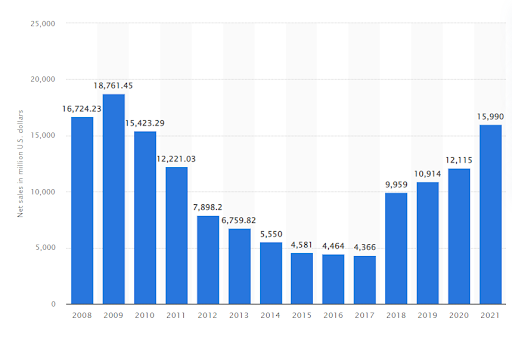 Source – Statista
This is due to the massive success of the Nintendo Switch, the hybrid video console that was released in 2017. Since launching in 2019 in China, it has become the highest selling game console in the region, outperforming powerful competitors Microsoft and Sony. 
Then, by 2022, Nintendo hit a significant milestone: over 100 million playing users.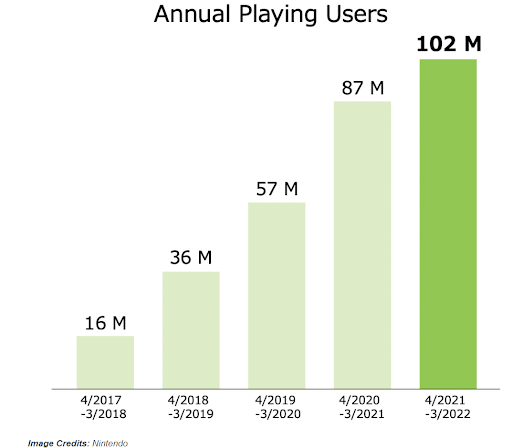 How did a playing card company become a world leader in video games? How has the Nintendo brand managed such magnificent rebounds in its long history? Who is the Nintendo target market and how does Nintendo vs Sony match up in competition? Let's explore some key Nintendo statistics to find out.
Who is Nintendo's Target Market?
The Nintendo target market covers a broad age group, from kids to older adults, although the largest segment is the millennial generation. Nintendo's target audience is located worldwide, with the biggest audience in the Americas. Both men and women are Nintendo customers in more or less equal measure.
Nintendo customers tend to be playful and optimistic. They are both hardcore gamers as well as casual users. Unlike some competitors, women and families are an important part of the overall Nintendo target market.
Nintendo Target Market Segmentation
A Nintendo market segmentation analysis takes into consideration 4 perspectives: Nintendo demographics, geographic, behavioral and psychographic data. Let's go on a deep dive of each aspect to uncover the typical target audience.
Nintendo Demographic Segmentation
Although video gaming is often thought of as a favorite activity of kids and teens, 70% of gamers are in fact aged 18 and older. The largest user group of Nintendo Switch, the company's most recent and highly popular console, is aged 20 to 25, with a significant portion of users well into their mid 40s. This is in contrast to the Nintendo 3DS, which is far more targeted to a younger audience of under 18s.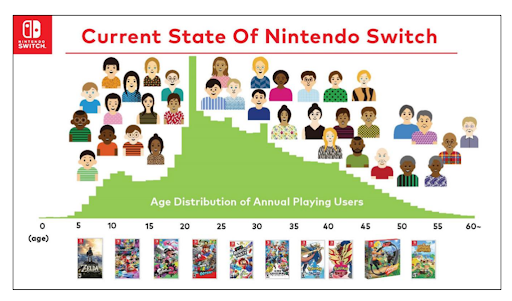 Source – Nintendo
While video games are often thought of as a male-oriented pastime, the Nintendo target market is actually split 50/50 between males and females.
Nintendo Geographic Segmentation
The Nintendo target market is a truly global audience, with 290 million accounts located in 164 countries. There are only 31 countries that do not have any Nintendo users.
The largest market is the Americas, which generated over $6.6 billion in revenue in 2021, followed by Europe and then Japan.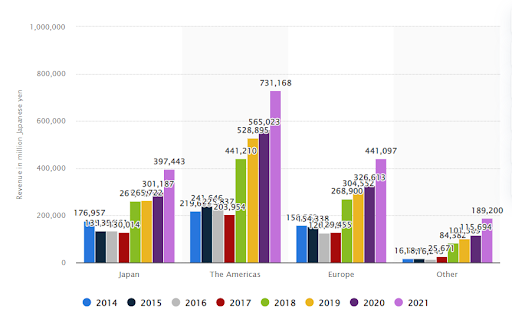 Source – Statista
Nintendo Behavioral Segmentation
Although the Nintendo audience is typically loyal, the Nintendo Switch has taken it up a level, becoming the fastest-selling home gaming system in the US, selling 5 million units in just 10 months following its release. This even surpassed the popular Wii, whose sales reached 4 million units during that same period.
Nintendo users enjoy sports, with Wii Sports being the best selling Wii game by 2021. 
The adult user base of Nintendo Switch shows a preference for puzzle games and casino-style games. However the most popular Switch game across the entire target market is Mario Kart 8, selling more than 48 million copies by 2022, with Animal Crossing: New Horizons coming in second place.
The typical Switch user will spend approximately 6.4 hours a week playing their console, compared to 5.5 hours in 2021, an increase of 16% year on year.
The Nintendo Switch Online subscription service is proving popular among the target audience, more than doubling the number of subscribers between January 2020 and September 2021.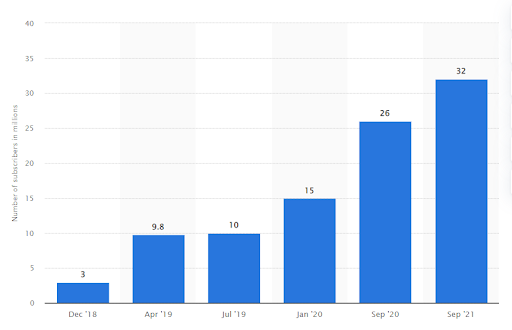 Source – Statista
Nintendo Psychographic Segmentation 
The Nintendo brand attracts both loyal fans and casual gamers. Nintendo users are typically positive, optimistic and playful in nature. They have been defined as the Chardonnay personality type, a very sociable and stylish group. They are curious and explorative, and enjoy playing games with friends. They like to keep informed about news and culture, and while they work hard, they also play hard, and spend their hard earned money on the luxuries of life. 
The millennial generation are big Nintendo fans, and are drawn in by the brand's use of nostalgia. The first Game Boy was released in 1990, so millennials "grew up" with Nintendo. As such, they are happy to buy products that tap into their childhood memories, and they remain loyal users of Nintendo into their adult years.
Who are Nintendo's competitors?
The two main Nintendo competitors are Sony Playstation and Microsoft Xbox. In 2021, Nintendo had 29% global market share in the video gaming console industry, compared to Microsoft's 25% and Sony's 46%.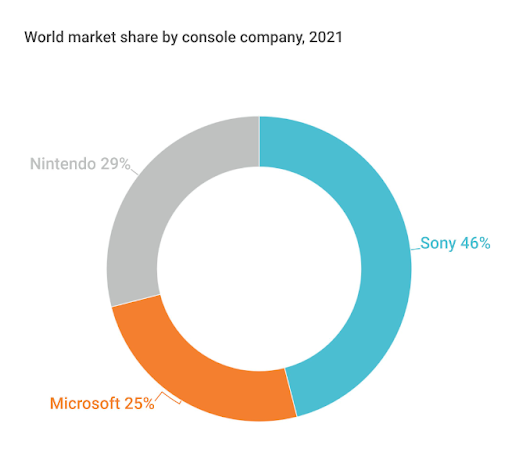 Although Nintendo is not the market leader, 3 of the top 5 best-selling video game consoles of all time are Nintendo devices. 
Sony
At one stage, Sony and Nintendo were actually partners in developing a console together. However, the collaboration failed and the two companies went their separate ways. Subsequently, Sony focused more on the video gaming market for young adult males, the hardcore gamers. Nintendo had to find a fresh niche with less competition, so it focused on video gaming for untapped audiences, such as kids, women and older adults.
The Sony PlayStation launched globally in 1995, and by mid 2022, 102.49 million units had been sold worldwide. Considering Nintendo vs PlayStation, Nintendo's largest audience is in the Americas, while PlayStation sales are higher in Europe. PlayStation lifetime sales reach approximately 55.2 million PlayStation4 units.
Released in 2000, the PlayStation 2 is the best-selling video game console of all time. By mid-2022, more than 158 million PS2 units had been sold worldwide.
Microsoft
Xbox by Microsoft was launched in 2001, particularly focusing on the more mature video gaming audience. It was the release of Xbox Live a year later that really changed Microsoft's position in the market. Xbox Live enabled consoles to connect so that multiple people could play together, which has become an integral part of the video gaming world. By 2010, the Xbox Kinect brought motion sensing technology to the market that was far more sophisticated than competitors, giving Microsoft an edge for a time. It particularly appealed to the female audience who were able to enjoy fitness activity combined with video gaming technology at home.
By mid 2022, more than 50 million Xbox One consoles had been sold worldwide, with nearly 32 million sold in the US and close to 13 million in Europe. 
In comparing Nintendo vs Xbox, the Xbox One customer profile skews male (58% male vs 42% female users), and the average Xbox user is in the 25 to 34 years age bracket, slightly higher than Nintendo's average user age of 20 to 25.
Sega
The first true competition in video gaming consoles was Nintendo vs Sega. The Sega brand was highly focused on the typical young male customer profile, with a range of sports and fighting games. Nintendo was more family focused with a wider games library. Today, Sega no longer produces consoles, and operates as a third-party games developer. Interestingly, the Nintendo Switch Online subscription offers a range of classic retro Sega games as part of its nostalgic offering.
What is Nintendo's Marketing Strategy? 
From Nintendo 64, to the Game Boy, Pokemon Mini, Wii and Switch, product and game development are big drivers of Nintendo business strategy. This is coupled with the powerful drive of nostalgia; the key Nintendo target audience were big fans of Nintendo in the 80s and 90s. Now, as adults with families of their own, they are bringing Nintendo into their homes for a shared cross-generational experience.
The Nintendo brand invests more heavily in advertising with each passing year. In the 2022 financial year, the company spent around 94 billion yen ($660 million) on Nintendo advertising, compared to 84 billion yen in 2021.
The Nintendo marketing strategy includes some of the most sought after and expensive ad spots. The 2017 Super Bowl commercial in the leadup to the launch of Nintendo Switch is still beloved as a classic by Nintendo fans.
Indeed, Nintendo marketing often works by generating hype around new product launches and games. In 2011, the "Believe Your Eyes" campaign for the new Nintendo 3DS was hugely successful, with the company aiming for 85% viewership reach of the campaign commercial. 
Prior to the 2017 launch of Nintendo Switch, the company launched the 'unexpected places' pop-up campaign. Events were staged in such unexpected locales as an Aspen ski resort and a movie ranch in the desert where consumers could come and enjoy the Switch experience. The campaign was designed to show consumers how the hybrid and portable Switch console could be played anywhere, and succeeded in generating buzz and excitement around the launch. 
Beyond gaming consoles and games software, Nintendo aims to create a lifestyle experience around the brand. Nintendo offers a wide range of branded merchandise for all ages and interests, including apparel, board games, and even decor items for home and office. The brand also provides a constant stream of in-game events that engage users and entice them with rewards and points.
Unlike its competitors who typically focus on young adult male hardcore gamers, Nintendo has continually broadened its appeal to tap into new markets and niches. This is evident in a commercial for Nintendo Switch, which is clearly targeting a non-traditional audience for gaming – women of all ages, families and couples.
Celebrity endorsements and influencer marketing are well-worn tactics to promote Nintendo products and experience. The latest campaigns for Switch featured international celebrities including Neil Patrick Harris, Jimmy Fallon and Serena Williams.
Nintendo is also heavily active on social media, with an enormous TikTok following and powerful user-generated content. Videos featuring the #nintendo hashtag have generated over 20 billion views to date.
Similarly, the Nintendo America YouTube channel has a following of close to 9 million, while the UK channel is just shy of 400K followers. Videos and commercials are localized for different audiences, such as this video for the UK target audience of kids and families, promoting the social simulation game Animal Crossing: New Horizons on Nintendo Switch:
The brand also has localized Twitter accounts for each region, engaging with target audiences via promotions, competitions, game updates and polls. Nintendo of Europe has over 650K followers and typically generates solid engagement with frequent tweets, such as this:
https://twitter.com/NintendoEurope/status/1610584399564734474
In keeping with the recent global boom in subscriptions, Nintendo is once again pivoting to market demands with the Switch Online subscription. For an annual fee, subscribers get access to a full and growing library of games on demand, compatible play with friends, long-distance play, voice chat during certain games, cloud storage of game history and data, and access to special member offers. There is also an expanded subscription package that includes extra features for popular games such as Animal Crossings: New Horizons, Splatoon, plus access to nostalgic games including the library from once-rival Sega Genesis.
A demographic audience analysis that covers all the relevant, up-to-date characteristics and data about the targeted market is essential for businesses planning their mobile marketing campaigns. Whether you are a small to midsize company or global brand like Nintendo, Consumer Insights based on Start.io mobile network data are available 24/7 for over 500 consumer niches and locations. Visit today to drill down into your target audience so you can build better campaigns and better targeting.
Nintendo FAQs
What is Nintendo annual revenue?
Nintendo revenue in 2022 amounted to $15.089 billion, compared to $16.534 billion in 2021, reflecting a drop of 8.74% year over year.
How does Nintendo reach its customers?
Nintendo is a long-standing company and key player in the gaming console market, with a solid user base, strong brand awareness and global reach.
Nintendo maintains active social media accounts and a robust advertising strategy, combined with a strong focus on product and games development that appeals to new market niches and keeps the brand relevant in the long term. 
What is Nintendo's competitive advantage?
The Nintendo brand is adept at pivoting to changing market needs, widening its focus from the typical gaming community of young adult males, and targeting untapped audiences such as women, families, children and older adults.
In addition, the brand relies on the millennial audience's appetite for nostalgia, basing its new products and games on classic Nintendo experiences from past times.
Does Nintendo use influencers?
Like all tech and gaming companies, Nintendo relies heavily on influencer marketing and user generated content to create buzz and generate engagement with the brand.
For example, before the launch of Nintendo Switch in 2017, the company sent a device to popular YouTube vlogger iJustine, who promoted an 'unboxing' video and gave her impressions of the Switch. The video was incredibly popular, garnering nearly 3 million views to date.
Additional resources