Wherever you are, there's a good chance you own, or know someone who owns, a Toyota Corolla. As of 2021, over 50 million Corollas have been sold worldwide, making it the best-selling vehicle of all time.
Established in Japan in 1937, Toyota is not just one of the most popular auto brands – it is a leading and influential global brand across all categories. Its success goes beyond cars. The company's manufacturing ethos, known as the Toyota Production System, is world famous, and its approach to business has even led to a bestselling book about business management .
Today, Toyota is a massive multinational enterprise, publicly traded on no less than 4 stock exchanges, and a stakeholder in several other famous auto and technology brands, including Subaru, Suzuki, Mazda, Yamaha and Panasonic.
Toyota is the world's leading auto company in terms of unit sales. In 2021, Toyota sold 10.5 million vehicles worldwide, eclipsing Volkswagen, its nearest rival, by over 1 million units.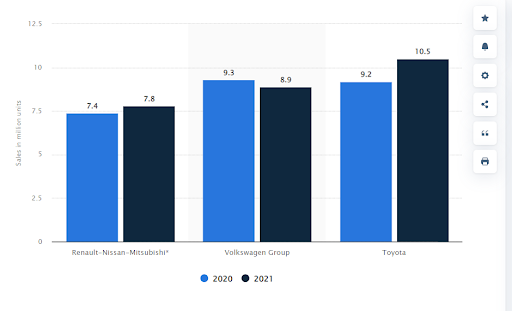 Source – Statista
The net revenue of Toyota has been growing steadily too, with a 15% year-on-year rise, reaching 31.4 trillion Japanese yen in 2022 (approximately $257 billion).
Toyota was an early entrant in the electric vehicle industry, with the launch of the Prius hybrid model in 1997. In 2021, the Toyota company's highest sales of EVs were in the North America region, reaching nearly 675,000 vehicles. Globally, sales of EVs under the Toyota brand amounted to more than 1.6 million vehicles, an increase of 33.8% compared to the previous year.
From EVs to family sedans and utility vehicles, Toyota is one of the most popular auto brands, across categories, regions and customer segments. Who exactly is the Toyota target audience and how does the Toyota marketing strategy appeal to them? Let's dive into a Toyota STP analysis and find out.
Who is Toyota's target market? 
The target market for Toyota includes drivers across all age segments, from early-mid 20s to retired boomers. The Toyota target market is located worldwide. The brand is extremely popular in its home country of Japan, although the key Toyota customer base is in North America. 
The Toyota business model relies on a lean manufacturing ethos that supports efficient production of a wide range of car models and price points, although the main Toyota customer falls into the middle income category. In Europe, the best known Toyota model is the compact Yaris, while mid-size vehicles and minivans are more popular in the US. Recently, the company is placing a stronger focus on the growing sedan market, indicating an overall shift away from large vehicles to smaller, more efficient choices. 
Toyota Market Segmentation and Target Audience
A deeper look at Toyota customer segments must cover four perspectives: demographic, geographic, behavioral and psychographic segmentation. Let's explore each of these and see how they intersect with the Toyota marketing strategy and brand positioning.
Toyota Demographic Segmentation 
The main audience in terms of Toyota demographics is younger-to-older middle age consumers, in the 30 to 50 years bracket. This includes both males and females. The target market for Toyota differs, depending on the particular car model.
For example, the Toyota Camry is a popular mid-size passenger vehicle that appeals to families. The Toyota Prius is the model of choice for the urban, upper class market, while the Yaris is targeted to the younger, affluent Toyota customer. 
Toyota Geographic Segmentation 
The Toyota brand presence is global, with Japan and North America being the strongest markets. From April 2021 to March 2022, nearly 2 million Toyota vehicles were sold in Japan. In that same period, nearly 2.4 million vehicles were sold in North America, making that region the biggest target market for Toyota. 
Interestingly, while North America is number one in terms of market size, Toyota revenue is higher in Japan. In 2022, Toyota generated close to 16 trillion yen in Japan, compared to 11 trillion yen in North America, and 6.5 trillion yen in Asia.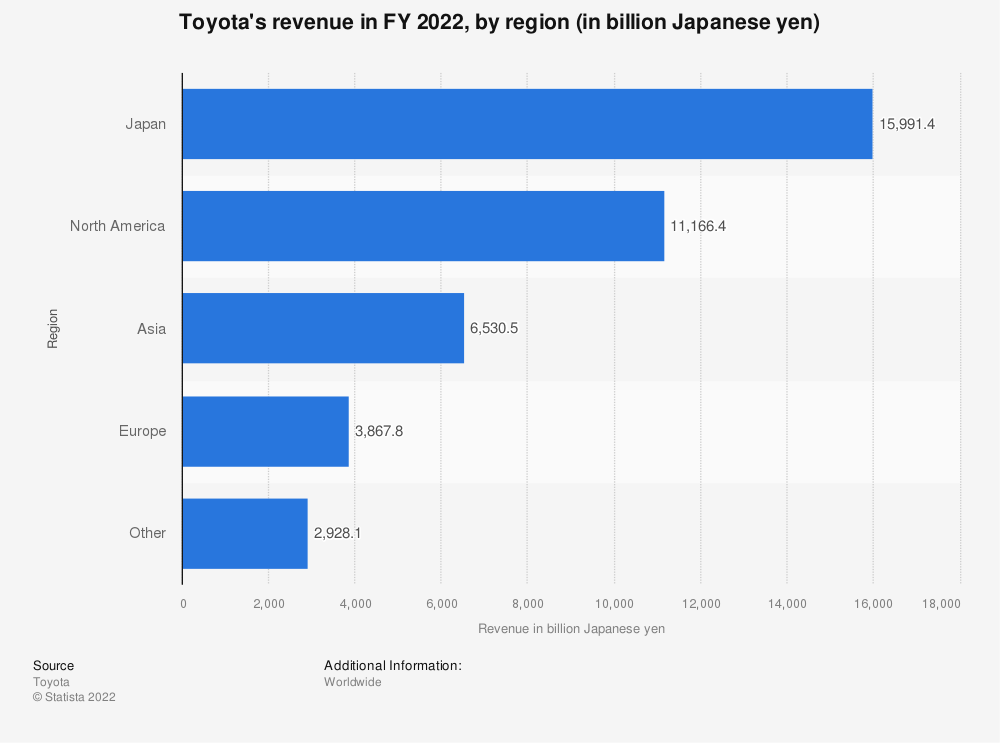 Source – Statista
Toyota Behavioral Segmentation
The typical Toyota customer keeps their vehicle for a long time, thanks to the quality and reliability of the brand. Four of the top 10 car models in terms of ownership length are Toyotas. The Toyota Camry comes in second, only after the Ford Explorer, with an average ownership period of 9.5 years.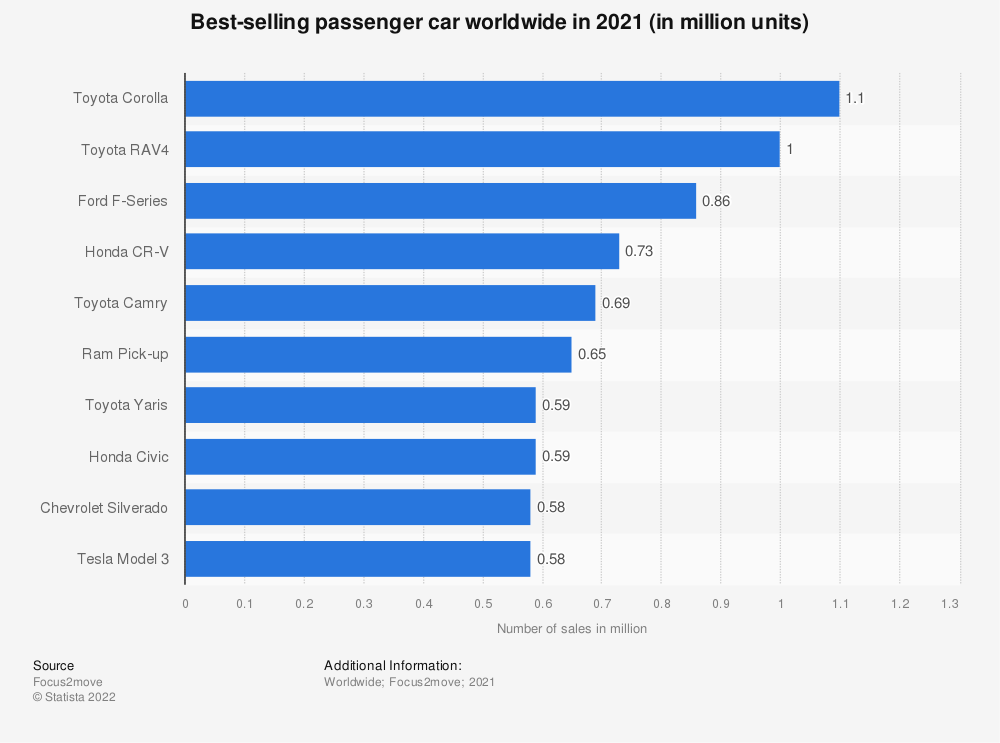 Source – iSeeCars
While Toyota marketing is important, the Toyota audience is more influenced by the product attributes. According to an Indonesian study of potential buyers of the Toyota Yaris, the attributes of Toyota vehicles had a significant impact on the purchase decision, while event marketing had a smaller impact on the decision to buy.
Toyota Psychographic Segmentation
A psychographic-based Toyota market segmentation reflects that Toyota customers place a high  value on efficiency, reliability, quality and the Japanese innovation the brand is famous for. In the EV segment, fuel economy and high resale value appeal to the Toyota target market. Comfort, safety and utility are top priorities, while style and luxury are less important.
The exception is Lexus, Toyota's prestige brand. The target market for Lexus is a small proportion of the overall target market for Toyota – in the first half of 2022, there were just over 130,000 Lexus vehicles sold in North America, among the more than 1 million Toyota vehicles sold during the same period.
Who are Toyota's competitors?
A Toyota competitors analysis shows the brand coming out at the top. In 2021, 1.1 million Toyota Corollas were sold worldwide, making it the best-selling passenger vehicle that year. Toyota Rav4 came in second place with 1 million sold. In fact, Toyota claims 4 of the 10 top selling vehicles in 2021.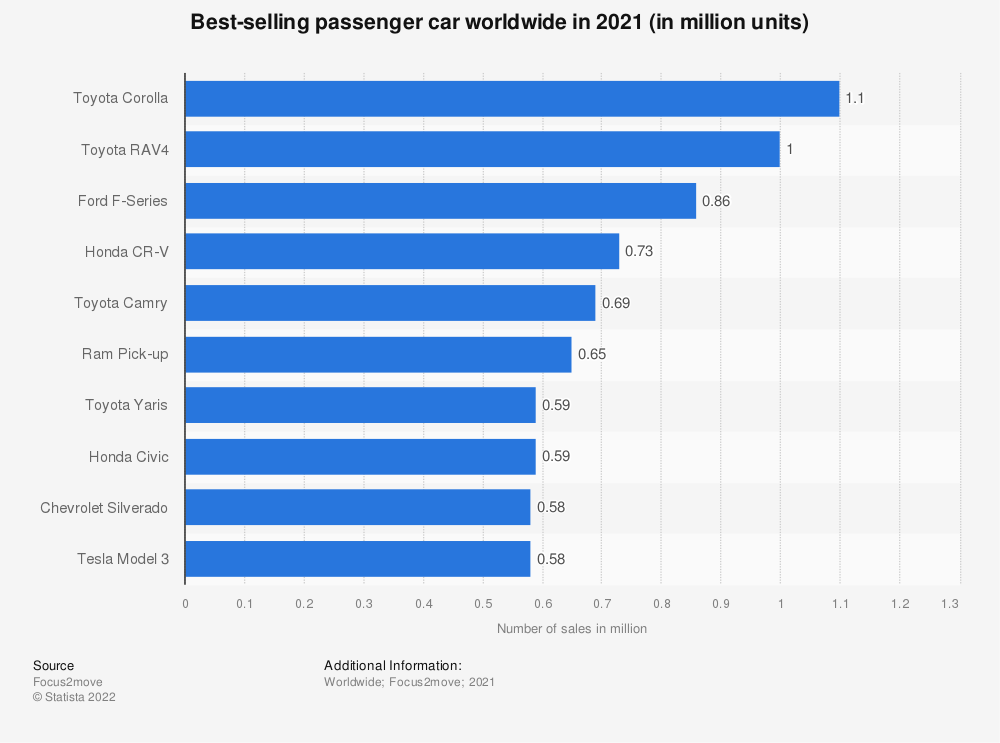 Source – Statista
When car sales dipped during the pandemic, Toyota emerged as the global leader too. In 2021, Toyota market share was the largest in the world at 10.5%.
Volkswagen
Volkswagen is Toyota's closest competitor, with a 6.4% global market share in 2021.
While the key Toyota target market is North America, Volkswagen is gaining ground in the Asia Pacific market. In China and Hong Kong, consumers are buying around 10X more Volkswagen vehicles compared to US consumers. Together, German and Japanese-made cars hold around 20% market share in China. 
Stellantis
After Volkswagen, the next Toyota competitor is Stellantis, the company behind several popular car brands, including Fiat, Chrysler, Jeep, Opel, Alfa Romeo and others. In the first half of 2022, Stellantis sold 3.3 million vehicles, compared to VW's 3.84 million and Toyota's 4.4 million.
Electric vehicles
In the plug-in electric vehicle market, Toyota competes for the Tesla target market, however it is far from the leader in this category. Toyota has a market share of just under 2% for EVs, compared to nearly 14% for Tesla and over 11% for Volkswagen.
SUVs
In the SUV market, Toyota wins again with the Rav4 having highest sales in this category. The largest SUV market is the US, which accounts for 50% of SUV sales worldwide.
Luxury vehicles
In the luxury market, Toyota's Lexus brand is a strong performer. It was the third best-selling premium car in the US in 2021, after the BMW and Tesla, with nearly 305,000 units sold.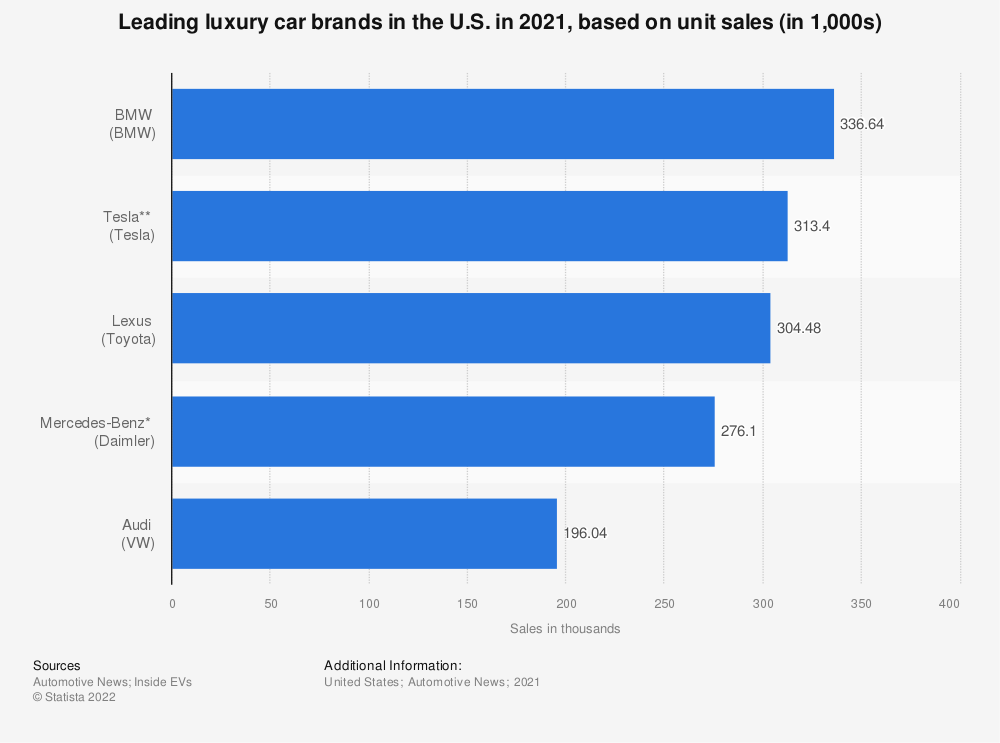 Source – Statista
Other competitors
Other Toyota competitors include Hyundai, Ford and Honda, however none of them come close to Toyota in terms of revenue. The South Korean Hyundai brand had sales revenue of around $99 billion in 2021, while the American Ford brand reported $136 billion. Honda had 14.5 trillion yen revenue in 2021, less than half of Toyota's revenue, which stood at more than 30 trillion yen.
What is Toyota's marketing strategy?
When it comes to Toyota marketing, success starts with the cars themselves. The value proposition of Toyota has always stood on product innovation and quality. 
The Toyota business model supports enormous investments in R&D, with 15 research centers in 8 countries. A large network of global distributors and an international workforce of more than 370,000 employees deliver the Toyota product and experience to customers worldwide. 
Amid the slump in the auto industry in the post pandemic period, Toyota has fared better than its competitors. The success of Toyota positioning during challenging times is partly due to the company's better access to the microchip supply chain, enabling Toyota to maintain the short lead times it is famous for. Toyota's delivery of vehicles averages at less than 10 days, compared to around 60 days for competitors. 
Beyond quality and innovation, Toyota branding strategy has always been a major focus and it is only getting stronger. In 2020, Toyota announced the launch of a specialized marketing company, which aims to "mass produce happiness". The strategy includes social media activities, micro influencer marketing, and production of owned media to get the Toyota message directly to customers. The company is also stepping up its activities in the growing CASE (connected, autonomous, shared, electric) industry, and the emerging MaaS (Mobility as a Service) industry.
Toyota's famous "Kaizen" strategy is the practice of continuously making small changes that lead to slow but steady improvement. The company uses it in manufacturing but also in its approach to social media marketing optimization.
To date, Toyota's global Facebook page has 21 million followers, while the Toyota USA page alone has 4.3 million. On Instagram, Toyota has 4.6 million followers, and it is also growing its following on TikTok, appealing to Gen Z and the younger auto target audience.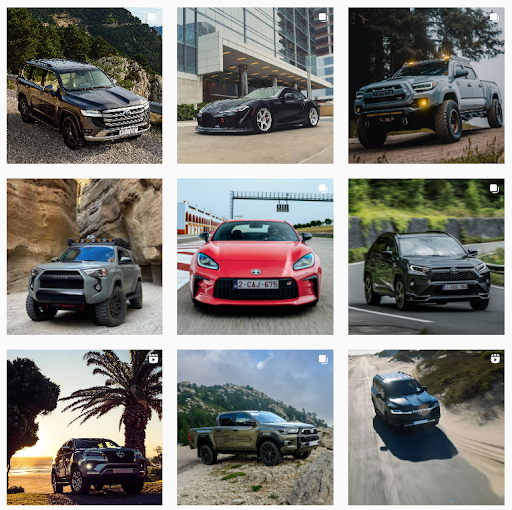 Toyota advertising strategy is a big-budget affair. In 2021, the company spent close to $1.6 billion in advertising in the US alone. This includes a Super Bowl commercial every year that typically draws huge attention and often features celebrity collaborations. In 2022, the Super Bowl ad "Keeping Up with the Joneses" starred Tommy Lee Jones, Rashida Jones and Leslie Jones who all teamed up to promote the Toyota Tundra pickup truck.
Toyota ads are typically localized for the region, produced in the relevant country with local actors and targeted messaging. For example, a New Zealand-based ad for the Toyota Hilux featured the theme of "An Unbreakable Bond.". More than a car, Toyota branded the vehicle as a cultural icon that ties people and communities to each other and to the landscape they live and work in.
Since the launch of the Prius, the world's first mass produced hybrid vehicle, Toyota has taken aggressive steps to maintain its eco-conscious roots and image. In 2015, the company launched the Toyota Environmental Challenge 2050, a long-term sustainability program based on several targets, covering every aspect of the business.
For example, the company aims to reduce CO2 emissions from its vehicles by 90%, and support net-zero emissions throughout the lifecycle of the vehicles, from manufacturing to consumer use. This strong focus on sustainability will help rehabilitate the brand's image as a green company, an identity that was somewhat lost in recent years.
If your target audience is auto consumers, or consumers in any other category or niche, visit the Consumer Insights and Audiences Hub. You can filter according to 500+ audience segments and locations, and explore up-to-date, data-driven insights to inform your mobile campaigns, for better targeting and better results.
Toyota FAQs
How is Toyota different from its competitors?
The key difference between Toyota and its competitors is the focus on quality and innovation. This is best reflected in the famous Toyota Production System, a lean manufacturing methodology enabling the company to deliver the highest quality at the lowest cost in the shortest period of time. 
Which Toyota brand is targeted to younger consumers?
The Toyota Yaris is a supermini compact car that is targeted to younger consumers who want a small, stylish and reliable vehicle. It is particularly popular in Europe, where compact cars are the preferred choice. 
What is Toyota's biggest market?
Toyota's largest market in terms of vehicles sold is North America. Nearly 2.4 million Toyota cars were sold in the region between April 2021 to March 2022. 
Additional Sources