Easy, convenient, everything you need at low prices. The name "Walmart" is synonymous with a certain type of shopping experience that is iconically American. Established by Sam Walton in Arkansas in 1962, Walmart has since turned from a homespun rural store to a multinational chain with over 10,000 stores operating in 24 countries.
In 2021, Walmart had an incredible 240 million customers worldwide, every week, with a net global revenue of $559.151 billion! It's the American dream come true.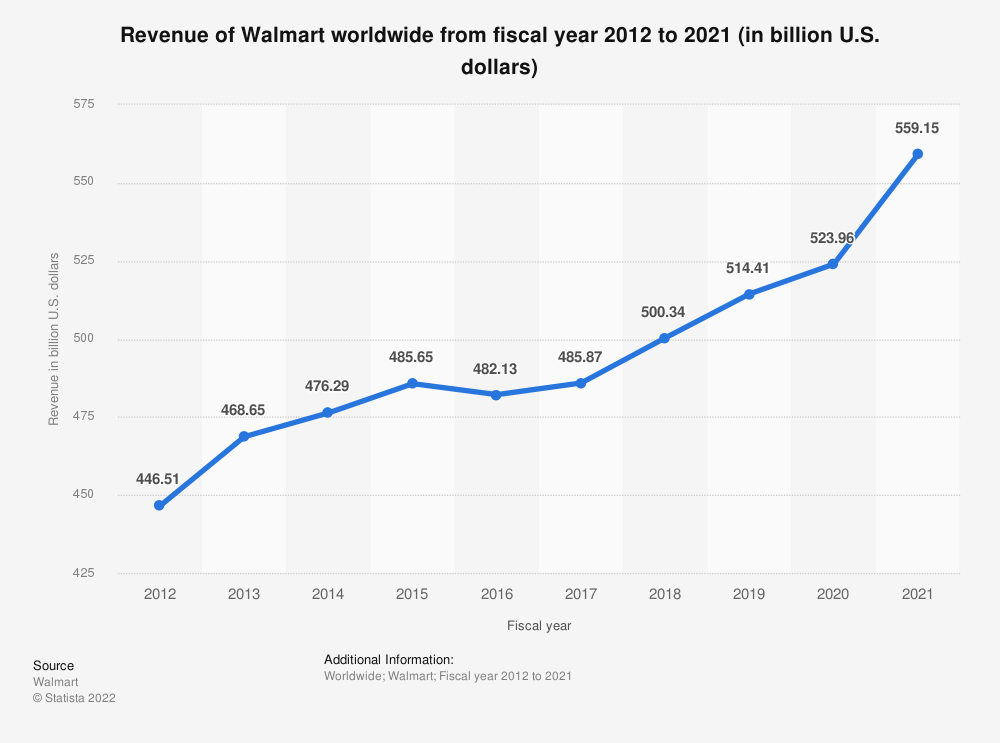 (Source – Statista)
With such a large market spread, consumers from all walks of life shop at Walmart's across the nation. But what is the true Walmart shopper profile? Let's take a closer look at the US Walmart target audience and segmentation with these Walmart shopper insights. 
Who is the target market for Walmart? 
The people who shop at Walmart are typically associated with low to middle class rural families who want a one-stop, convenient and attractively priced shopping experience.
As we'll see from the Walmart demographics data, this is partly true, however with changing consumer behaviors due to the pandemic, the huge increase in online shopping, and Gen-Z coming of age, the Walmart target market demographics may be shifting.
While Walmart offers a vast range of products, groceries is by far the most popular merchandise category for Walmart shoppers, with over 56% of net sales in 2021 coming from grocery store shoppers.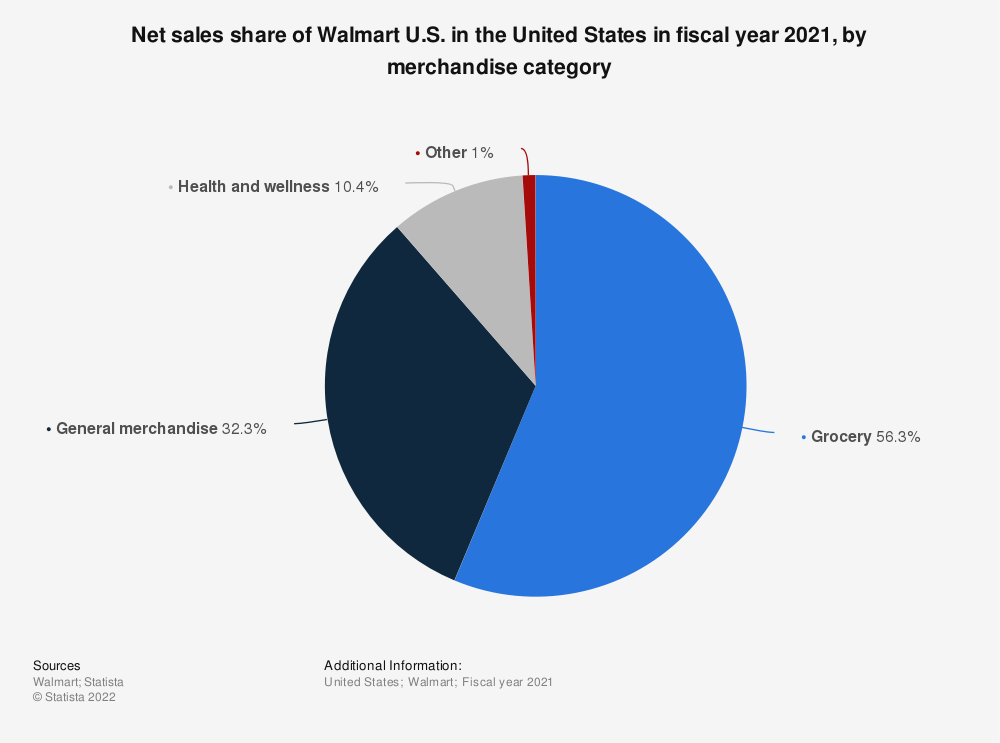 (Source – Statista)
The pandemic has had a strong impact on Walmart's positioning strategy, with a 79% increase in Walmart e-commerce sales in 2021.
Interestingly, this means that Walmart and Amazon achieved similar market share in overall retail sales (online + offline) in 2020, with Walmart at 9.5% and Amazon at 9.2%. However, in online sales only, Walmart has a market share of 5.6%. Among mobile users on the Start.io network, there are nearly 6.5 million people who shop at Walmart.
Walmart Target Market Segmentation and Marketing
Walmart Demographic Segmentation
A recent survey provided a picture of the average Walmart shopper: late-middle aged, white suburban married women with income of $80,000. She mostly buys groceries, and visits frequently – more than once a week.
Although this represents the typical Walmart shopper, Walmart is targeting a broad demographic of all genders and age groups, reflected in the universal message of its "Live Better Now" ad campaign, which debuted during the Winter Olympics Opening Ceremony in 2022.
According to the abovementioned survey, 95% of Walmart shoppers had visited a Walmart store more than two times in the past year. Customer loyalty is clearly one of the fruits of Walmart business strategy, and a key strength that differentiates the Walmart brand.
Walmart Geographic Segmentation
In 2021, Walmart had over 3,500 supercenters across the US. Texas has the most Walmart stores by far, with 602, followed by Florida with 385 and then California at 320. This is supported with mobile user data too, as over 1 million mobile users who shop at Walmart are located in Texas.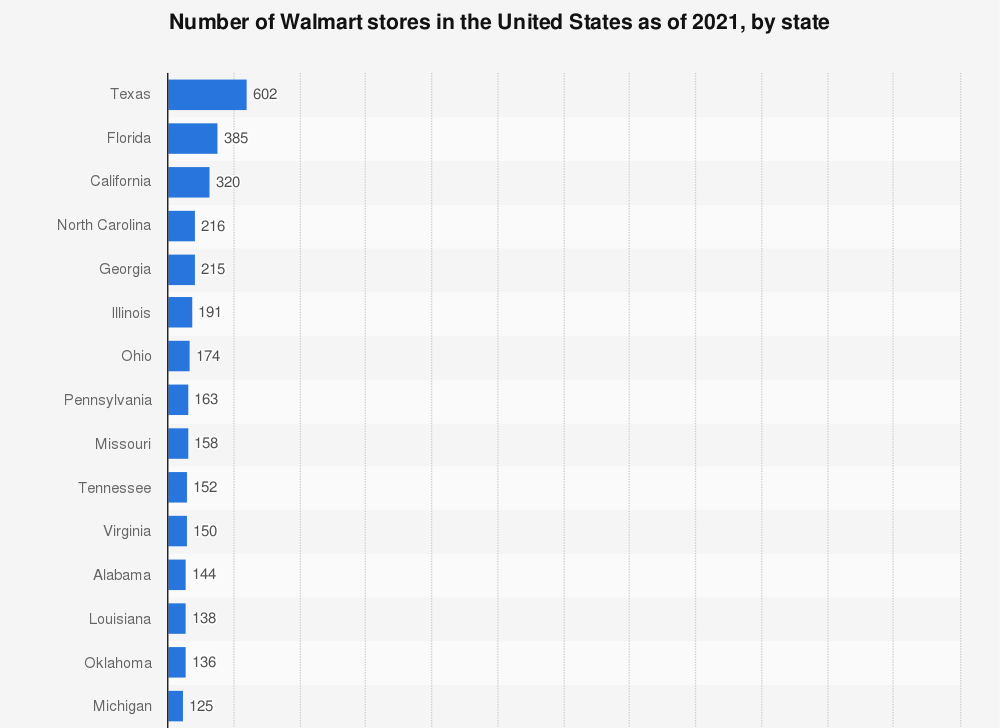 (Source – Statista)
While Walmart is a distinctively American brand and icon, it is a global success too. In 2021, there were 11,443 Walmart stores worldwide, of which 4,743 are in the US, less than half the total number of stores. However, Walmart in the US contributed 68% of global net sales in 2021, reflecting the strength of the brand in its home country.
Walmart Behavioral Segmentation
The vast majority of Walmart shoppers in the US use Android (88%), and the top places visited by those who shop at Walmart are McDonalds, Subway, Shell and Western Union.This aligns with the middle income, rural demographic seen among Walmart target audiences in many regions. It also jibes with the income of mobile users who are also Walmart shoppers: around 65% earn up to $60,000 per year.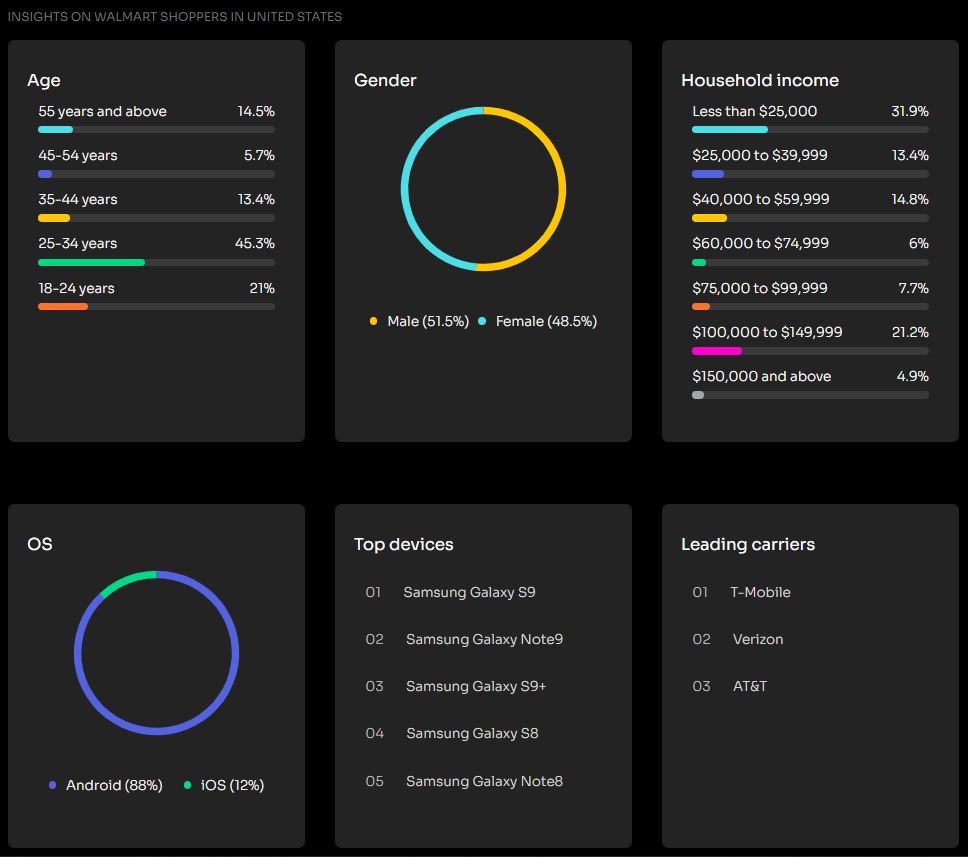 For the average Walmart shopper, the main sales category is groceries, however people who shop at Walmart also enjoy fast food. According to a shopper survey, the top five Walmart fast food brands are: Turkey Knob, Cheetos, Betty Crocker, Dole, and Tyson.
Walmart Psychographic Segmentation
Over 45% of mobile users who shop at Walmart are in the 25-34 age group. In fact, Gen Z are big fans of Walmart, having listed the retailer as one of their favorite brands. This is an indication of the increase in e-commerce sales,  as well as the younger generational shoppers' preference for great bargains and deals. Walmart is tapping into this consumer segment with targeted products and brand collaborations. For example, Walmart and Glossy are partnering on an exclusive hair care line for Gen Z, and Walmart is using TikTok to promote interior design themed campaigns, encouraging Gen Z to shop at Walmart for all they need for their first homes, college dorms or apartments.
Walmart marketing goals 
During a time of inflation and increased grocery bills, shoppers in all socio-economic groups are more sensitive to prices, and turn to Walmart for their grocery shopping and other consumer needs. A main Walmart differentiation will continue to be its positioning as a low-cost, one-stop-shop for people and families of all incomes.
In addition, the brand will continue to market itself in the e-commerce space to leverage the enormous shift in consumer behavior towards online sales. As noted above, Walmart is already going head-to-head with Amazon in the e-comm space, and faring very well. 
Walmart vs Target comparison
Walmart competitors in the USA include some of the best known big box brand names, such as Costco and Best Buy. 
Target is a key competitor for Walmart, offering a similar range of merchandise, brand promise and shopping experience. However there are some significant differences in Target shoppers vs Walmart shoppers.
Target is a smaller chain than Walmart, with just under 1,900 stores across the US, and around $92 billion in US annual sales. The average Target shopper is younger than the Walmart equivalent, at 39 years of age, also female and married, with household income of around $80,000, but college educated.
Although Target customers are loyal, visiting the store around 21 times a year, Walmart and Amazon rank higher in customer loyalty. In addition, typical Target shoppers spend about a third compared to Walmart shoppers. 
Here's another key difference between Walmart and Target: Target sales are almost equal across its main product categories such as clothing, groceries and homewares. Walmart, on the other hand, has over 50% of its sales coming just from the grocery category, making it the definite leader for grocery shopping.
Grocery Store Shoppers in United States
Grocery store shoppers in the US are turning more than ever to online alternatives, reflected in the huge increase in Walmart online shopping over the past two years. According to mobile user data, there are over 25 million consumers in the US who identify as online grocery shoppers. 
Approximately 40% of those are aged 25-34 years, a demographic that is naturally more at ease with the online world. Moreover, 60% of online grocery shoppers are male, indicating that they strongly prefer the convenience of the digital experience, as opposed to the female segment who are more likely to choose the in-store browsing experience. 
Data points such as these provide a strong foundation for mobile marketing campaigns. With Start.io Consumer Insights and Audiences Hub, businesses can gain the relevant data needed to create better campaigns and better targeting among specific audiences. Filter down according to categories and locations. For instance, check out our new blog post – Tesla's target demographics to see how we analyzed Tesla's target demographics, and identified who are Tesla's customers. 
With 1000s to choose from, marketers can get focused insights to reach relevant audiences, like Grocery Shoppers, Walmart Shoppers, or almost anything else, and craft marketing messages that truly resonate. 
Additional Sources