Take an imaginary trip back to 1995, and Amazon was a brand new internet-based bookseller, a revolutionary concept attempting to challenge the likes of Barnes & Noble for market share.
 Today, Amazon is an online shopping juggernaut, whose founder Jeff Bezos is currently the third richest person in the world. In a similar vein to Tesla's Elon Musk, the sky is not even the limit. Bezos isn't content with ruling e-commerce; he is part of the world's first privately funded space race, developing and building rockets to the moon. 
It's no wonder he has the time and resources for that. Annual net sales for Amazon worldwide in 2021 reached over $450 billion, with the lion's share ($314 billion) coming from the US alone.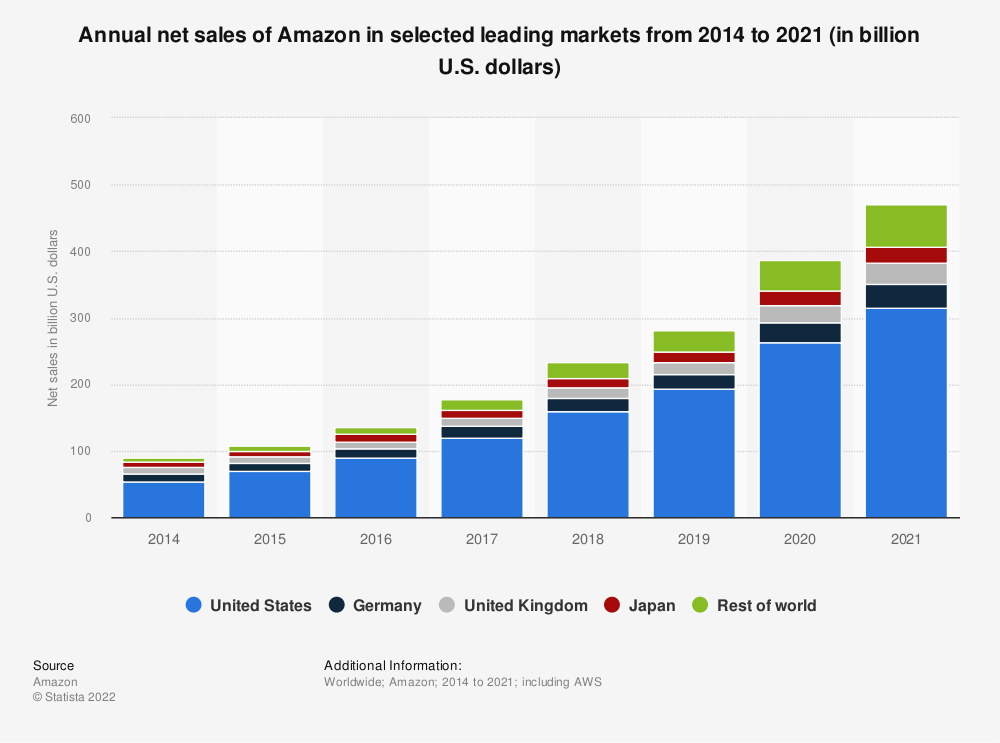 Amazon is the world's third largest online marketplace by global merchandise value, after the Chinese-owned Taobao and Tmall e-commerce sites. And Amazon websites are the fifth most visited multi-platform internet properties in the US in 2022, after Google, Microsoft, Yahoo and Facebook.
When you consider that Amazon is the only name on this list that is pure e-commerce, it only points to the unmatched strength and power of the brand among the Amazon target market.
Need more proof? Amazon is the fourth tech company in the world to ever reach a market cap of $1 trillion, and it is still steadily growing.
So what audience does Amazon target? Who is Amazon's target audience that is driving these numbers? What are Amazon customer demographics and how do they compare to other big retailer brands, such as Target, eBay and Walmart?
Let's drill down with an Amazon brand analysis for a glimpse of the overall picture.
Who is Amazon's Target Audience?
Like the company itself, Amazon demographics segmentation is vast and global. The Amazon target customer segment is located worldwide, with the average age of 37, split equally male and female.
Thanks to its famously convenient shipping services, Amazon customer segmentation can be found in both urban and rural locations, with nearly 80% of Amazon users saying that fast and free shipping is their main reason for purchasing.
Amazon Prime, the brand's member club, is a big driver of loyalty and repeat business, with over 200 million members worldwide spending an average $1400 each year. 
Amazon Target Market Segmentation – Customer Segment
The sheer size of the Amazon target audience – hundreds of millions of consumers! – makes an Amazon demographic audience analysis complex and multi-layered. To understand who are Amazon's customers, it's helpful to dive a little deeper into Amazon customer segmentation from four standpoints: demographic, geographic, behavioral and psychographic segmentation. 
Amazon Demographic Segmentation
Amazon age demographics include adults aged 18 to 60, with 45% in the 35-49 year-old age group.
While Amazon customers are single, young married, married with children or retired, there is a strong demographic focus on middle-age families across all socio-economic strata, with an average annual household income of nearly $85,000.
Amazon Prime customer demographics continue to be a growth engine, particularly in the US where it offers the most benefits. In 2022, there is expected to be over 76.6 million households in the US with an Amazon Prime subscription, up from 66.4 million in 2019.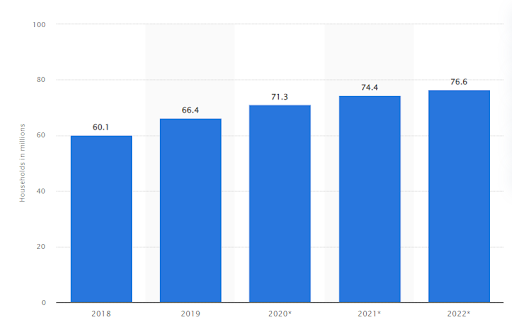 Amazon Geographic Segmentation
Although Amazon geographic segmentation reflects a truly global company operating in over 100 countries, more than 60% of its website traffic comes from the US. In 2021, around three-quarters of Amazon's net global sales were in the US, followed far behind by Germany, the UK and Japan.
In 2020, Amazon represented almost 38% of all online retail sales in the US, while in Europe, it accounted for just 9.8%. 
Amazon Behavioral Segmentation
Amazon market segmentation includes new and opportunistic shoppers, as well as loyal customers who shop frequently. While 37% of casual (non-Prime) Amazon customers purchase multiple times a year, 48% of those with Prime membership buy at least once a week, and 74% every few weeks.
According to an Amazon customer survey, 66% of users in the US stated that the main reason for shopping was the availability of almost anything they need, while 56% claimed their favorite aspect was the free shipping that comes with Prime membership.
Another key aspect of the shopping experience on Amazon is personalization. Based on the company's first-party customer behavioral data, Amazon recommends relevant products to users while on site, helping to make their visit more engaging and personalized. According to Amazon, 35% of sales are attributed to the recommendation engine.
Amazon Psychographic Segmentation 
With around 120 million products for sale on its site, the Amazon target audience comes from all walks of life, including students and professionals, singles and families, low to high income.
The accessibility, convenience and competitive pricing of Amazon shopping drives various personality types to engage with the brand, from those defined as "Resigned" or "Struggler" to "Aspirer", "Succeeder" and "Reformer". 
Amazon Competitors 
When comparing Amazon to other big retailers, such as Target, eBay and Walmart, it is important to note that Amazon as a brand offers a far wider customer experience than just shopping, including products such as Amazon Fire streaming, Kindle Books, and Alexa voice assistant, the preferred choice of 66% of voice assistant users in the US.
These advanced and tech-based products are an ideal fit for the aspirational segment of the Amazon customer target market. 
On the other hand, Amazon can't provide the classic in-store shopping experience of Walmart or Target that appeals particularly to the large, rural, low-to-middle class US target audience, and this is reflected in the numbers.
In 2020, Walmart and Amazon had similar overall market share for retail sales, but in the online segment alone, Amazon reached around 38% compared to just over 5% for Walmart. 
The next big competitor to Amazon in the online shopping space is Alibaba, with a net market cap of $614 billion, however the Chinese e-commerce brand still doesn't come close to Amazon's more than double market cap valuation. eBay is another e-commerce competitor, but it is still just the third largest in terms of desktop audience size, after Amazon and Walmart.
Amazon Marketing Strategy
Amazon is ranked as the world's most valuable brand, worth nearly $640 billion in 2021. What is the Amazon positioning strategy that enables this? True, the brand is big enough and has the resources to produce Superbowl ad spots featuring world-famous celebrities. However, Amazon marketing strategy is much more than that. 
One of the keys to Amazon's huge success is the customer experience it offers, whether it be competitive pricing or the fast and free shipping that the brand is famous for.
Take a look at this example of Amazon advertising strategy that strongly differentiates the brand via its free shipping on big items like furniture, which typically incur cumbersome delivery costs from other retailers:
With its Fundamentals A-Z marketing campaign, Amazon leveraged one of its other main strengths – the millions of products available for purchase on the site.
The campaign included ads, short-form social videos, radio, print and digital assets, and featured the famous arrow on the Amazon logo pointing from A to Z. The central message of the campaign played on Amazon's brand positioning as the place to go for all your 'fundamentals' – every product you need to get the job done, whatever it may be.
Since 2019, the company slogan has been "Work hard. Have fun. Make history", which appeals to the broader brand concept that Amazon has become, and the world-changing, space-exploring aspirations of Bezos, Amazon's founder. 
Of course, no Amazon market analysis would be complete without a mention of Prime Day, Amazon's sensational annual sale day that outperforms even Cyber Monday sales, reaching over $11 billion in sales on Amazon last year. 
Amazon Shoppers in United States
In the US, Amazon is the second most visited mobile shopping app, with a monthly mobile audience that numbers 98 million users. This is reflected in Start.io data for Amazon Shoppers in the US, with an audience size of over 9 million mobile users who visit Amazon on mobile.
Correlating with other Amazon segmentation data, Start.io sees a large proportion of Amazon's target audience in the 25-34 age group, comprising over 45% of the total audience. The mobile target audience however skews male, with around 58% males to 42% female.
Amazon shoppers tend to prefer Android over iOS, with the top 5 mobile devices used by Amazon shoppers being of the Samsung brand. 
The pandemic was a difficult time for Amazon. In the early days of COVID, the company was overwhelmed by deliveries in the US, and was even forced to limit customer purchases in order to keep up. This might have been severely damaging for a brand whose key selling point is fast, free delivery.
However, Amazon bounced back with a strong focus on optimizing delivery times. In January 2020, even before the pandemic hit, the late delivery rate for Amazon was 11.4%, shooting up to more than 15% in May that year. By January 2021, the company had managed to reduce late deliveries to just 5%. This is a critical factor in maintaining the Amazon positioning strategy as the shipping and delivery king.
When you need the right mobile data…
Visit the Consumer Insights & Audiences Hub by Start.io, where you can find everything you need to know about Amazon shoppers, Walmart shoppers, car enthusiasts, DIYers, and over 500 more consumer segments in the US and worldwide.
With these and other relevant insights, Start.io helps businesses improve their targeting and crush their mobile campaigns.
FAQs
Who is Amazon's biggest competitor?
While Amazon has no direct overall competitor, its biggest competitors in the online and offline retail worlds include Chinese-owned Alibaba, Target, eBay and Walmart.
What is Amazon's most sold item?
With hundreds of millions of products for sale at any given time, it is impossible to pin down a most sold item on Amazon. However, it is interesting to note that the Home & Kitchen category is the most popular, with 40% of Amazon sellers offering products in that category, and 21% selling products in the Sports and Outdoors category.
How many people shop at Amazon?
In the month of February 2022, Amazon websites received 2.2 billion visits worldwide.
Additional Sources