Fun fact: Disney is almost a hundred years old.
Yes, the iconic media and entertainment brand was established in 1923 by two brothers – Walt Disney and Roy O. Disney – as the Disney Brothers Studio.
That only lasted a few years, and by 1926, Walt Disney would be the name forever associated with such icons as Mickey Mouse, Snow White, and the Disneyland theme parks. To be sure, a century is a long time and the Disney brand has developed a legendary story of its own.
After enduring the decline of the animation industry in the 1960s and 70s, the release of The Little Mermaid in 1989 kicked off what is now known as the Disney Renaissance. This golden age for Disney saw a rebirth of the popularity of cartoon films, ending with the release of the Tarzan animation in 1999. 
Throughout these ups and downs, Disney emerged at number 10 on the list of companies with the highest brand value in 2021. That same year, the Walt Disney company recorded global revenue of $67.4 billion, and the company's total assets amounted to over $203 billion.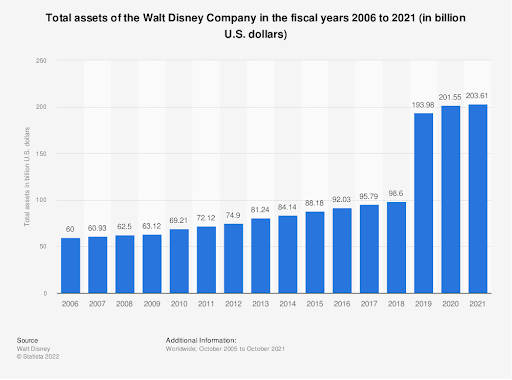 Source – Statista
To begin understanding the global phenomenon of the brand, it is important to start with an analysis of the Walt Disney target market, audience demographics, and Disney strategy. Let's take a look.
Disney Target Market
–
Who is Their Main Audience?
The Disney target audience are consumers of several product categories offered by the Disney brand. These are Disney films and TV programming, Disney theme parks and experiences, Disney merchandise and consumer goods, and the Disney+ video streaming app.
At first glance, it may seem that the natural target market for Disney is kids, however this is not the case. Disney targets males and females in all age groups, from toddlers to grandparents, with a particular focus on families.
The Disney target market is located worldwide, however the vast majority of Disney revenue is generated in the Americas. The target audience of Disney is lower to middle class on average. Unfortunately, Disney theme parks are becoming more unaffordable for this segment. 
With the launch of Disney+ in late 2019, Disney appeals to a wide audience in the on-demand video streaming space. Beyond children and family entertainment, the brand is looking to target adults with more general entertainment content on the Disney+ platform. 
Disney Target Market Segmentation
Get to know Disney brand positioning with an analysis of the Walt Disney target market from four perspectives: Disney audience demographics, geographic, behavioral and psychographic segmentations.
Let's explore Disney statistics and gain a better perspective of the Disney competitive advantage.
Disney Demographic Segmentation
A Disney demographic segmentation shows that the key target audience is families. However, families come in all shapes and sizes. They may be newlyweds, parents with young kids, or multi-generational families that include grandparents and grandchildren.
Disney targets all age groups and genders, reflected in the wide range of movies, TV content, merchandise and experiences under the Disney brand. For example, Disney World offers rides for all heights and ages, clubs and nightlife for adults, and all Disney parks are fully accessible for wheelchairs and strollers.
The Disney+ audience demographics also span all generations. 45% of users are aged 18 or under, and a further 49% are aged between 18 and 54. Just 8% of Disney+ users are over age 55.  
Disney Geographic Segmentation
Disney audience demographics are located worldwide, however the largest audience is in North America and Canada. This is reflected in the significantly larger operating income in the region, compared to Europe, Asia Pacific and Latin America.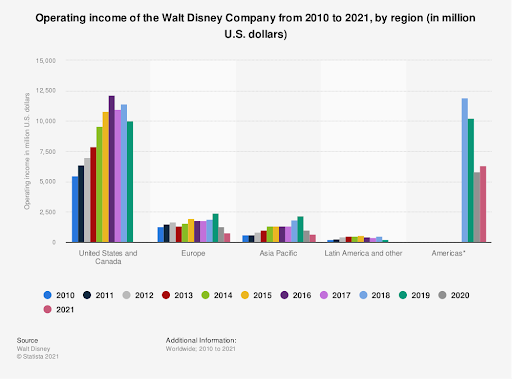 Source – Statista
Disney theme parks and cruises operate in several destinations, targeting a global audience. In fact, six out of the top 10 most visited amusement parks in the world in 2020 were Disney owned, located in the USA, China and Japan. 
Since the launch in late 2019, Disney+ streaming has rolled out gradually worldwide, now available in over 100 countries. 
Disney Behavioral Segmentation
Disney audiences are big movie goers; in 2021, Disney was the leading film studio in the US and Canada, with 25.5% market share. The next closest competitor, Sony Columbia, had a market share of 23.1%.
The Disney parks experience is targeted to middle income families – people who earn between $50,000 to $74,999 want to visit Disneyland the most. Those in the highest income group, between $150,000 and $200,000, were the least likely to want to visit a Disney park in the coming year.
Disney theme park goers are highly loyal, with a 70% return rate among first time visitors.
Disney fans demonstrate high interest in on-demand video streaming, with a steady increase in the number of subscribers to the Disney+ app. In Q3 2022, there were 152.1 million subscribers in Q3 2022, compared to 26.5 million just two years previously in Q4 2020.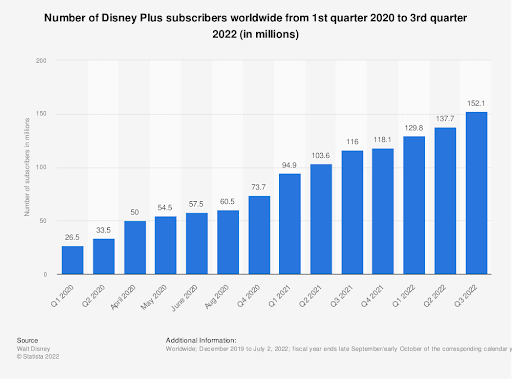 Source – Statista
Disney Psychographic Segmentation 
Disney customers are characterized as 'dreamers' and 'aspirers', drawn to the promise of magical experiences the brand delivers. People targeted by Disney are also looking for escapism and a sense of nostalgia.
This is evident in Disney's wide range of entertainment content and merchandise, from classic Donald Duck to Disney Princesses, Marvel superheroes and Star Wars. In the wake of the pandemic, the Disney target market is moving away from in-store retail towards online shopping of Disney merchandise. This resulted in the closure of dozens of Disney Stores worldwide. 
Who are Disney competitors?
In the world of entertainment, there are few companies that can claim to be direct Disney competitors across all categories.
In film production and distribution, TimeWarner, 21st Century Fox and Comcast are Walt Disney competitors, while in the theme park segment, Disney's competitors include Universal Studios, Six Flags and China's Chimelong Ocean Kingdom.
In the digital streaming space, the top competitor for Disney market share is Netflix, which held over 41% market share in 2021. Amazon Prime Video is the next largest competitor, with 11.3% market share compared to 9.9% for Disney+.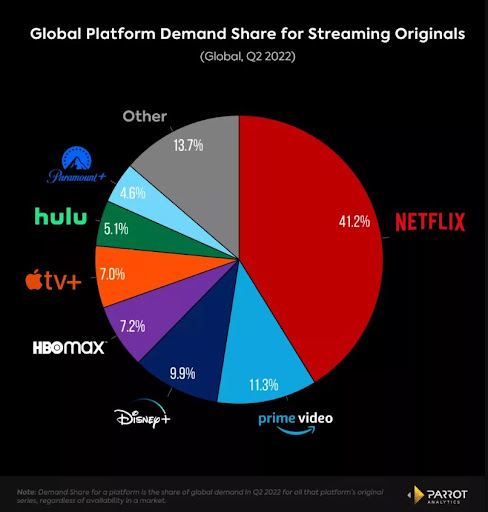 Source – TechRadar 
Since its launch in late 2019, Disney+ has continually increased in popularity, providing a tough competition for the Netflix target audience. As Disney+ steadily gains more subscribers, Netflix continues to suffer serious losses in the post-pandemic period, losing 1 million subscribers in Q2 2022.
When considering Disney Plus vs Netflix, note that Netflix had the highest number of downloads worldwide between Q1 to Q3 2021. However, Disney+ was the highest grossing video streaming app in the US during that same period, with $159 million in revenue.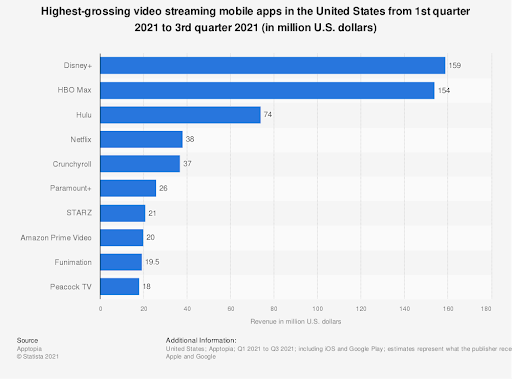 Source – Statista
Another name among Disney biggest competitors – and a newer kid on the block – is Apple+. In the showdown of Disney+ vs Apple+, Disney certainly wins in terms of the sheer range of available content.
As one of the leading Big Tech companies in the world, however, Apple is worth far more than Disney Company and has abundant resources to compete strongly. Even so, Disney+ currently has significantly more subscribers than Apple+. Although no official numbers have been released, it is believed that there are 40 million subscribers to the Apple+ TV streaming service, compared to over 150 million for Disney+. Learn more on Apple target market analysis and its competitors on our recent blog post. 
What is Disney Marketing Strategy?
Although the Disney Company has diverse operations, its media and entertainment segment is by far the biggest revenue driver. It outperforms the linear segment (cable networks and broadcast TV) by nearly double, and brings in more than triple the revenue than Disney's popular theme parks.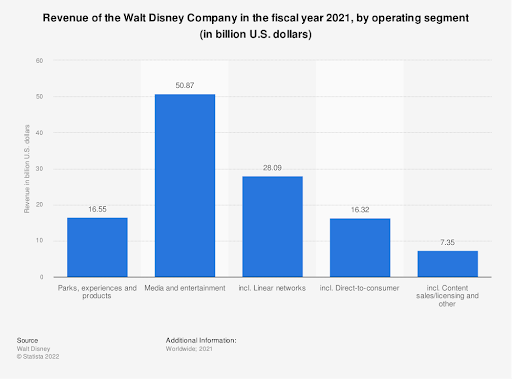 Source – Statista
In all its operating segments, the Disney marketing strategy consistently focuses on the customer experience, promising Walt Disney customers 'the most magical place on earth'. This brand positioning naturally works for young children, however the genius of Disney marketing is the way it resonates with adults as well.
For example, in a 2015 Christmas campaign, Disney encouraged adults and kids to "discover a life more magical" via pop-up shops selling Disney merchandise. The campaign commercial tapped into adults' nostalgia for their own childhood, giving their children the magical Disney experiences they once enjoyed. 
Storytelling in all its forms is a key aspect of Disney marketing. In 2018, Disney launched the popular "Dream Big: Princess" campaign, inviting aspiring women filmmakers to showcase a short film about women who inspired them. For every like or share of the videos on social media, Disney donated $1 to the UN Foundation's Girl Up program.
Disney often leverages classic and iconic characters from its long history to regenerate interest and revenue. Remakes of Disney films are often hugely popular, attracting a new generation of fans while giving the older generation a return to childhood nostalgia. The 2019 remake of The Lion King is the top grossing remake so far, earning $1.6 billion globally.
In 2018, Disney capitalized on its most famous character of all time, Mickey Mouse, for charity. It celebrated the icon's 90th birthday with the #ShareYourEars social media campaign. Fans were encouraged to upload a photo wearing Mickey Mouse ears or any other costume ears. For every photo with the ##ShareYourEars hashtag, Disney donated $5 to the Make-A-Wish Foundation.
Advertising is a significant part of Disney marketing strategy, with the majority of ad spend utilized in the United States. In 2021, Disney spent $3.76 billion on advertising in the US, out of $5.5 billion spent worldwide. US ad spend is increasing every year, significantly higher in 2021 than preceding years.
With the launch of Disney+ video streaming platform in 2019, the Walt Disney company is competing fiercely for market share in the digital space. 80% of Disney movie and TV content is aired on the digital platform. This is part of the strategy to market Disney+ to adults, not just kids, promoting the app as having "something for everyone".
The Disney+ "commercial", titled Basically Everything Coming to Disney+ in the US, is an example of clever Disney marketing. The video is over three hours long, and features trailers for all the content available on Disney+. It has garnered incredible engagement, with over 1.3 million views on YouTube.
Disney Entertainment Streamers in United States
Disney Entertainment Streamers in the US make up a sizable audience of over 2.5 million mobile users on the Start.io network. The audience skews slightly female, with 51.8% female vs 48.2% male who enjoy streaming Disney on their mobile phones.
Streamers aged 18 to 35 make up the significant majority of the audience, with over 85% in that age group. In terms of household income, the mobile audience of Disney streamers is in the low to middle class bracket, with nearly 70% earning $60,000 or less. There is a heavy preference for Android over iOS, with various models of Samsung Galaxy among the top 5 devices used by Disney streamers.
For more audience insights about Disney Streamers, or any other audience, category or location, visit the Consumer Insights and Audiences Hub. There you'll find 500+ niche segments and geos, so you can explore all the relevant insights to make your next mobile campaign better than ever.
Disney FAQs
What makes Disney different from its competitors?
During its 100 years of operation, Disney has built a strategic brand identity based on 'magical' experiences. The brand consistently delivers on that promise through its movie and TV content, merchandising and theme park experiences.
In addition, strategic acquisitions of innovative and popular production companies, such as Pixar, Marvel Studios and Lucasfilm Ltd, have enabled Disney to strengthen its position as a leading and iconic entertainment brand among a global audience.
Who is Disney's main competitor?
In the film production and distribution space, Time Warner, ComCast, 21st Century Fox, CBS Corp and Discovery Communications are Disney's main competitors. In digital streaming, Disney competes with Netflix, Amazon, HBOMax, Hulu and Apple+.
What is Disney's mission statement?
The Disney mission statement is "to entertain, inform and inspire people around the globe through the power of unparalleled storytelling."
What age is Disney aimed at?
Disney is a family oriented company, aimed at people of all ages. The wide range of media content available in movie theaters, cable TV and digital streaming offers viewing choices for children and adults alike.
In addition, Disney targets adult audiences with nostalgia-based content, such as remakes of older Disney movies, that reconnects these audiences to the magic of their childhoods.
Additional Sources