DoorDash is the indisputable current leader in the food delivery app market. But did you know that its founders all started out as delivery drivers for the company? 
DoorDash was first established in 2013 by four friends in Palo Alto, California. Back then, the company was called Palo Alto Delivery, and yes, the founders spent their evenings delivering orders all over the Stanford University campus.
The company later changed its name to DoorDash, and nearly 10 years later, it is a publicly traded company operating in thousands of cities, generating $4.8 billion in revenue in 2021 – over double the amount of revenue year-on-year since 2019.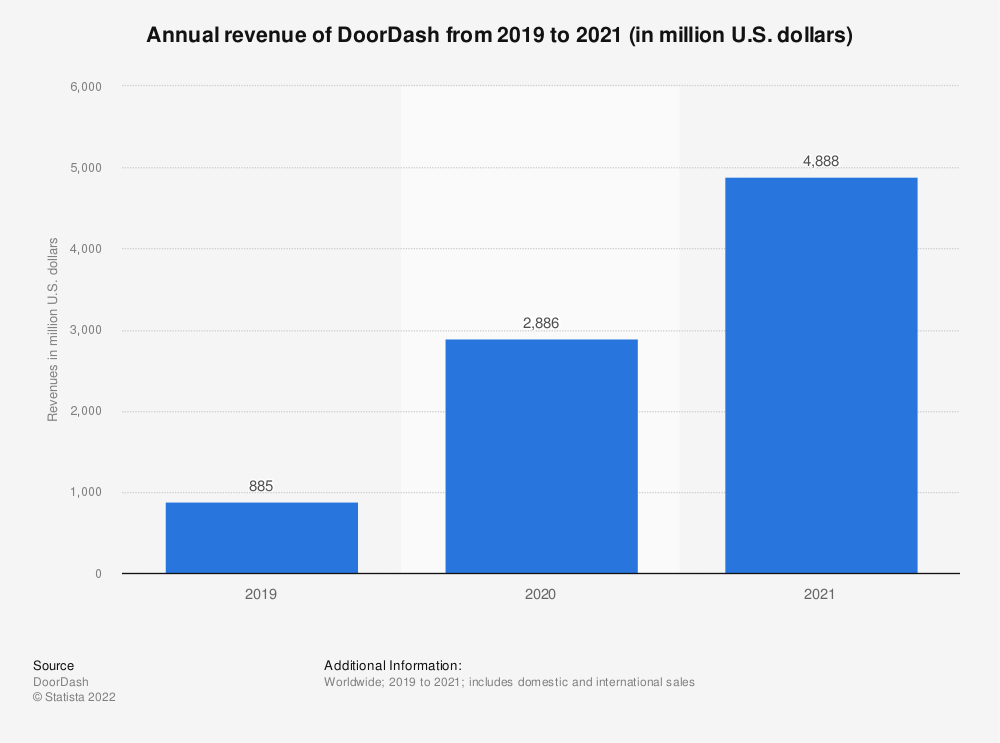 Source – Statista
DoorDash is dashing its way from success to success, gaining rapidly in market share. In May 2022, DoorDash held a 59% share of monthly sales in food deliveries in the US.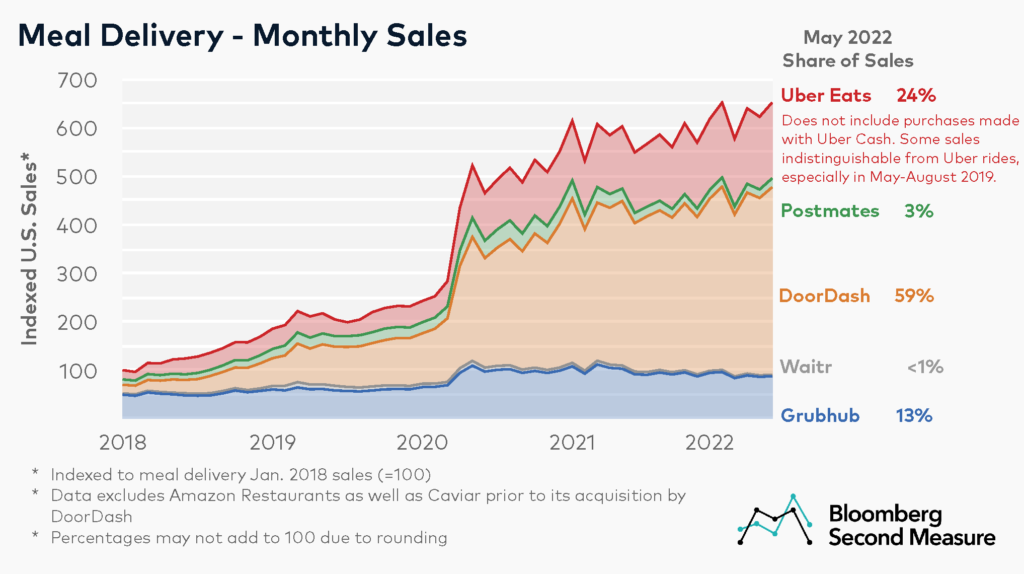 Source – Bloomberg Second Measure
While the COVID pandemic clearly accelerated the consumer demand for food delivery, this is not the only reason for DoorDash's success. 
Over the years, DoorDash has taken highly strategic business and marketing decisions that have spurred enormous growth. While other food delivery services scrambled to compete over the dense urban market, DoorDash decided to focus on areas where food delivery was not very common, such as suburban centers and rural areas.
By tapping into this ignored market, DoorDash was able to become the most popular food delivery app by 2020, without yet dominating market share in any large US city. In fact, Palo Alto, the city where DoorDash began, has a population of just 65,000.
At the same time, DoorDash has not forgotten the higher-end target audience. In 2019, the company acquired Caviar, the fine dining delivery app, for $410 million, appealing to the target market for premium food deliveries. In this major purchase, DoorDash took over the 2% market share held by Caviar, which was forecast to hold steady until at least 2022.                       
Let's further explore the brand's success with an analysis of DoorDash demographics, how many people use DoorDash, and how DoorDash marketing is keeping the brand way ahead of the competition.
DoorDash Target Market – Who is Their Main Audience? 
The main audience of DoorDash customers is younger individuals, from the Gen Z and Millennial age groups, as well as parents of young kids looking for a convenient solution for food and grocery deliveries.
While DoorDash is popular in urban areas, an analysis of DoorDash statistics by city shows that it is also very popular in smaller cities and rural areas, as the more detailed analysis below will reveal.  
DoorDash Target Market Segmentation 
By focusing on four segmentation perspectives – DoorDash demographics, geographics, behavioral and psychographics – marketers can gain a solid understanding of how many  DoorDash orders per day occur, and how the DoorDash brand identity helps it thrive in a tough marketplace.
Let's take a deeper dive into revealing DoorDash statistics.
DoorDash Demographic Segmentation
DoorDash target demographics tend to be in the younger adult segment, with 34% of consumers aged 18-24 using food delivery apps, and 30% of those aged 25-34.
According to DoorDash statistics, 60% of millennials want restaurants to use technology to make it easier to order and enjoy meals. Another DoorDash target market is busy parents, of which 16% use food delivery apps. 
DoorDash Geographic Segmentation 
The DoorDash target audience is international, located in several countries. DoorDash currently operates in more than 7000 cities in the US, Canada, Australia and Japan.
DoorDash is now ahead of competitors UberEats and Grubhub in the number of urban restaurants it serves, particularly high end restaurants. Even so, in the US, 30% of deliveries were in rural areas, and 37% were in low-income communities.
The rural market, suburbs and smaller urban centers are a key demographic in the DoorDash target market. The company specifically targets audiences in non-urban areas where food delivery services are usually not available.
DoorDash launched in Melbourne, Australia in 2019, and today covers 80% of the Australian population, with plans for further growth. The company has signed deals with some of Australia's biggest food and grocery retailers, including Coles and Petstock.
DoorDash launched in Canada in 2015, and expanded to over 50 Canadian cities in 2019. A 2021 study showed that 20% of Canadian adults have used food delivery services, translating to 6.2 million people. DoorDash came in third place with 25% market share, after Skip The Dishes and UberEats. In 2020, the largest DoorDash order in Canada was a delivery of Greek food costing over $1000!
DoorDash Behavioral Segmentation 
The DoorDash target audience is typically made up of consumers who are too busy to cook or don't feel like cooking. It also includes 'foodies' who want to enjoy great food at home, and even employers looking to order food deliveries for staff.
DoorDash targets consumers who want to expand their dining options yet at the same time desire the convenience and simplicity of home food delivery via app, with features such as instant ordering and contactless payment. 
DoorDash Psychographic Segmentation
The DoorDash consumer can be described as the 'Hedonist' personality type, who typically wants the good things in life, enjoys socializing, and seeks out new experiences. They are adventurous and spontaneous, and look for quality and aesthetic appeal.
At the same time, the DoorDash psychographic segment is socially conscious and aware, and keen to support local businesses and community empowerment initiatives, which is a big part of the DoorDash strategy.
While the typical DoorDash customer might be a 'hedonistic' type, the target audience among the lower socio-economic stratum is growing. In 2021, the number of DoorDash customers living in low-income communities increased by 50%. 
Who are DoorDash competitors?
There are several DoorDash competitors who have shown varying levels of comparative success over the past decade, including UberEats, Grubhub, Instacart and Postmates.
As recently as 2016, Grubhub was the clear market leader, significantly ahead of all competing food delivery apps in market share.
In the years since, DoorDash has rapidly overtaken Grubhub and all other competitors in market share, in particular curbing its closest recent competitor, UberEats.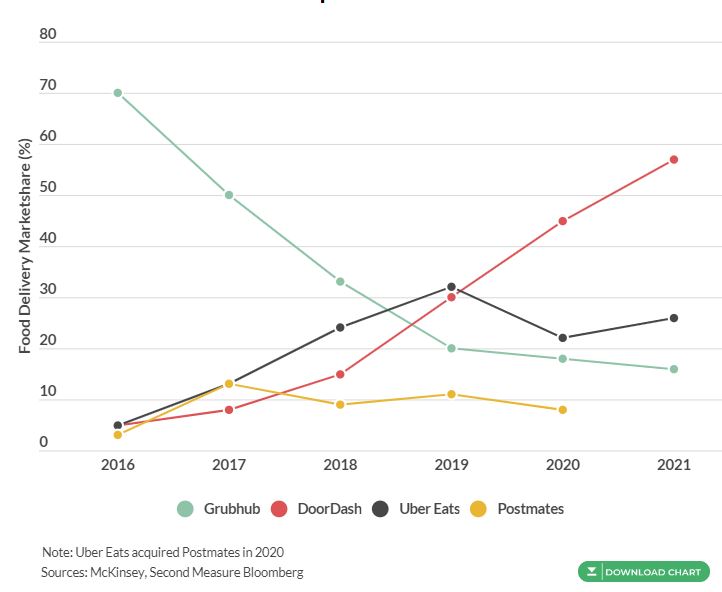 Source – Business of Apps
At the height of the COVID pandemic, in January 2021, the DoorDash competitive advantage spread to convenience store deliveries in the US, with a 60% market share compared to goPuff with 23% and UberEats with just 9%. Indeed, that same year, DoorDash celebrated the milestone of having fulfilled 2 billion food delivery orders!
In early 2022, DoorDash announced a 70% increase in its gross order value in 2021, cementing its position as the leader in the food delivery app industry, outperforming UberEats and all the others.
What is DoorDash Marketing Strategy?
With a mostly young to middle age target audience, with a particular focus on Millenials, the DoorDash strategy is not surprising. It is a mix of product and service innovation, social media marketing, and brand awareness via corporate responsibility and community empowerment initiatives. 
For example, the brand often promotes new strategies designed to overtake the DoorDash competition, such as DoubleDash, where customers can order multiple items from different stores and have them delivered in one drop-off at no extra charge. In early 2022, DoorDash added Target grocery deliveries to its app, providing yet another attractive option for the user base. 
DoorDash also provides real-time analytics to its partner restaurants, giving them valuable data about customer behaviors and preferences. This enables DoorDash restaurants to adapt their own marketing strategies and offers to meet customer demand and increase sales.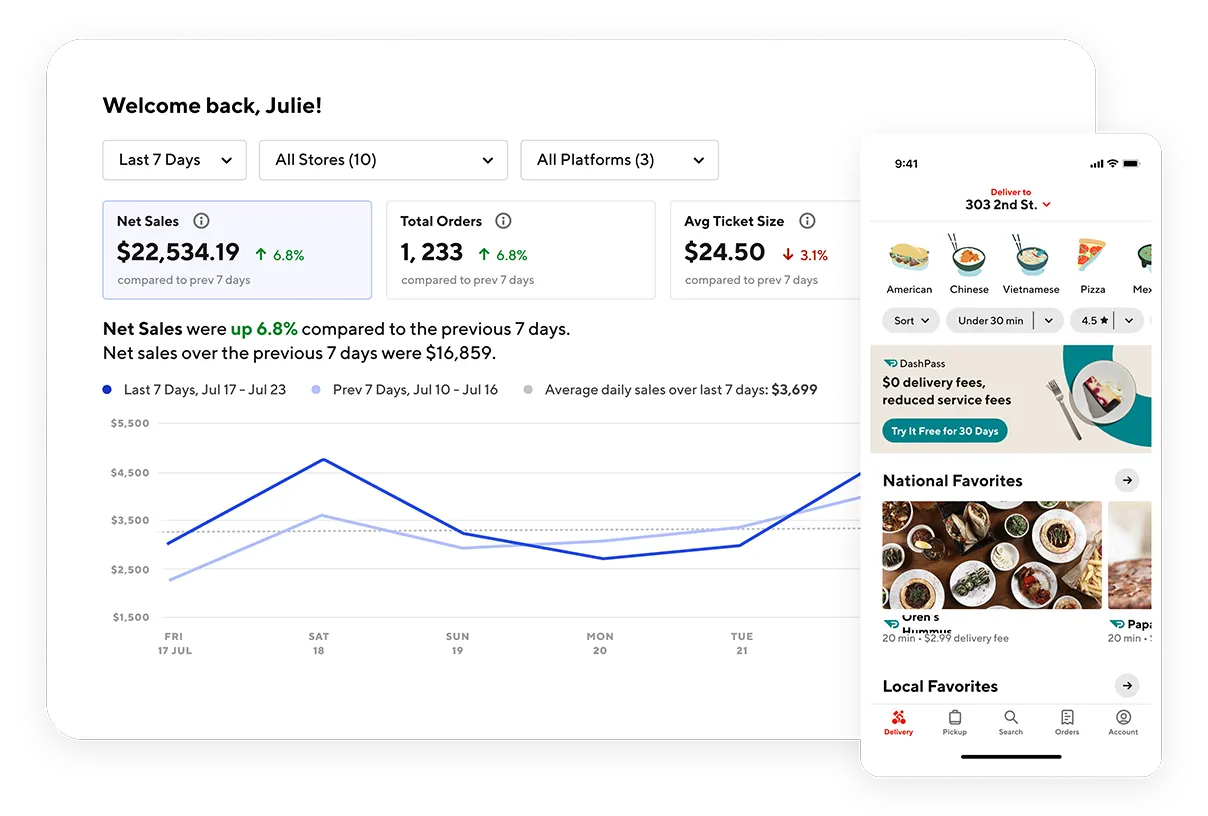 DoorDash invests a lot of resources in building customer engagement via social media. In particular, the company uses interactive content to initiate conversations and strengthen relationships with customers.
For example, a simple Twitter poll asking followers what food they are craving on a Monday night drew nice engagement:
Who gets more excited when your order arrives?

— DoorDash (@DoorDash) August 26, 2021
When it comes to DoorDash advertising strategy, DoorDash commercials typically focus on enhancing customers' lifestyles, by addressing the pain points of the target audience.
For example, the brand recently released a commercial for the DashPass subscription, offering unlimited free delivery for orders over $12. The appealing ad featured a loving dog owner at work, sending deliveries home all day long through the doggie door, using the DashPass service. 
DoorDash adapts its advertising strategy according to region, so commercials take on the feel and flavor of the local market.
The first DoorDash commercial specifically for the Australian market – "We DoorDash" – was released in 2021, featuring an Aussie same sex couple describing all the things they "doordash", from groceries, to pet food, flowers and candles.
DoodDash also engages its target audience on important issues that matter to them, such as voter education before the 2020 elections.
During the COVID pandemic, DoorDash launched the "Open for delivery" campaign, encouraging consumers to purchase food deliveries from restaurants to help these businesses weather the crisis. The campaign included a dedicated website, organic and paid social media promotions, and a powerful message featured on the 30-second commercial spot that aired nationally: "Restaurants have always been there for you. Now you can be there for them."
The company takes pride in its efforts to boost low-income communities, not just by offering charity and supporting local restaurants, but by providing work opportunities as "Dashers", DoorDash delivery drivers.
In 2021, more than six million people in low-income and rural areas got job opportunities through DoorDash. These initiatives led to DoorDash being named as one of Time magazine's top 100 influential companies on the 2022 list.
DoorDash Users in San Francisco
The global pandemic led to a massive rise in the use of food delivery apps, but some geos are more popular than others. In April 2021, San Francisco was the most popular city for DoorDash in the US, with 74% market share, followed by Houston with 63%.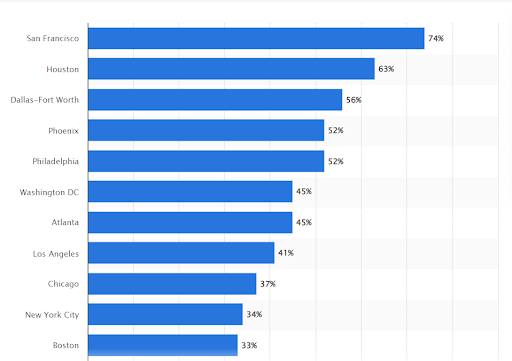 Source – Statista
However, the figures for food delivery app uses are flexible and change over time. According to other statistics, DoorDash's strategy in rural areas is paying off, with a strong market share across the midwest and parts of the southern US.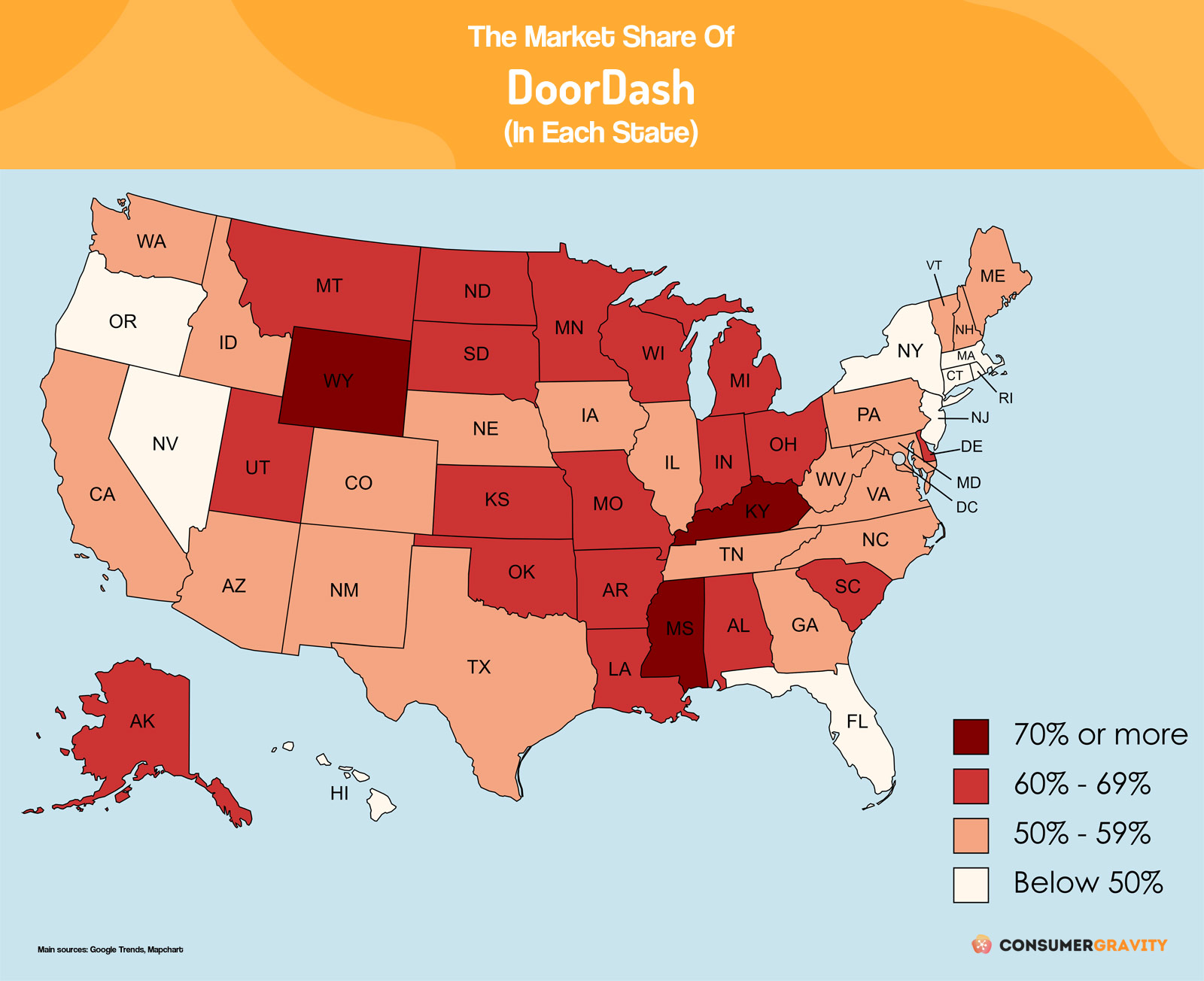 Source – Consumer Gravity
Despite variations in DoorDash geographic segmentation statistics, DoorDash user demographics are fairly reliable, reflecting the large segment of younger consumers who use food delivery apps.
According to Start.io data, DoorDash users in San Francisco skew strongly to the 18-34-year age group, making up around 85% of the segment. This pattern is quite clearly evident across all DoorDash user segments and Food Delivery App User audiences, as you can see by exploring the Start.io Consumer Insights and Audiences Hub. 
Your target customers may be food delivery app users, car owners, dog owners, or any other of the 500+ audience segments and locations available at the Start.io hub. Whichever segment you are focusing on, a data-based audience analysis is key to helping you build better targeting and get better results from your mobile campaigns. 
DoorDash FAQs
Why is DoorDash so successful?
DoorDash focused its strategy on areas where food delivery app services were lacking, including smaller urban centers and rural areas.
By building up a brand that offers simplicity and convenience, a smart app and a strong emphasis on community empowerment, DoorDash has succeeded in outperforming all competitors, including UberEats and Grubhub.
What demographic uses DoorDash the most?
The younger Gen Z and Millennial market are the top users of the DoorDash app and service. In fact, 63% of young adults use food delivery apps, making them the most targeted segment for DoorDash and other food delivery companies.
How does DoorDash position themselves in the market?
DoorDash positions itself as the smarter, more accessible option than other food delivery apps.
By operating in under-served target markets, such as smaller cities, rural areas and low-income areas, DoorDash brings its food app technology to a market that is ready for it. It appeals to a wide customer segment that includes app users, restaurant owners and delivery drivers.
Additional Sources