The donut. It's an iconic American food.
And like most American success stories, the Dunkin' Donuts brand was borne on the spirit of entrepreneurship, in this case of a young man named Bill Rosenberg, of Boston, Massachusetts.
During World War 2, Rosenberg was employed at Quincy Shipyards and noticed that the dock workers didn't have anything convenient to eat on the job. So he borrowed some cash and started a new venture, the Industrial Luncheon Services company. He sold sandwiches, donuts, coffee and snacks out of converted trucks – the first ever food trucks that are so popular today.
This was a pivotal moment in the history of the QSR (quick service restaurant) industry, a precursor to the fast "coffee shop" style of dining. What's more, Rosenberg saw that customers often dunked their donuts in their coffee. Hence "Dunkin' Donuts" and the launch of the so-named brand in 1950.
In 1990, Dunkin' Donuts was acquired by the holding company of ice cream maker Baskin-Robbins, and today both brands operate simply under the name "Dunkin'".
Today, Dunkin' Donuts is the second largest coffee shop and cafe chain in the US, only after Starbucks, with nearly $10.5 billion in annual sales.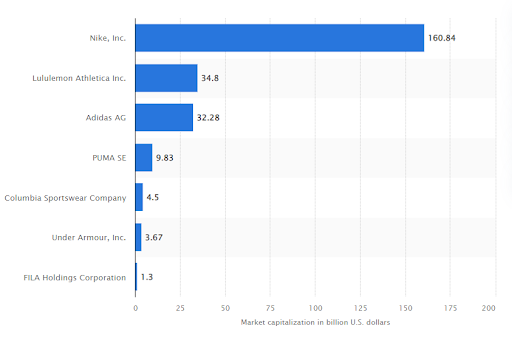 Source – Statista
In 2019, the total assets of Dunkin' brands amounted to $3.92 billion.
A franchise-based operation, there are over 11,300 Dunkin' restaurants all around the world, with more than 8,500 located in the US and approximately 3,200 in 36 other countries. 
Although the brand is associated with donuts, it is in fact much more than that. Customers enjoy a wide range of coffees, beverages, snacks, ice cream, sandwiches and even healthy menu items. 
How did Dunkin' move beyond the shores of the United States to become one of the best-known donut and coffee brands around the world? How does it fare compared to other similar brands, like Starbucks and Krispy Kreme?
Let's take a look at the Dunkin' Donuts customer demographics and brand strategy to find out.
Who is Dunkin' Donuts Target Market?
According to a Dunkin' Donuts target market and demographic segmentation, the audience is aged from teenagers to retirees, both men and women. Dunkin' Donuts appeals to families, students and professionals, drawn by the tasty menu, convenience, and affordable pricing.
While the brand is long associated with donuts, its selection of coffees and beverages are very popular among the average customer. Dunkin' operates in the US and more than 30 countries worldwide, however the vast majority of sales are generated in the US. 
Dunkin' Donuts Market Segmentation & Customer Profile 
A Dunkin' Donuts market segmentation must take into account four perspectives: demographics, geographic, behavioral and psychographic segmentation. Let's explore each one in turn, followed by an analysis of Dunkin' marketing strategy and competitors:
Dunkin' Donuts Demographic Segmentation
Dunkin' Donuts demographics cover a broad age range, 18 to 65 years, slightly more popular with younger age groups. In 2018, nearly 22% of Americans who had patronized a Dunkin' Donuts store were aged 18 to 29 years.
The brand appeals equally to men and women, and is popular among families of all shapes and sizes, and across generations. The typical customer may be a mom and her teenage kids, or an older couple enjoying donuts and ice cream with their grandchildren. 
Dunkin' Donuts Geographic Segmentation
The Dunkin' Donuts target market is located in the US and internationally, however the lion's share of revenue is generated in the US. In 2019, nearly $650 billion of revenue was from the US, with just $26.75 billion from the rest of the world. 
In the US, the state of New York has the highest number of stores, followed by Massachuets, Florida and New Jersey.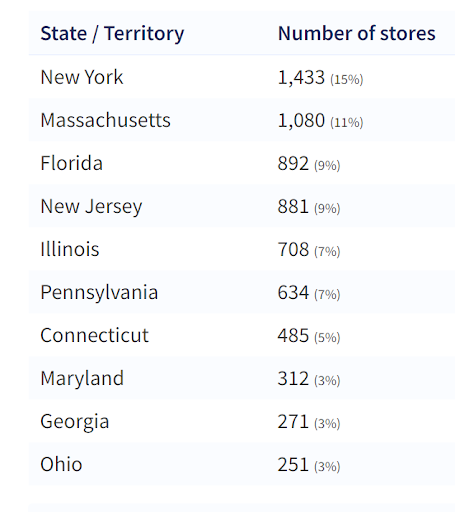 The brand is available in 36 countries including Cuba, Canada, China, Germany, New Zealand, Russia and Spain. Dunkin' Donuts has had franchises in several other countries in the past, such as Australia and Israel, however due to low sales, the stores eventually closed.
Dunkin' Donuts Behavioral Segmentation
The Dunkin' Donuts target audience includes students and young adults who enjoy the affordability and variety of the available menu. For the millennial and Gen X segment, the target audience includes employees and professionals who conveniently fit a visit to a Dunkin' store into their busy work schedules. This group has disposable income and flexibility to buy from Dunkin' Donuts when the mood strikes. 
Before the COVID pandemic, the morning rush was the busiest time for Dunkin' stores, as people bought coffees and snacks on their way to work. However, with remote work becoming more commonplace, this shifted slightly later and the busiest hours are now between 10am to 2pm.
Dunkin' Donuts Psychographic Segmentation 
Dunkin' Donuts customers are looking for a combination of fast service, good taste and value, which the brand provides. The drive-thru is a popular feature, with 89% of US customers being highly or somewhat satisfied with the service speed and friendliness of staff at the Dunkin' Donuts drive thru. In 2020, Dunkin' announced they were partnering with DoorDash to provide home deliveries of donuts, coffees and other snacks for the DoorDash target audience across the US.
The Dunkin' Donuts audience are characterized as 'aspirers', as well as 'convenience seekers' and some are also considered 'frugal'. They are loyal customers, who are highly responsive to deals and rewards. Many customers are tech savvy and use the Dunkin' app to order; to date, there have been more than 10 million downloads of the Android app.
Who are Dunkin' Donuts competitors?
Although Dunkin' is traditionally associated with donuts, the company expanded over the years into sales of coffees, beverages, snacks, sandwiches and other coffee shop-style products. Dunkin' competitors include coffee shop chains, fast food chains, as well as other donut and pastry brands.
Starbucks
Starbucks is the toughest Dunkin' Donuts competition, and the Starbucks target audience shares many similarities to that of Dunkin'.
Starbucks has a far larger footprint, both in the US and globally. Starbucks currently has more than 30,000 stores worldwide, compared to around 13,000 for Dunkin'. Moreover, a large number of international Dunkin' stores are Baskin-Robbins ice cream stores, so the Dunkin' brand outside the US is not as strong as Starbucks. Indeed, a main difference between Starbucks and Dunkin' Donuts marketing strategy is international presence: only a small fraction of Dunkin' Donuts sales occur outside of the United States, while Starbucks international revenue accounts for more than 26% of total revenue.
McDonald's
Beyond donuts, another of Dunkin' Donuts competitors is a long-standing and iconic American brand in the QSR space: McDonald's. The two brands mostly compete on coffee sales, although McDonald's entered the donut market in 2019 in an attempt to grab Dunkin' Donuts market share in that category too.
The McDonald's target audience is more than double that of even Starbucks, so Dunkin' Donuts does not come close. McDonald's also has a far larger international presence, with stores in 120 countries. Over 60% of McDonald's stores are outside of the US. 
Krispy Kreme
In the donut category, Krispy Kreme is the most similar brand competitor to Dunkin', albeit far smaller. Krispy Kreme has just over 1000 stores, compared to over 11,000 for Dunkin'. In 2021, Krispy Kreme US sales were $818 million, compared to Dunkin's $10.5 billion. 
What is Dunkin' Donuts Marketing Strategy?
Surprisingly, donuts account for just around 8% of total sales of the Dunkin' Donuts brand. Coffee, hot and cold beverages, snacks, sandwiches, ice cream and other pastries are increasingly on the menu. 
This sparked a strategic branding move in 2018, when the brand officially changed its name to simply "Dunkin'", dropping the "Donuts" part. This was an attempt to solidify a reputation as a coffee and beverage company, not a donut brand. The move was designed to help Dunkin' continue to gain market share in the lucrative coffee market, in which it was already highly successful. Indeed, as far back as 2013, Dunkin' Donuts' then-chief financial officer said, "We are a beverage company."
Dunkin' stores are owned and operated on a franchise model, enabling it to spread to over thirty countries worldwide, and adapt the business to local markets. In 2022, the initial investment required for a franchise stands at over $1.7 million, not including real estate. Dunkin' stores are typically located near gas stations, airports, malls and in food courts, where foot traffic is prevalent.
As part of the long-term Dunkin' Donuts marketing strategy, the strategic name change to Dunkin' in 2018 was followed by changes to the product offerings and brand image. The company added more premium coffees and non-coffee beverages to the menu. At the same time, Dunkin' began promoting itself as a lifestyle brand, rather than a fast food brand. For example, Dunkin' collaborated with Homesick, a candle company, to offer branded and personalized candles. Dunkin' also collaborates with influencers on social media to attract the younger Gen Z market.  In 2020, Dunkin' partnered with  Charli D'Amelio, the popular TikTok star, to introduce a new cold brew coffee beverage, called "The Charli". The collaboration also included a range of branded merchandise.
Dunkin' Donuts marketing relies heavily on its iconic American spirit, reflected in the famous "America runs on Dunkin'" campaign, launched in 2006. The campaign capitalized on the fun, quirky and busy lifestyle of the typical Dunkin' customer, and cemented the brand as an inseparable part of American culture. This vibe is still reflected in Dunkin' Donuts advertising today. For example, a video commercial for Thanksgiving, "No Apologies", features a driver stopped at a crosswalk, unapologetic about the 650 pound pumpkin on the car roof, biting into a Dunkin' donut as people gawk. 
Similar to other fast food brands, Dunkin' began offering healthier menu options in recent years, on par with the health and wellbeing trend sweeping mainstream culture. In 2020, the company introduced Planet Oat oat milk as an alternative to dairy-based milk on its beverage menu. Other healthy food options include multigrain bagels, egg white sandwiches, and sugar free coffee brews. 
The Dunkin' brand is pro-active on social media, with 1 million followers and counting on Twitter. The brand frequently posts smart, quirky content to keep the conversation going with customers and build engagement. 
https://twitter.com/dunkindonuts/status/1574388809214590977
Dunkin' also has a huge following of over 3 million on TikTok, frequently partnering with influencers, such as Zachariah Porter, to increase awareness and engagement with the Gen Z market.
https://www.tiktok.com/@Dunkin'/video/7134781016363011374?is_copy_url=1&is_from_webapp=v1
Also in keeping with contemporary corporate mores, Dunkin' places emphasis on sustainability and community development. For example, the brand donates to initiatives for sustainable coffee production, as well as partnering with organizations such as One Tree Planted to support the environment and local communities in regions where coffee is grown and produced.
By understanding Dunkin' Donuts business strategy and target audience, marketers can learn how to build campaigns and messaging that resonate with their target markets. Whether you are in the donut consumer category, or any of the other 500+ niches and locations available at the Consumer Insights and Audiences Hub, the first-party audience data extracted from Start.io's vast mobile network can help you understand your audience and build better targeting and more effective campaigns.
Dunkin' Donuts FAQs
How many donuts does Dunkin' sell?
Every year, Dunkin' sells approximately 2.9 billion donuts This includes "Munchkins", the brand's   bite size donut hole product. 
How many customers does Dunkin' donuts serve per day?
Dunkin' Donuts serves approximately 3 million customers every day.
What is the most popular donut at Dunkin'?
The most popular Dunkin' donut is cream-filled donuts, with 22% of customers saying this is their favorite. 18% say they prefer plain glazed donuts, and 12% choose chocolate glazed.
Where is Dunkin' Donuts most popular?
Dunkin' Donuts is most popular in the United States. 95% of its global revenue comes from the US. Inside the US, New York state has the largest number of Dunkin' Donuts stores.
Additional Sources