When a brand becomes part of a political theory, you know it's reached ultra-icon status.
That much can be said of McDonald's. In 1996, author and journalist Thomas Friedman famously wrote: "No two countries that both have a McDonald's have ever fought a war with each other". The theory hasn't stood the test of time, but the McDonald's brand definitely has.
In the fast food industry, McDonald's had the highest brand value in the world, estimated at nearly $155 billion, way ahead of the next closest competitor, Starbucks.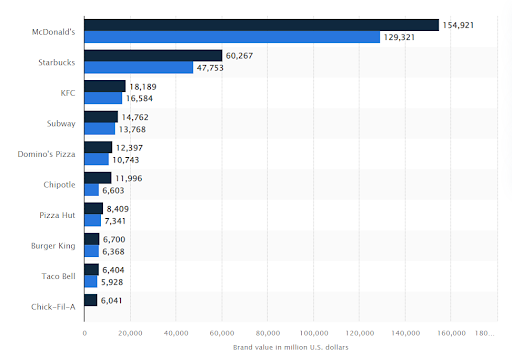 Source – Statista
By the end of 2021, McDonald's had around 40,000 restaurants worldwide. That same year, the company generated global revenue of $23.22 billion from rent, fees and royalties paid by franchise owners as well as sales from company-owned restaurants. 
In 2022, McDonald's is one of the top 100 companies in the world for market capitalization, only slightly below Intel and L'oreal, and much higher than AT&T and American Express. In fact, it is the only fast food company to even make it on the list.
Even so, McDonald's has had its fair share of bad publicity. The 2004 documentary Super Size Me famously exposed the health risks of fast food. It led to a significant drop in McDonald's profits in the UK and spurred the company's pivot towards a more health-conscious menu. And what about the Ronald McDonald clown scare craze that led to McDonald's retiring its long-lived mascot in 2016? 
Despite it all, McDonald's is one of the world's most recognizable brands, probably in history. What is special about McDonald's positioning? How does McDonald's advertise their products and appeal to the target market? Let's go beyond the golden arches to explore McDonald's market segmentation and branding. 
Who is McDonald's target market?
The target market of McDonald's is located globally and covers a broad age group, from kids to senior citizens. According to 2020 data, the average customer is a married woman, aged 41 to 56, who particularly enjoys the McDonald's breakfast.
Most of McDonald's audience is lower to middle income families in both urban and rural areas. They are loyal customers, visiting a McDonald's restaurant an average of 44 times a year.
In 2015, McDonald's ran a study that showed consumers becoming more health conscious in their fast food choices. In response, the company lowered the oil and salt content of their dishes and expanded the menus to include more healthy options. This trend towards healthy dining continues to be a focus of the McDonald's brand.
McDonald's Target Market Segmentation
McDonald's is a multinational veteran brand with a large and complex global audience. The best way to understand what is McDonald's target age group and how McDonald's advertising works is via a McDonald's segmentation analysis that covers demographic, geographic, behavioral and psychographic data. Let's dive right in.
McDonald's Demographic Segmentation
McDonald's target age group is consumers from 6 to 70 years old, both male and female.
McDonald's demographics particularly focuses on multi-generational families, who enjoy a range of products and experiences, such as Happy Meals and playgrounds for kids, McCafe coffee and breakfast for moms, and combo meals for family outings.
The target market of McDonald's includes employees, professionals, as well as students, who are drawn by the value conscious meal options and free Wifi provided in McDonald's restaurants.
McDonald's Geographic Segmentation
McDonald's serves an international audience with restaurants in 120 countries, in both urban and rural areas. More than 37% of McDonald's stores are located in the US.
In 2021, France and Germany had the most McDonald's restaurants of all European countries. In 2021, McDonald's in the US generated over $8 billion in revenue, while the rest of the world combined accounted for more than $12 billion.
McDonald's is continually expanding in Asia Pacific – in 2020, China had the largest number of restaurants (4,400 stores), compared to 2,900 in Japan and 1,023 in Australia.
McDonald's Behavioral Segmentation
The McDonald's target audience is mainly lower to middle class consumers, who are interested in fast, cheap and convenient food.
During the pandemic, the famous McDonald's drive-thru became even more popular. In 2020, the average drive-thru purchase took 349 seconds. The McDonald's target market has grown increasingly health conscious in recent years, and the company has taken major steps to become a healthier brand.  For example, in 2016, McDonald's removed artificial preservatives from Chicken McNuggets, and in 2015, liquid margarine was replaced with butter in breakfast items such as English muffins, biscuits and bagels.
McDonald's Psychographic Segmentation
The typical McDonald's customers are characterized as 'easygoing' and 'careless', yet at the same time, they are loyal to the brand and eat fast food regularly.
Mostly working class people, the McDonald's target audience has annual household income of $48,000 to $65,000, and these customers are likely to use coupons and take advantage of McDonald's $1 $2 $3 Dollar menu items.
For the savvy millennial customer base that includes many foodies, McDonald's is looking to innovate with gourmet ingredients and healthier options. The brand also localizes its menu according to region; in India, for example, 50% of the menu is vegetarian.            
Who are McDonald's competitors?
McDonald's competitors include several of the biggest global brands in fast food. Burger King is the closest competitor, with the two companies engaged in a long-standing battle between their signature burgers – McDonald's Big Mac vs Burger King's Whopper.
Although McDonald's is way ahead in brand value, Burger King is giving McDonald's a run for their money. In 2020, Burger King even edged slightly higher in terms of revenue: $19.2 billion for McDonald's compared to over $20 billion for Burger King.
Other competitors for McDonald's market share include: Yum Brands – the operating company of Taco Bell, KFC and Pizza Hut – as well as Wendy's, Subway and Chipotle. Outside of the US, popular local brands such as Hungry Jacks (Australia), Sbarro (Russia), and Pret A Manger (UK) are all competitors too.
McDonald's competitors include other brands in specific product niches outside of the traditional burger and fries category. For example, McDonald's competes for the Starbucks audience with its McCafe beverages, and with Dunkin' Donuts on dessert items and coffees. Chik-fil-A is an interesting and newer competitor to McDonald's. While still well behind in revenue ($5.8 billion in 2021 compared to McDonald's $23 billion), McDonald's may be falling behind in customer experience and satisfaction.
In the 2022 American Customer Satisfaction Index scoring for quick service restaurant chains, McDonald's came in last after all other fast food chain brands in the US, with a score of just 68! In contrast, Chik-fil-A came in first with a score of 83. 
What is McDonald's Marketing Strategy? 
Franchising is at the core of McDonald's Corporation's successful business strategy. The revenue share of the franchise part of the business continues to grow over time. In 2021, McDonald's franchises generated $13.1 billion in revenue worldwide, compared to nearly $9.8 billion from company-owned restaurants.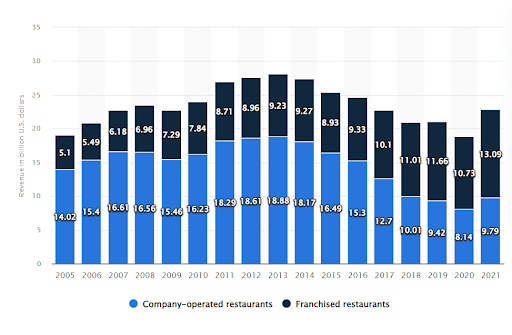 Source – Statista
The franchising strategy enables the McDonald's brand to stay strong and consistent on a global level. At the same time, restaurant operations are localized, with a communal, friendly feel that is popular among the McDonald's target market.
Another important aspect of McDonald's marketing strategy is product. The McDonald's brand is strongly associated with its wide product range for all ages and consumer preferences, such as combo meals, small and big breakfasts, and Happy Meals, often marketed in collaboration with popular children's TV characters. The McDonald's offering even includes ground coffees and pods, competing with brands like Starbucks and Nespresso for the home brewed coffee experience.
The drive-thru has been an iconic part of the McDonald's brand since the first one opened in the US in 1975. The company is now focused on elevating both the drive-thru and in-store dining experience, by leveraging data analytics and digital customer engagement tactics. The launch of the MyMcDonald's rewards program in the US enables the company to access more customer data and offer personalized incentives and benefits to increase engagement and sales.
 Around 20% of McDonald's global revenue now comes from digital sales. Launched 5 years ago, the 'McDelivery' home delivery service has grown to include 32,000 restaurants in 100 countries. During the pandemic, McDonald's leveraged the increase in demand for food delivery with an expanded agreement serving the DoorDash target audience.
In 2022, DoorDash and McDonald's inked a deal in which DoorDash will increase its fee to the McDonald's store in accordance with the time taken to fulfill an order. This is part of the mission to improve the quality and efficiency of McDonald's home deliveries.
Celebrity collaborations are a staple of McDonald's advertising to youth in particular. For example, the Happy Meals campaign in collaboration with the Minions film franchise has extended over many years, with products, commercials and special offers promoted on TV and McDonald's social media accounts.
Since 2020, McDonald's has partnered with several famous figures, such as rappers Saweetie and Travis Scott, to promote "celebrity meals".
The collaboration with South Korean boy band sensation BTS features the band's 'signature order' of Chicken McNuggets, medium fries and Coke, with two South-Korean-inspired dipping sauces that are new to the US market. The campaign was launched initially in the US, Canada and Brazil, followed by 50 more countries. It was a huge success, contributing to a 25.9% increase in sales in US restaurants. 
Since around 2004, the McDonald's brand has come under heavy criticism worldwide about the quality of its ingredients and menu. The company approached the topic head on with a clever campaign in Italy to counter the negative brand perception.
A McDonald's store was refurbished and all traces of branding removed. It posed as a gourmet restaurant, yet served the exact same menu. When customers were delighted with the taste and quality of the food, the prejudices against McDonald's were revealed. This 'blind taste' campaign was powerful and eye-opening, helping to rehabilitate the McDonald's brand.
As with all corporate brands today, McDonald's marketing strategy focuses on sustainability and community empowerment. The Change a little, change a lot campaign promises to reconfigure the company's entire operations – "from farm to front counter" – for the benefit of people and the planet.
The goals include net-zero emissions in the UK and Ireland by 2040, fully recyclable or compostable packaging by 2024, and 3,000 new apprentices in stores by 2025. 
McDonald's Customers in California
In the US, California has the highest number of McDonald's restaurants with 1,187 locations, followed closely by Texas with 1,120 locations. This makes California a great case study for visitors to McDonald's stores.
According to Start.io mobile data, the audience defined as McDonald's Customers in California numbers approximately 769,000. Over 80% are between the ages of 18 to 34. The audience skews male, approximately 60% male vs 40% female.
Nearly a third of the audience falls into the low-income bracket, with household income under $25,000. There is a heavy preference for Android over iOS (66.4% vs 33.6%), with various Samsung Galaxy models making up the top 5 devices used by McDonald's customers in California.
Want more insights like these for your target audience of fast food customers? Visit the Consumer Insights and Audiences Hub to dive into the latest mobile user data for 500+ customer segments and locations, and get better results from your campaigns.
McDonald's FAQs
What is McDonald's biggest market?
The US has the biggest McDonald's market in the world, with 36.92% market share. Japan and China are in second and third place. These three countries together account for 52% of McDonald's share globally.
What age group consumes the most McDonald's?
The age group with the highest consumption of McDonald's varies depending on region. In Germany, for instance, the most customers are in the 20-29 age group. In the US, the numbers are split fairly evenly. Between 63.38% and 64.84% of Americans aged 18 to 64 have visited McDonald's in the past 3 months. 
Why is McDonald's marketing so successful?
McDonald's marketing is strongly associated with product and value, ensuring customers enjoy a value-driven, tasty and efficient experience. Franchising has proven to be a winning strategy for McDonald's, enabling the company to maintain a consistent global brand while providing local, family-friendly dining at the same time.
Additional resources