One of the world's most recognized names in fashion is Zara, but that's not how it began.
The brand was originally called "Zorba" when it launched in 1975 in the Spanish city of A Coruña. It soon became apparent that a local bar was also called Zorba. The letters were rearranged and Zara was born.
From that first store to a global brand, Zara has had an extraordinary journey over the past half-century. The brand invented the concept of "instant fashion", yet never compromised on quality. Indeed, it is Zara's fast responsiveness to customer demand that sets the brand apart.
Zara is just one of the brands owned by Inditex, a global fashion corporation that's also behind Pull&Bear, Massimo Dutti, Stradivarius and several others. Yet Zara tops them all as the leading Spanish fashion brand by far, with a value of more than $23 billion in 2021.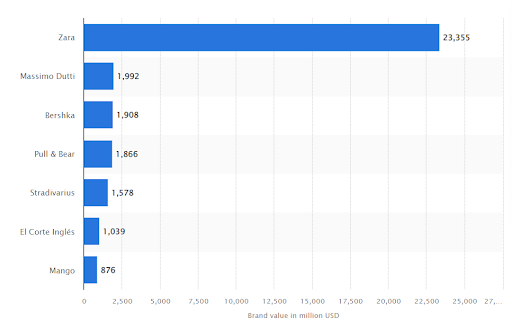 Source – Statista
In fact, 70% of the total worldwide sales of Inditex Group in 2021 came from Zara, amounting to over 16.6 billion euro. 
Zara's success extends well beyond Spain. It is the second leading apparel brand in the world in terms of value, only after Nike. Like Zara's audience, the Nike target market is highly loyal, which is a key factor to both brands' popularity and performance.
What accounts for the astonishing rise of Zara positioning in the global fashion industry? What is the typical Zara customer profile and how can the target market of the Zara brand be defined? Let's take a look.
Who is Zara's target market?
The Zara target market includes women and men, mainly younger adults in the age range of 18 to 40. This places the Zara segmentation strategy as largely focusing on Millennials and Gen Z, who are both fashion conscious and tech savvy.
Zara's market is a truly international one, with around 2000 stores in close to 100 countries. The brand also has robust online activity, with net e-commerce sales of around £5.4 billion in 2021. This is expected to rise to over £7.4 billion in 2022. 
Zara's Target Market Segmentation
By examining the market segmentation strategy of Zara, advertisers can gain an understanding of Zara positioning and how it succeeds as one of the world's most famous fashion brands.
Let's dive deeper into a Zara customer analysis and explore the sources of Zara revenue share in a highly competitive market.
Zara's Demographic Segmentation
The Zara target demographic is young to middle-aged adults, with the highest proportion of customers in the 21 to 30 year age bracket.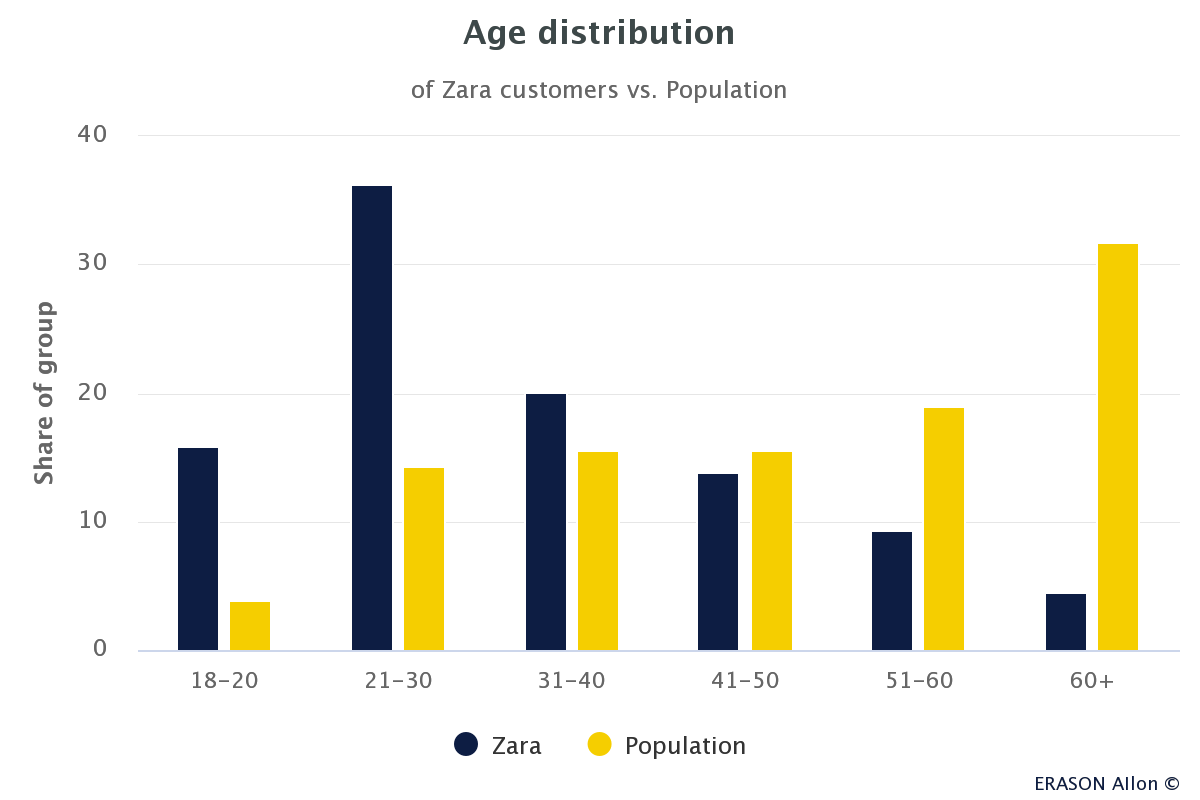 The Zara market tends to skew more female than male – in the UK, Zara has over 4 million female customers, compared to around 2.4 million men. The Zara Kids line taps into the parents' market, who are looking for stylish yet affordable kid's clothing.
Zara Home, the brand's homeware and accessory stores, cater to a target market of young-adult to middle-aged homemakers.
Zara's Geographic Segmentation
Zara opened its first store in Spain in 1975, followed shortly after in Portugal, before expanding to the US, Europe, and the rest of the world. It currently has stores in 96 countries. The largest market for the Zara brand is Spain, which has 547 stores. Next is China with 229 stores, France with 145 and Russia with 144 stores. In the Americas, there are 321 Zara stores and 56 Zara Home stores.
Zara's Behavioral Segmentation
The market segmentation strategy of Zara focuses on customers who want a fast-changing wardrobe in keeping with the very latest fashion, yet also of good quality and at an affordable price.
Zara customers are typically loyal: Zara ranks higher than competitors on the Net Promoter Score®. Indeed, Zara customers shop at Zara stores 2x to 3x more often than other fashion brands. The Zara target audience is vocal, enthusiastic, and highly connected to the brand on social media.
Currently Zara has 30 million followers on Facebook, 53.1 million on Instagram and 3.9 million on TikTok. Visit our recent blog post for TikTok ideas for businesses. 
Zara's Psychographic Segmentation
A Zara customer analysis from a psychographic standpoint shows that Zara customers are highly style conscious, tech savvy and value their unique identity. They want the latest fashions, but also want to express their individuality and enjoy a personalized shopping experience.
The Zara target market is attracted to the brand because it delivers powerful emotional elements, such as attractiveness and customer intimacy. On the other hand, Zara customers are solidly middle income, and want affordable pricing and value for money. 
Who are Zara's competitors?
Zara competitors include several of the world's leading fast fashion brands, including H&M, Old Navy, Gap and Uniqlo. Zara's market share is 11% of the worldwide apparel industry, and it enjoys the highest profit margin of all its competitors.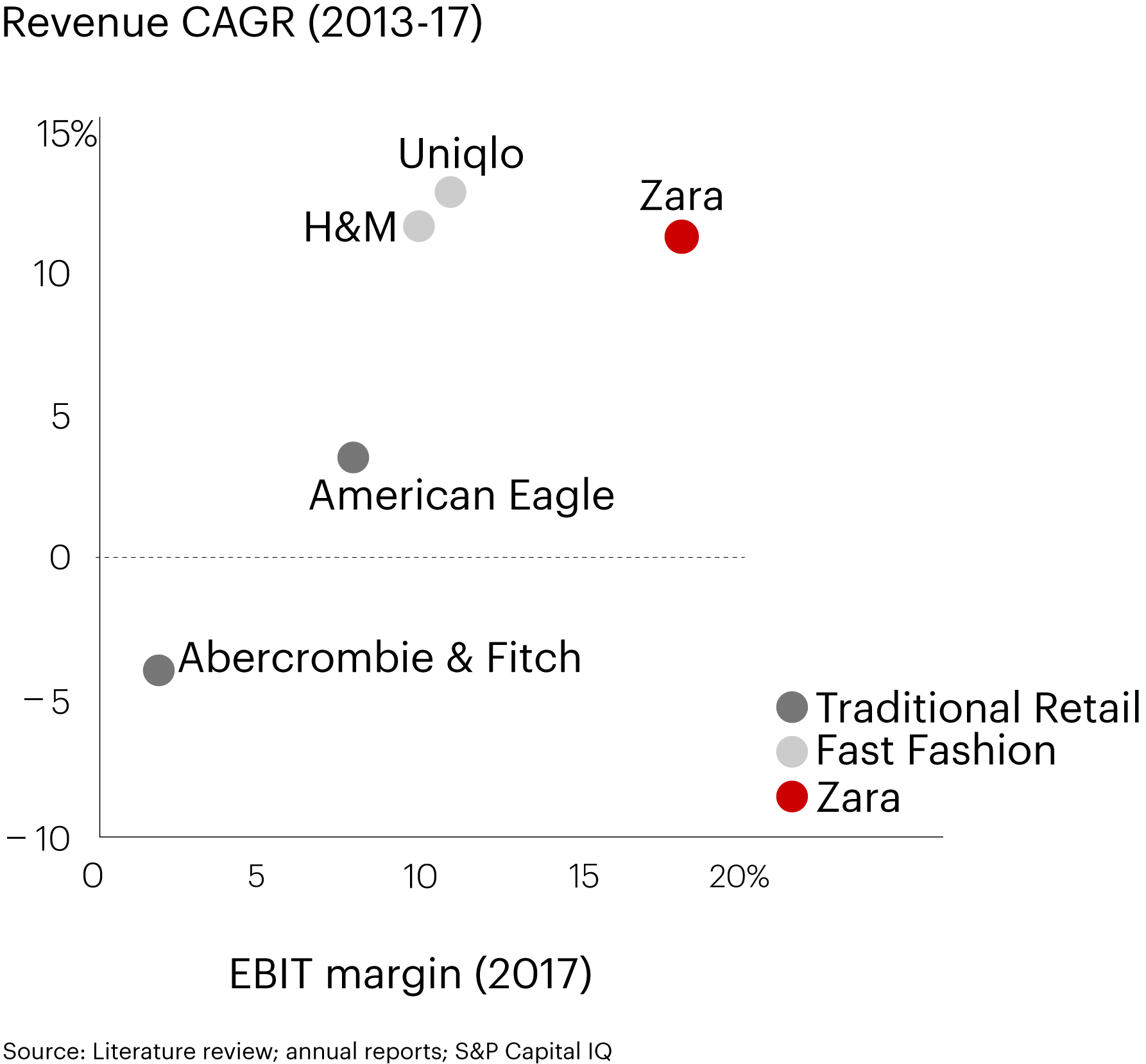 The main Zara competitive advantage lies in its approach to new product releases. While fashion companies typically produce around 2,000 to 4,000 items every year, Zara produces 10,000. This provides customers with a far wider product range to choose from, and ensures the brand appeals to a much larger target audience.
Comparing Zara to H&M, one of its stronger competitors, the tight battle for market share is clear. Zara had a value of $13.5 billion in 2021, compared to H&M brand value of just over $14 billion. This represented the first time that H&M had a higher value than Zara since 2017.
Uniqlo is a Japanese fast-fashion brand, established in 1949. Although it has a global market share about half that of Zara (5% vs 11%), it is catching up in terms of annual revenue, estimated at around $11 billion compared to Zara at around $13 billion. 
Gap is another prominent competitor to Zara in the North American market. In 2021, Gap operated just over 2,800 stores worldwide, with the majority in the US and Canada. Even so, Gap fares similarly to Zara in annual revenue, at over $13 billion.
In Britain, Zara fares especially well among women consumers. Although several UK brands have more female customers than Zara, such as Primark, H&M and New Look, Zara is still one of the most popular brands among British female shoppers. 
What is Zara's Marketing Strategy?
A study of Zara's marketing strategy must consider the pink scarf story. In 2015, a woman walked into a Zara store in Tokyo and asked if there were any pink scarves for sale.
At around the same time, customers in several Zara stores worldwide also asked for pink scarves. Clearly, pink scarves were a hot fashion trend. Just seven days later, half a million pink scarves were delivered to Zara stores worldwide, and they sold out within three days.
The Zara marketing strategy is built on the promise of instant fashion – giving customers the styles they want faster than competitors and still at an affordable price. Zara produces over three times the number of items each year than other fast fashion competitors, however in smaller quantities. This leads to a scarce supply of fast-rotating new styles.
This is possible thanks to Zara's vertical supply chain. Zara designs, produces and distributes its products wholly in house, so it can go to market much quicker than competitors. The process from design to shipping out to stores can take as little as 10 to 15 days. Just 15% to 25% of Zara stock is produced even six months in advance.
In this way, Zara can keep up with the very latest consumer demands for fashion trends. 
 Like its production strategy, Zara does not employ traditional approaches to marketing and advertising either. Zara advertising makes up less than 0.3% of the company's revenue!
Until recently, Zara did not engage in collaborations with celebrities and other brands, a very popular tactic among fashion brands. Lately however, Zara has warmed to co-marketing campaigns, partnering with Nike and other brands on various collaborations. 
Zara focuses much of its marketing on the customer experience. This involves listening attentively to customer demands and requests (as in the pink scarf story), as well as employing in-store technology to enable the best shopping experiences.
Zara stores are integrated with Radio Frequency Identification Technology (RFID), which tracks the availability and location of garments in real time, and helps store managers optimize the store display with the most in-demand items. It also enables online purchases to be dispatched from the nearest physical store to the delivery address, for faster shipping and reduced delivery costs.
While the Zara customer segmentation leans towards women, the brand is stepping up its marketing to men, and aiming to capture the growing market of fashion conscious males. For example, the recently-launched Origin series targets men with a stylish minimalist look and feel, as demonstrated in this ultra-cool campaign:
Zara's commitment to fulfilling its customer's fashion demands means that it must adapt its product offering and marketing to different cultures, climates and customer bases worldwide. 
For example, its fashion range in Japan comes in smaller sizes, while its women's range in Arab countries reflects the religious norms of the local population.
In recent years, the fast-fashion industry has come under heavy fire about the damage it causes to the environment. Indeed, 70% of the fabric fiber produced for fast fashion ends up in garbage dumps, and the global fashion industry is the second-biggest consumer of water.
Sustainability is an important value for the Zara target audience, and the brand takes it seriously. According to parent company Inditex, Zara will be a zero-waste brand by 2023, and is moving towards using only sustainable cotton in its garments. 
Clothing Shoppers in United States
Mobile user data of clothing shoppers in the US corroborates the Zara target market demographics. A large segment of clothing shoppers are in the younger adult age group: over 80% are aged between 18 and 34. There are more female clothing shoppers than male, by a large margin: 69% women compared to 31% men.
In addition, shoppers interested in fast fashion tend to be of a lower socio-economic stance – over a third earn less than $25,000 in annual household income. Walmart, Subway and Starbucks are among the top five most visited venues among clothing shoppers, and they prefer Android over iOS by a ratio of 60% to 40%.
Insights like these, available right now at Start.io's Consumer Insights and Audiences Hub, can help mobile marketers understand, identify and target the most relevant and interested audiences. Not just in the clothing and fashion niche, but in 500+ consumer segments and locations all over the world. Check it out!
Zara FAQs
What age range is Zara aimed at?
Zara targets the 18 to 40 age range, with a stronger focus on the 21 to 30 years group.
What is Zara's business model?
Zara uses the "instant fashion" business model, offering smaller quantities of fast-rotating new styles. All design, production and distribution is managed in house, supporting an efficient vertical supply chain that enables Zara to respond quickly to new fashion trends and changing customer demands.
How is Zara different from its competitors?
Zara moves away from traditional approaches to fashion distribution, enabling much faster operations and time-to-market than other fashion companies. In addition, Zara doesn't employ the usual advertising tactics, with an almost negligible ad spend. Rather, the company focuses on consumer demand and customer experience to build brand loyalty.
Additional Resources: