Ever heard of Adolf ("Adi") Dassler? If not, then you've definitely heard of the brand he launched: Adidas.
Founded in Germany in 1948, Adidas today is a leading global company in the sports footwear and apparel category. In a fascinating bit of branding history, Puma – an Adidas competitor – was launched by Dassler's brother Rudolf. Following a family rift, the brothers split the footwear company founded by their parents, and Adidas and Puma were born. 
The Adidas brand has long been synonymous with athletic footwear, such as the Stan Smith sneaker, Adidas' first tennis shoe.
The Stan Smith was released in 1963, renamed in the early 1970s for the American professional tennis player who held the number 1 world ranking at the time. The iconic shoe features a white leather construction and three stripes on the side that are unmistakably 'Adidas'. 
Half a century later, the Stan Smith remains as popular as ever. 
In 2022, it is enjoying a revival with a sustainable edition made from 100% eco-friendly materials, promoted by Stan Smith himself and Kermit the Frog in a green-themed commercial:
Adidas is certainly a modern success story, despite its rocky start as a result of a family argument. In 2021, Adidas had a brand value of over $14.3 billion. That same year, Adidas net global sales amounted to $21.2 billion, slightly below the pre-pandemic peak in 2019, but significantly higher than the $18.4 billion figure from 2020.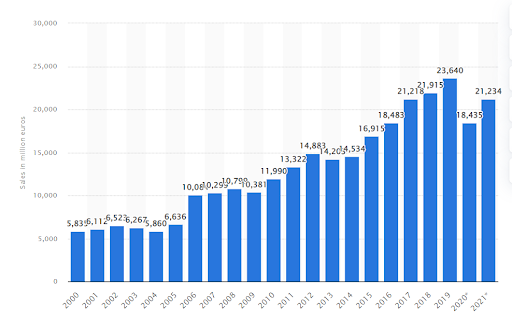 Source – Statista
While Adidas began as a shoe producer, the company slowly expanded into a wide range of sportswear, sporting goods and accessories. In 1963, for example, Adidas began manufacturing soccer footballs. Since 1970, Adidas has been the provider of the official football for the annual FIFA World Cup™.
Footwear remains the largest product category for Adidas, making up 53% of the company's net sales in 2021. 41% of sales were sports apparel and the remaining 6% on goods and accessories.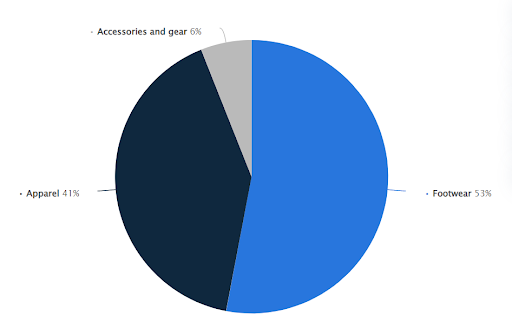 Source – Statista 
Who is the loyal Adidas target customer who has helped make it one of the largest sportswear companies in the world? What is the Adidas market segmentation and how does Adidas marketing strategy cater to them? Let's take a deep dive into an Adidas industry analysis and find out.
Who is Adidas' Target Market?
The Adidas target market is highly active, and includes athletes, as well as non athletes who are enthusiastic about sport. Adidas buyers tend to be between the ages of 14 to 40, though the brand offers clothing and footwear lines for infants and children too.
The Adidas target market is located all over the world, with the largest market share in the EMEA region. Both men and women are targeted by Adidas, with specialized product lines.
The brand's strongest product category is footwear, and there is a large and fast-growing demand for clothing and apparel. The Adidas target audience also purchases sporting accessories, including sports socks, caps and drinking bottles, and sports equipment, such as footballs and basketballs. However, the accessories and gear category is a much smaller proportion of Adidas overall sales, with a production volume that has remained fairly static over the past half-decade.
Adidas Target Market Segmentation
The target market for Adidas is large and complex. The best way to get to the hearts and minds of potential customers is to do an Adidas customer segmentation, focusing on four different aspects: demographics, geographics, behavioral and psychographic segmentation. Here's the latest Adidas segmentation:
Adidas Demographic Segmentation 
The largest target market for Adidas demographics is aged between 20 and 29, during the stage of life when fitness and sports are typically a high priority. The Adidas strategy has recently become focused on the new generation of up-and-coming sports enthusiasts, strengthening its targeting of the 14 to 19 year-old segment. 
The Adidas target audience has traditionally skewed more towards males. However, in recent years, Adidas has stepped up its marketing for the female target market. An example is the award winning "Liquid Billboard" campaign, encouraging women to feel confident while swimming in public.
The Adidas target audience includes singles, married couples without children, and married couples with young to teenage children, who aspire to maintain an athletic lifestyle or image.  
Adidas Geographic Segmentation
The Adidas target audience is located internationally, and the company has a market presence in over 160 countries. In 2021, Adidas operated 2,184 retail stores worldwide.
The proportion of Adidas net sales is highest in Europe, the Middle East and Africa (37%), followed by North America with 24% and Greater China at 22%. Smaller markets cover Asia-Pacific and Latin America.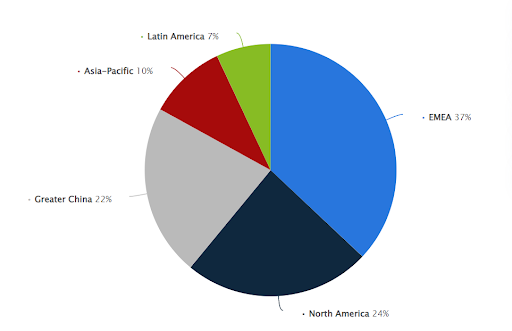 Source – Statista
Adidas is a solidly urban brand, with a strong presence in global trend-setting cities. Its state-of-the-art flagship stores are situated in prime locations in London, Paris, NY, LA, Tokyo and Shanghai.
Adidas Behavioral Segmentation 
The target market for Adidas is typically sports enthusiasts, amateur athletes and professional athletes, who train or participate in sports on a regular basis. The brand also appeals to those who view sport and fitness as part of their lifestyle and self-image. 
Adidas customers are fashion and style conscious, and enjoy popular culture, evident in the company's frequent collaboration with celebrities, fashion designers and pop culture icons.
Examples include Stella McCartney's range of women's sportswear and the Adidas Yeezy line, in partnership with Kanye West. 
Adidas Psychographic Segmentation
The personality of the Adidas target customer tends to be active, adventurous and aspirational, with a tech-savvy streak. Usually urban dwelling sports fans, they earn a mid to high average income.
An Adidas study found that sustainability is an important purchasing factor for 70% of consumers. In response, the brand is continuing its sustainability efforts. The company is now working on using recycled plastics from the ocean for its footwear. 
Who are Adidas competitors?
Among Adidas competitors, the strongest is of course Nike. Nike easily outperforms Adidas, with a current brand value estimated at over 3x that of Adidas.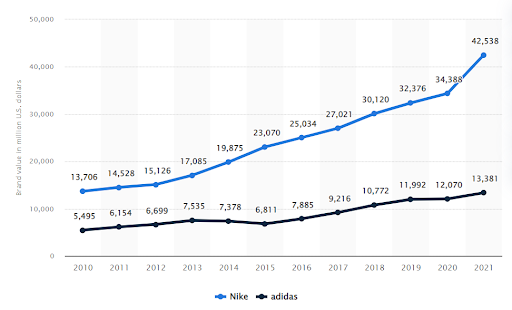 Source – Statista
This is also reflected in total sales revenue. In 2021, Adidas ranked as the world's second largest sportswear company after Nike, whose revenue was nearly double that of Adidas. Interestingly, Puma – established by the brother of the Adidas founder – settled in at number 4.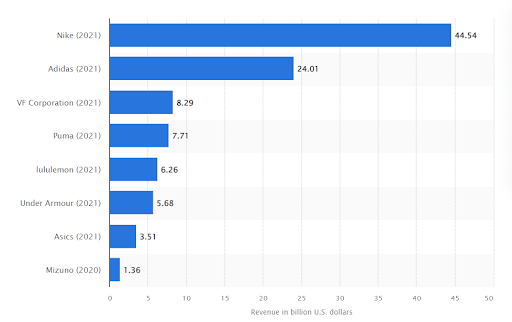 Source – Statista
The Nike target market is broader than the target market for Adidas, which accounts for its larger market share and brand value. However, Adidas revenue is 3x ahead of the next closest competitor, VF Corporation, which owns lifestyle brands such as Vans, The North Face, Timberland, Jansport and many more. 
Adidas owns the popular Reebok sports footwear brand and was also the owner of TaylorMade, a golf apparel brand, until 2017. Despite strong competition, Adidas securely holds second place among its competitors as a uniquely iconic sports apparel brand, highly focused on performance, style and innovation. 
What is Adidas Marketing Strategy?
Adidas marketing has always placed a strong emphasis on technology and innovation. In 1984, Adidas added the Micropacer to its sneaker, the first tracking device to provide performance data for athletes. This approach continues till today, with the development of Futurecraft 4D STRUNG. Futurecraft 4D is an innovative technology that uses athlete data, 3D printing and robotics to create the optimal personalized shoe to enhance the individual's sports performance. 
Adidas is also renowned for its open source approach, collaborating with innovators to push the boundaries of athletic performance, and advance its brand image at the same time. In 2019 for example, Adidas partnered with the US National Lab of the International Space Station to explore the performance of materials in microgravity, even sending soccer balls to space to test their behavior in weightless conditions.
The innovation extends beyond R&D and product excellence to the in-store customer experience. Adidas' flagship stores, strategically located in influential urban centers, are fitted with state-of-the-art tech, including interactive fitting rooms.
The Run Genie app was developed as an in-store data-driven sales tool to help sales reps find the perfect shoe for each customer's unique foot shape and training needs. At the same time, Adidas' e-commerce business is massively expanding. Sales on the adidas.com website have doubled since 2020, reaching nearly $3.1 billion in 2022. Most sales occur in the US.
Digital marketing is a significant part of Adidas marketing strategy, with 90% of the marketing budget spent on digital and social campaigns.
For example, the adiClub loyalty app enables US customers to accrue points, which can be redeemed for a range of rewards and offers. It also offers free shipping on online purchase, and members only access to exclusive products and new releases.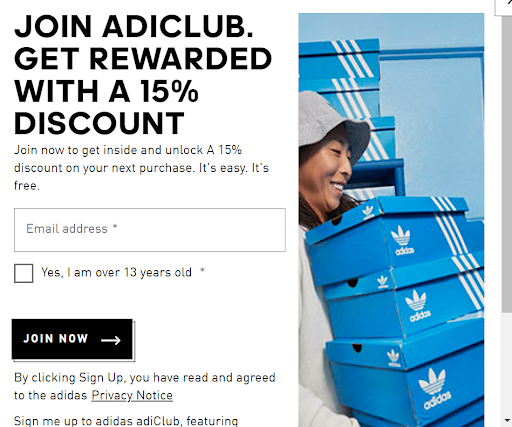 The character of the Adidas brand is clear in its slogan – Impossible is nothing – which was first created in 1974, taken from a quote by boxing legend Mohammed Ali.
The recent "Run for the Oceans" campaign is a great example of Adidas branding. It combines the company's slogan with a commitment to sustainability, ending plastic waste and saving the oceans – all popular messages among the Adidas target audience.
The campaign was a partnership between Adidas and Parley for the Ocean. Together, they committed to cleaning up the weight equivalent of one plastic bottle for every 10 minutes of running logged by campaign participants on the Adidas Running app.
Check out the Adidas advertisement for the "Run for the Oceans" campaign:
Although Adidas branding is powerfully synonymous with sports, it does an excellent job marketing itself as a fashion leader. In 2022, the company partnered with Gucci to create a collection of fashion inspired by an archival Adidas advertising catalog from 1979.
The Gucci x Adidas collaboration blends the two design signatures of these historic brands in an exclusive and highly sought after sports-fashion collection.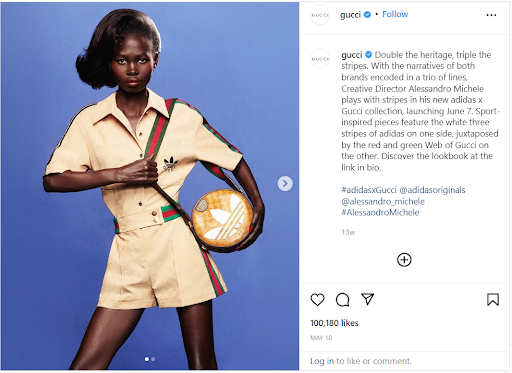 Understanding Adidas' goals and Adidas growth strategy can help other businesses in the sports and apparel industry learn how to boost their marketing too. Combined with an Adidas market segmentation analysis, this provides powerful insights about how to better manage customer targeting.
For the sports apparel industry, and 500+ industries and niches, the Start.io Consumers Insights and Audiences Hub provides audience data from hundreds of countries and cities worldwide. Simply apply the relevant filters and gain access to relevant business insights to create better advertising campaigns and targeting. Goal!
Adidas FAQs
What age group does Adidas target?
Adidas targets consumers aged roughly 14 to 40, with a stronger emphasis on the segment aged between 20 and 29.
Where is Adidas most popular?
Adidas net sales are highest in the EMEA region, covering Europe, the Middle East and Africa. North America and Greater China have similar market share, with Asia-Pacific and Latin America the least popular regions for the Adidas brand.
What is Adidas unique selling point?
Adidas has a strong brand image around the theme of athletic performance. The company invests significantly in R&D, tech innovation and mutual collaborations to advance the performance and excellence of its products and brand image.
In addition, the company is very style-focused, partnering with high profile designers and celebrities to extend its fashion-first concept to the world of athletics and sports.
Who is Adidas biggest competitor?
Nike is Adidas biggest competitor, with significantly higher brand value and net revenue compared to Adidas. Nevertheless, Adidas holds strong in its position as the second-largest sportswear brand in the world, with triple the market share compared to the next closest competitor, VF Corporation.
Additional Sources