Under Armour is the best kind of brand success story.
It began in the basement of founder Kevin Plank's grandmother's home in 1996. As a former special teams captain of the University of Maryland football team, Plank knew how it felt to be soaked in a sweaty shirt at the end of a game. So he devised the first sports shirts made of moisture-wicking fabric, so athletes could stay cool and dry. 
Imitation is the sincerest form of flattery. Big sportswear brands like Nike and Adidas soon launched their own moisture-wicking collections, but Under Armour got there first. 
By 2021, Under Armour was the 6th largest sports apparel brand in the world in terms of revenue. Publicly traded on the New York Stock Exchange, Under Armour today has more than 16,000 employees worldwide, with stores located in most parts of the world.
Since 2008, the company has seen continuous strong growth, from less than $1 billion annual revenue, to over $5.5 billion in 2021.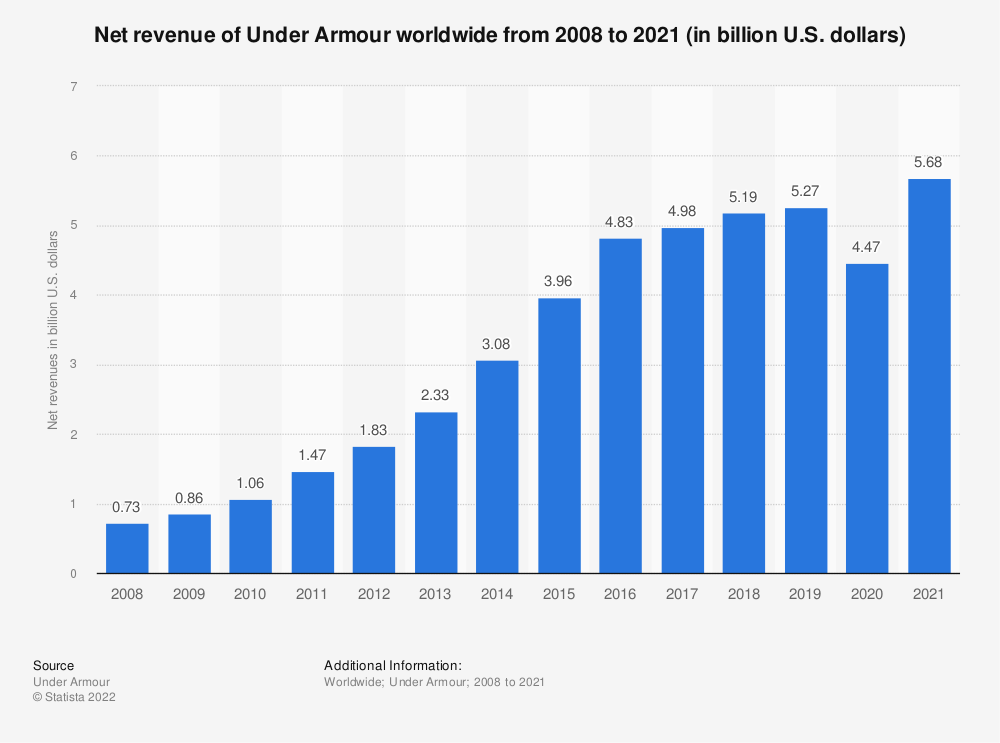 Source – Statista
The Under Armour journey goes from the world's first moisture-wicking shirts in grandma's basement to a global sports brand competing with the likes of Nike, Puma and lululemon. Let's explore how Under Armour business strategy is the key to its success, and what the Under Armour target audience looks like. 
Who is Under Armour's Target Market?
The Under Armour target market is mostly in the young adult to middle age segment, and includes both males and females.
The brand operates in North America, Europe, the Middle East, Africa, Asia and Latin America, although North America is the largest market. The typical Under Armour customer is health conscious, highly focused on fitness and sports performance, tech savvy, and in the middle to upper socio economic classes. An important segment of the target market of Under Armour is college-age athletes, who have the motivation, budget and desire to be loyal customers of the brand. 
Under Armour Target Market Segmentation
The best way to conduct an Under Armour market segmentation is by focusing on the target market from four perspectives: demographic, geographic, behavioral and psychographic.
Combined with an Under Armour brand analysis, this provides a comprehensive study of the success and strategy of one of the world's most valuable sportswear brands. Let's dive in.
Under Armour Demographic Segmentation
Under Armour demographics include men, women and kids. Though the brand previously performed most strongly among men, a women-centric marketing strategy in the past few years has attracted more female customers. 
While an Under Armour demographic segmentation was typically associated with the young adult market of ages 18 to 34, there has been a shift towards older consumer segments since around 2018. In that time, the youth segment among Under Armour's target market has not increased, and younger customers have shown some preference towards Adidas, Lululemon and Nike. This has left much of Under Armour's growth in the 35+ segment.
Under Armour Geographic Segmentation
Under Armour market share is largest by far is North America, which accounted for two-thirds of annual sales in 2021.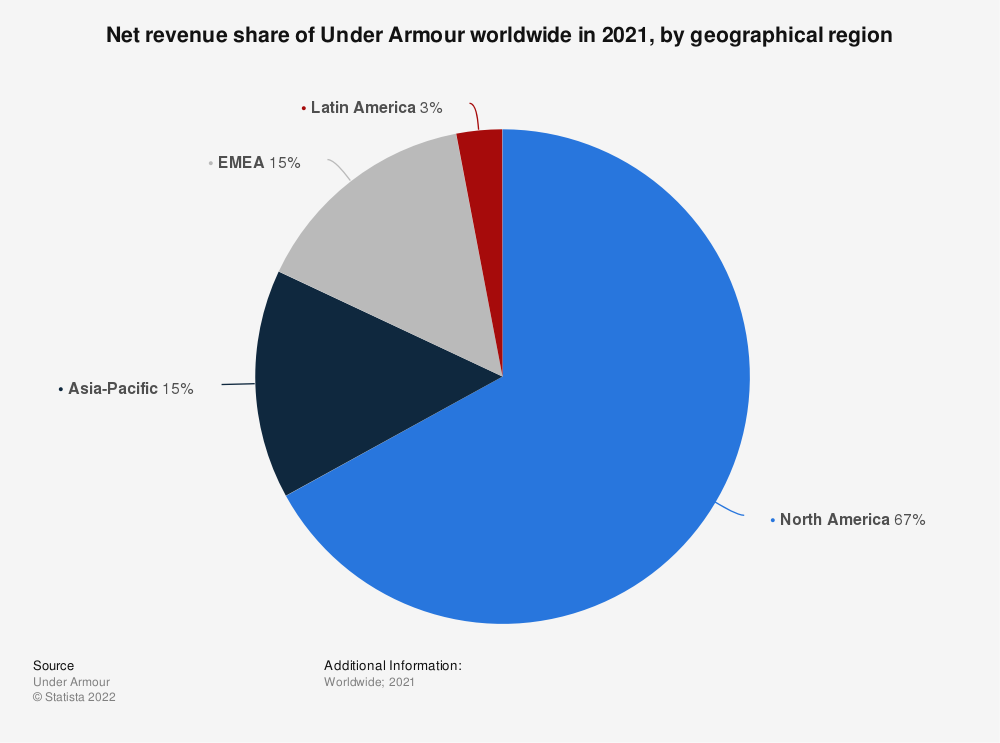 Source – Statista
Even so, the sales attributed to the North American market slightly dipped, while there was impressive growth of 14.2% in Asian markets, as well as a 5.1% sales increase in Europe.
In 2019, Asia overtook Europe as the brand's second-biggest market. That year, Under Armour revenue in Asia was higher than Europe's for the first time, generating $636 million in revenue, compared to $621 million in Europe.
In 2022, Under Armour had 164 stores in the US. The state with the highest number of stores was California (16), followed by Texas and Florida with 13 each. 
Under Armour Behavioral Segmentation
Under Armour apparel is the most popular product category among the brand's target market, accounting for over two-thirds of sales.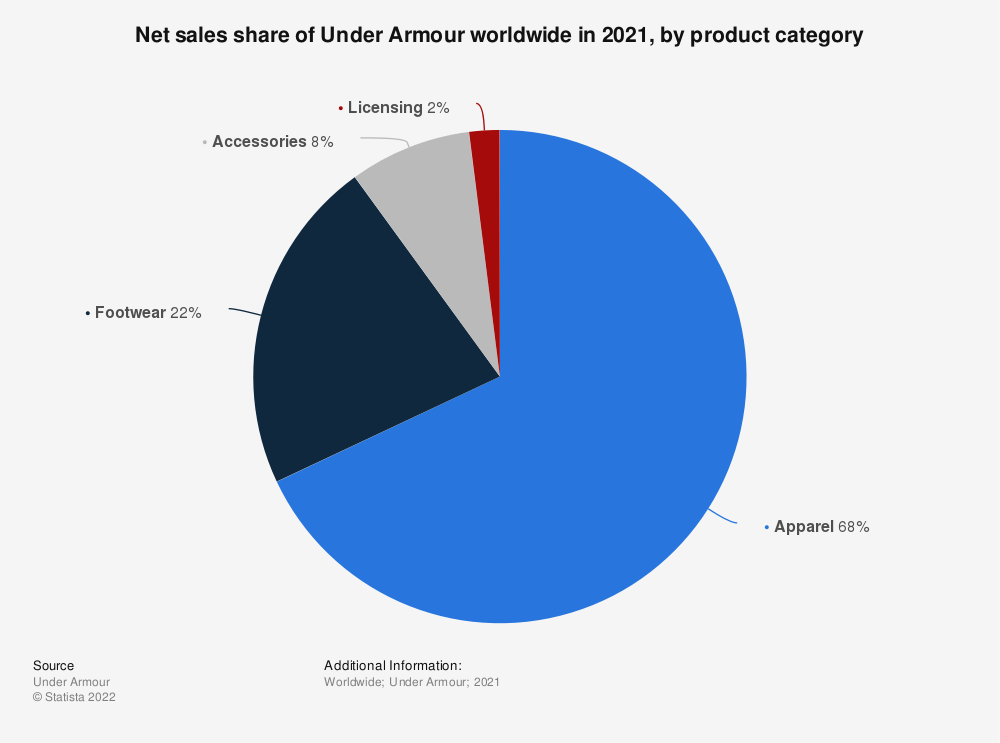 Source – Statista
However, Under Armour is giving Nike and Adidas a run for their money in footwear sales, which grew significantly for the brand in recent years, reaching more than $1.2 billion in 2021.
During the pandemic, Under Armour's online sales increased particularly among female customers. By the end of 2020, sales of women's clothing on the brand's webstore had jumped 214%. Girl's sports apparel also showed growth online, up 46%.
Under Armour Psychographic Segmentation
The typical Under Armour customer is athletic, highly focused on health, and looking for innovative sports products to enhance their athletic performance.
The brand has a long history of operating various fitness apps, tapping into the digital-native character of the target audience. For example, Under Armour's MapMyFitness app and MapMyRun app were specially created to help athletes and fitness enthusiasts stick to their routines and improve their training.
During the pandemic, there was a surge in popularity for running, and this is reflected in MapMyRun's data. On March 26, 2020, which was in the early days of COVID, the app saw the largest usage ever, with the number of logged workouts increasing by 65% compared to the same time in the previous year.  
Who are Under Armour competitors?
The global sportswear market has a total value of over $300 billion, making it a very big pie for which several brands are in tight competition – most notably Nike and Adidas. In a comparison of Nike vs Adidas vs Under Armour market share, the loyalty of the Nike target market makes it the clear winner with 15%, followed by Adidas at around 8%. Puma comes in at 2% market share, while Under Armour is just slightly above at 2.46%. Although much smaller than the Nike or Adidas audience, the popularity of Under Armour still rates it as one of the most valuable sports brands in the world.
Although Nike is the world's biggest sports brand, Under Armour is demonstrating stronger annual growth: 9.4% compared to Nike's 6.5%. Similarly, Adidas is a behemoth in the sportswear industry, and Under Armour does not come close in terms of sheer revenue. However, the innovation of the Under Armour brand should not be underestimated – after all, the concept of moisture-wicking shirts is attributed to Under Armour, and not Nike or Adidas, which were both founded half a century earlier.
Under Armour leads in another way too: social engagement. For example, Under Armour and footwear brand Asics have a similar brand valuation (around $3 billion). A month-long sample of Twitter activity shows that Under Armour tweeted 5 times, compared to Asics' 16 tweets. Even so, Under Armour got engagement on 100% of its tweets, compared to Asics, which had just 25% engagement.
In addition to Nike and Adidas, Under Armour competitors include other market leaders, such as VF Corporation, owner of several popular sports, footwear and outdoor apparel brands like Timberland, Vans, The North Face and Jansport.
| | | | | | | | | |
| --- | --- | --- | --- | --- | --- | --- | --- | --- |
|   | Market share | Annual growth | Net revenue – '21 (in billion US dollars) | Main market | Marketing budget | Target audience | Age | Income range |
| Under Armour | 2.46% | 9.4% | 5.68 | North America | $650M | Men, women, youth  | 18-45 | Middle to high |
| Nike | 15% | 6.5% | 44.54 | North America | $3.1B | Men, women, youth | 15-45 | High |
| Adidas | 8% | 7% | 24.01 | EMEA | 2.5B euro | Men, women, youth | 14-40 | Middle to high |
| Puma | 2% | 19.7% | 7.71 | The Americas | $1.3B | Men, women | 20-35 | Upper middle |
| VF Corporation | 7% | 9% | 8.29 | North America | $608M | Men, women, youth | 13-50 | Middle to high |
| Lululemon | 6% | 27% | 4.402 | USA | N/A | Women, men, teen girls | 16-45 | Upper middle |
What is Under Armour Marketing Strategy?
Under Armour marketing strategy has shifted in recent years to see more success in Direct-to-Consumer sales, both online and in its brand stores and factory house stores. While wholesale remains Under Armour's biggest revenue source, DTC accounted for close to 40% of sales in 2021.
The global sportswear market is incredibly competitive and lucrative. Therefore, the brand takes an aggressive approach to marketing and advertising. In the US, Under Armour invested close to $650 million in marketing spend in 2021, 18% more than the previous year. 
One of Under Armour's most costly and effective strategies is collaborations and partnerships with high-profile athletes and celebrities. In 2016, the brand launched a cooperation with sports star and actor Dwayne "The Rock" Johnson. This continues till today, with the launch of the Black Adam Training Collection, timed for the release of Johnson's new Black Adam movie. 
In addition, NBA star Stephen Curry is a long-time collaborator with Under Armour. The brand recently released its 10th shoe in 10 years to be sponsored by the star athlete.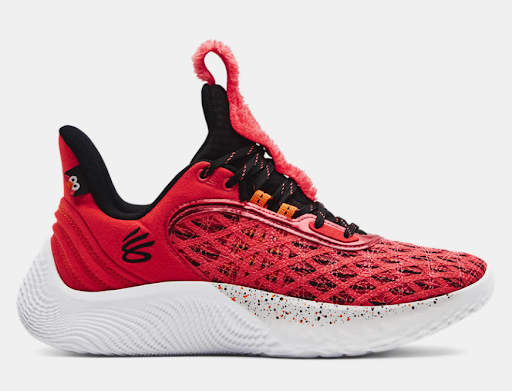 In 2016, Under Armour partnered with UCLA in a record-breaking sportswear sponsorship valued at $280 million over 15 years, the largest of its kind in the history of the NCAA. This is another example of the brand's enormous investment in collaborations as a key part of the Under Armour advertising strategy.
The company's focus on the women's market is longstanding. In 2014, Under Armour launched its "I will what I want" campaign. Beyond messaging, the appeal of the brand among female customers can be attributed to product innovation. Rather than just producing men's sportswear in smaller sizes, Under Armour works to create unique, women-first sports apparel and associated products, and it is a big success. From January to May 2020, Under Armour sales of women's products online increased by 77% in the US.
Although its main market is North America, Under Armour invests in expansion to overseas markets too. Under Armour launched in India in 2017, and has recently introduced a DTC platform in the region to boost e-commerce sales. It has also announced a collaboration with Indian Olympic gold-medalist Neeraj Chopra to enhance the brand's local profile as part of its strategy to open more stores.
Product placements are a favored tactic for Under Armour marketing, and the brand's products have featured in numerous hit movies and shows, including The Blind Side, The Dark Knight Rises, and House of Cards. 
A visual and interactive approach to Under Armour advertising is evident in the brand's YouTube channel. The company produces a large amount of high quality video content around fitness training, performance and inspiration, often featuring high-profile and college athletes, as well as micro-influencers from the world of sport.
In terms of sustainability, Under Armour's 2021 report underscores an ambitious approach that contributes positively to the brand image. The company aims to reduce single-use plastic in its packaging by 75% by 2025. By 2030, Under Armour plans to have moved fully to the use of renewable energy in all its owned and operated facilities, and to achieve net-zero emissions by 2050. Beyond sports apparel and footwear, the big brand race is up and running in the area of sustainability too.
Want to discover data insights about your target audiences, in the sportswear niche or any of 500+ consumer categories and locations? Visit the Consumer Insights and Audiences Hub, where Start.io first-party data from its global mobile network can help you create better targeting and better results from your mobile campaigns.
Under Armour FAQs
What are Under Armour's goals?
Under Armour aims to be the sports apparel brand of choice to a highly motivated, health conscious and upwardly-mobile target market. By focusing on collaborations with high-profile athletes, Under Armour maintains an image as a leading and exclusive brand in sports performance and excellence.
What is Under Armour's competitive advantage?
Under Armour's competitive advantage comes from its strong focus on product innovation. The company was the first in the world to develop and market moisture-wicking fabric for sports shirts. Big brands like Nike and Adidas followed suit.
In addition, Under Armour has high potential to expand into overseas markets outside of North America, and is investing in its DTC strategy to boost online sales across regions.